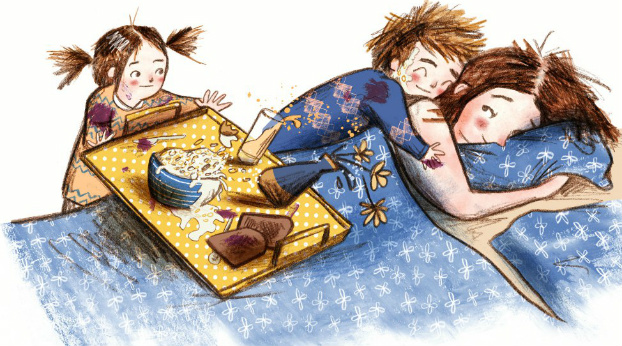 Fresh from her acclaimed short story contribution in the recently published Broken Frontier Small Press Yearbook, Rebecca Bagley is making a name for herself again on the UK indie comics scene after a few short years away from its environs. Back in 2012, Bagley was the very first creator to be actively championed in 'Small Pressganged' for her beautifully poignant graphic novella Tick, marking a shift in this column's emphasis that would eventually evolve into our well-received 'Six Creators to Watch' initiatives.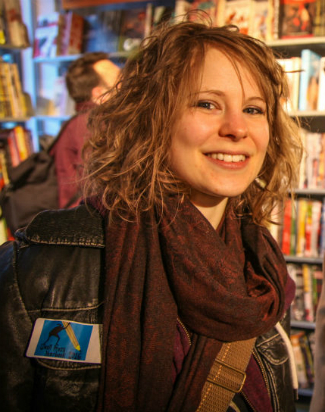 Indeed, as a recent welcome returnee to sequential art I named Rebecca (pictured right at the recent Broken Frontier launch at London's Gosh! Comics) as one of my second wave of 'Six Small Press Creators to Watch in 2016' alongside Kim Clements, Brigid Deacon, Emily Rose Lambert, Jey Levang and Ellice Weaver. With a style now firmly grounded in the world of children's illustration Bagley has begun posting comics to her site again as well as providing the aforementioned 6-pager 'Catch' to our Small Press Yearbook.
I chat with her today at BF (for the first time since our 2013 interview) about being lured back to comics, that Yearbook story, and her love for capturing life's smaller but no less precious moments in her art… 
ANDY OLIVER: To begin can you tell us a little about that moment of epiphany when you first realised the narrative potential of comics as a form?
REBECCA BAGLEY: Well, there was a time when I was young and innocent and completely able to stay up past nine o'clock. Long, long ago.
I don't think I really knew anything. You don't really when you come out of generic A Level 'Art Class'. I didn't know what illustration meant or what design was. I think I thought comics were just Marvel. But somehow I came across some really interestingly drawn children's books, the artists of which I found out also dabbled in comics. So I did a bit of digging and boom. Mind blown. Doors open.
Everything about it I loved, the movement and pacing was so controlled by the design of the page. The text worked with or against the pictures. Everything was so considered and clever. It's a wonderful format for obsessively controlling storytellers (moi.)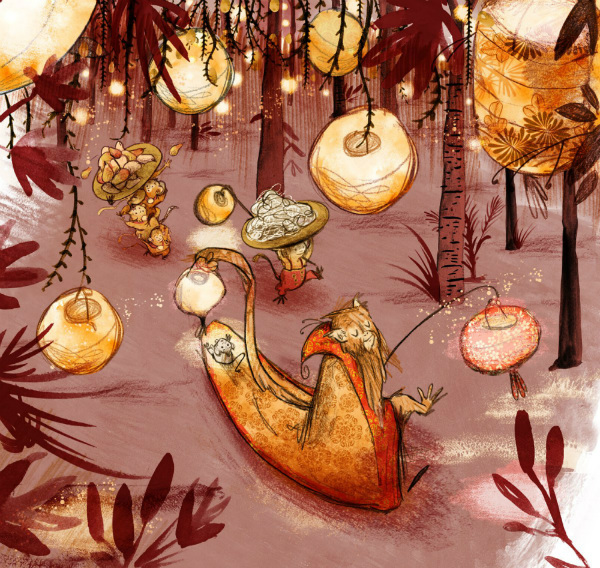 Anyone enjoying your current work on social media will be unsurprised to hear you have a background in children's illustration. Who would you count as the foremost influences on your style and approach to the page?
I'm not sure if it's a background or a foreground but yeah, kids' books are my passion. Mainly because I don't actually consider them for kids, they're just another kind of comic to me. That is pictures working with words working with design. There are some genius designers in kids' publishing. You have to take a look at the work by Lane Smith. Especially The Stinky Cheese Man and other Stupid Fairy Tales. It's such a clever subversion of books.
I'm also in love with Sara Ogilvie, Emma Yarlett, Jamie Littler, Meg Hunt, Sarah Massini, Klassen, Tan, Jeffers…the list is sickeningly ongoing. And you can't really talk about comics and kids' books without thinking about Dave McKean. But that goes without saying, right?
You were the first creator I actively championed in 'Small Pressganged' at Broken Frontier back in 2012 for your most substantial comics work to date, the poignant graphic novella Tick (pictured above and reviewed here). Could you remind us of the premise and themes of that book, and the autobiographical undertones that informed its narrative?
Can I have a trophy for that?
Tick was my first graphic narrative so I didn't have a clue what I was doing. I think I wanted it to be about something and was feeling very trapped in a crappy job so it sort of evolved around feelings of displacement. I think I was trying to avoid being too pretentious or overly dark. You can't easily get away with that at 19. So this cute, rusty little robot guy started developing. From there it snowballed into a shortie about him and an invisible narrator's interpretations of what he may have been.
I think that was it anyway. I haven't read the thing in about a thousand years.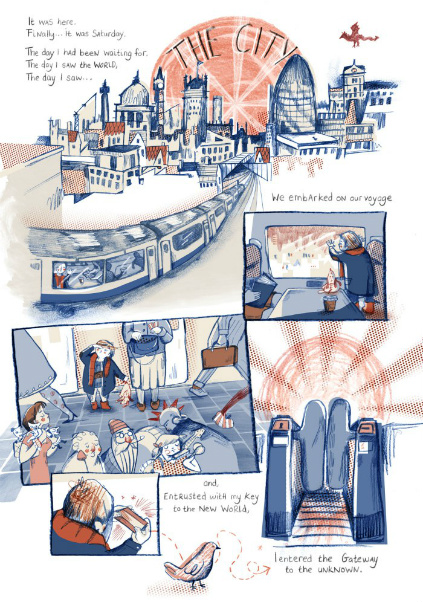 You've been away from comics for a couple of years but you made some tentative steps back in 2015 with comics content on your site like 'The City' (sample page above). What drew you back towards the sequential art fold once again?
I don't really know. I think you did because you kept asking! I never lost the love for comics, I just grew the love for picture books. Following uni I was working in-house in kids publishing and my life just became graphic stories of a different bent. I think I could always foresee coming back to sequential narrative, I just either hadn't had the time or had been focussed in other places.
I'm still not quite there yet, and the picture books and comics are still a bit separated but I'd like my career to hybridise the two. Picture books with comic elements. It's getting pretty trendy to do that in recent years so I'm down with it.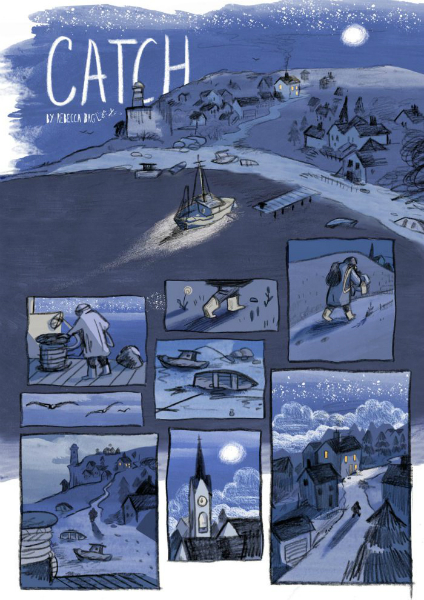 What is the premise of your story 'Catch' (above) in the Broken Frontier Small Press Yearbook and how does it tie into the anthology's loose theme of "breaking frontiers"?
'Catch' is an idea I had for a really quiet, thoughtful picture book that suddenly became a comic. It's just a little idea about relationships really, especially that between parents and children and how the unsaid things can become misunderstood or misinterpreted between parties. How fear or uncertainty felt by a parent or adult can seem personal, like disinterest to a kid who expects emotions to be more apparent. I suppose I like the idea it may be a reminder to tell people how you feel too. Behaviours aren't always self-evident. Especially when they're born from complexities in your head.
The new frontier is, I suppose, that epiphany when you realise your interpretation of someone's behaviour was wrong. In 'Catch', it's the understanding that the boy is not unloved by his father, he's what is keeping him going. Or even just what's ahead. I wanted to keep the future of the family open to people. The pessimists will assume one thing, the optimists or romantics another. Whoops, spoiler alert!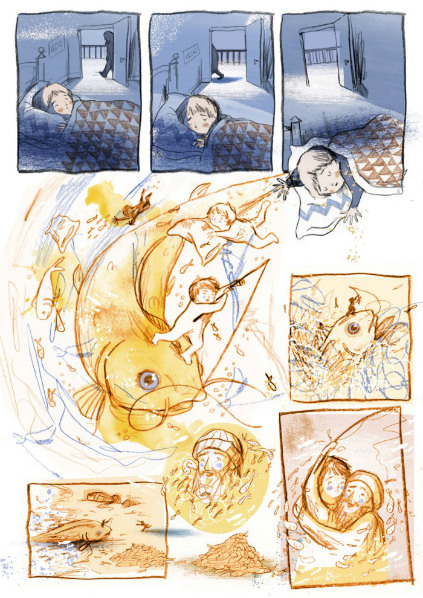 'Catch' – like much of your work – makes very distinctive use of colour (again above). Can you tell us a little bit about how the contrasting hues you chose underline and advance its narrative themes?
I actually find colour quite hard so I tend to steal colour palettes from other places. I like to stay limited so that the content of an image can breathe. I'll often hide small details in places so don't want things like that to be drowned out.
With something like 'Catch', I knew there was a reality to imagination ratio so knew there had to be two opposing colours that could represent both. So I just picked a combination I liked that did that, while maintaining the stillness of the sea I'd wanted to capture.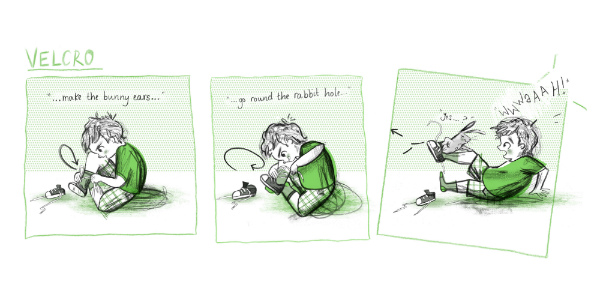 Your early published work was constantly playing with format and styles – your boxing-themed zine Rumble (reviewed here at BF), for example, or the tactile nature of Bears: Don't Like 'Em. How important was that early sense of experimentation to you in finding a creative voice?
If you ask my partner this, he'll laugh in your face. My artistic journey has been a solid, uphill battle against myself. I love making work that fits the brief or the concept, which means often you don't want to make work in one set way. Unfortunately, when you're looking at a commercial career in illustration in this country, that doesn't really fly.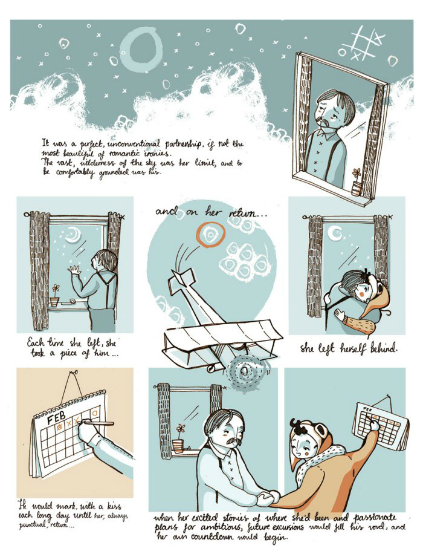 Above – the deeply touching 'On the Way'. Read the full comic here
I've spent years jumping from one 'style' (bleugh) to the next, trying to find somewhere I want to settle and the kind of work I want to make. In the end I just had to get ruthless and cut all ties to anything that wasn't children's illustration. That's fine now. I love the work I make because I'm passionate about the industry and think my portfolio is stronger from it. But it's a shame I've had to close doors to other, maybe more adult avenues just because I felt like I had to.
I would never tell someone not to experiment. I like knowing I'm capable of making other kinds of work. But as I'm still really only starting out, I've just accepted this is the kind of work I'm making strong right now.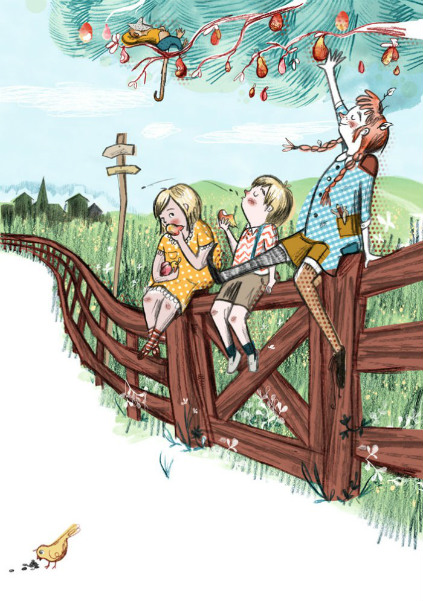 Following on from that, one very noticeable thing about your work now and four years ago is that you seem to have adopted a definitive style. Comics is a medium that is encouraging to different approaches to the page while other areas of illustration as an industry often look to a settled and established look. Is that at all a conflict for you?
Whoops, totally just answered that I think! Yeah, I mean my comics work is going to be on lockdown too for the foreseeable future. While the world of comics is a very inviting place to stylistic meandering, I've learnt to see myself as a product as a whole so I have to stay loyal to that. I think the experimentation comes with the format. The pictures may look similar, but it might be comic, it might be picture books. I've managed to work in a few editorial jobs too so that's fun. I've just done a bit of visual branding, that's all. I guess it's the difference between being an artist and a commercial artist.
I was always a terrible artist.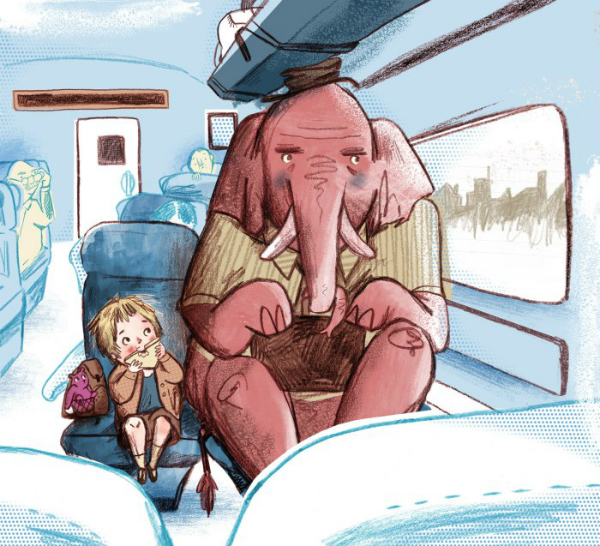 Thinking about your creative process now; what presentational mediums of delivery do you most enjoy working in?
I am such a lazy illustrator. I love drawing and I hate colouring. So I like to draw things, scan them in and get the screen to do the rest! I have a digital collage bank I've been making for years of fabrics, textures and paints I've scanned in so I just consult that and layer it all up. Then everything is fully editable so if a designer is working with my illustrations it's easy for them to tweak too.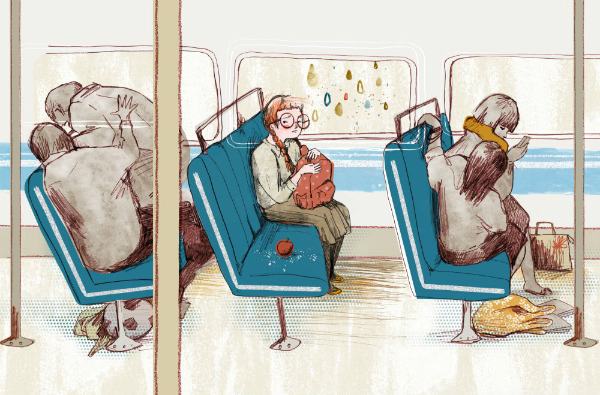 One of the most delightful aspects of some of the single illustrations you've been posting to social media is how keenly observed they are: nuanced and beautifully captured smaller moments that speak to us because they are so recognisable. What, in terms of composition, attracts you to bringing those everyday snapshots to life?
I think it's just that. Life IS really, just those small moments. Very few of us are superheroes and I've never even SEEN a radioactive spider. I think most illustrators like to draw that which we understand and I don't understand the macro at all. I don't think I could make it speak to people in the way an overheard snippet of weird conversation or finding something down the back of the sofa can. That's the kind of minutiae I know. So that's what my characters are.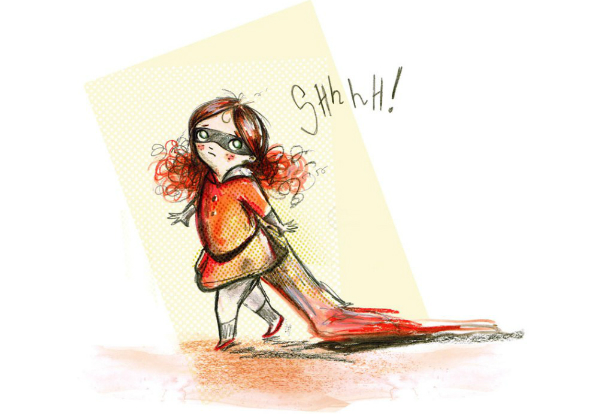 What are you working on at the moment? What can BF readers expect to see from you in the near future?
Well sir, that's frankly very presumptuous.
And finally what targets have you set for yourself for 2016? Where would you like to be with your comics practice by the end of this year?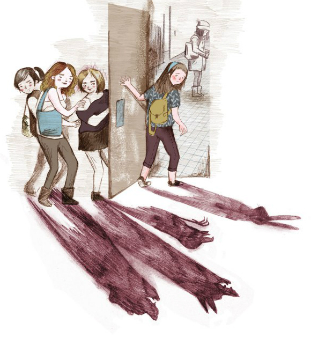 Okay so my New Year resolutions were to learn to like green tea, be able to do a forearm stand and successfully master the chin-up. The first two I can tick off the list but I still have a foot strap for the chin-up bar. One day.
Luckily, green tea is still heavily caffeinated so the work flow hasn't been that affected. For now, I'm very much enjoying doing comic shorts actually. They feel like a more manageable comic format. I don't think I'm looking towards a novella like Tick or anything, not while I'm still working on writing and illustrating the picture books, reviewing children's books and working as a designer at a kids' publishers which is how my time is currently divided.
But I'm hoping there should be a a development of stories of maybe a few pages or so each. I really enjoyed working to a page limit on 'Catch' and 'The City' so maybe a couple more 4,5,6 pagers is on the cards. Then I'll compile an anthology or something so they can all be happy bedfellows.
But obviously the chin-up takes priority.
For more on the work of Rebecca Bagley visit her site here and follow her on Twitter here. Her online store can be found here. 
Rebecca Bagley is also a contributor to the Broken Frontier Small Press Yearbook, available to order online here priced just £6.00.
For regular updates on all things small press follow Andy Oliver on Twitter here.