From self-published minicomics, to hardcover collections and kick-ass anthologies, Donya Todd's work has been a regular fixture in 'Small Pressganged' since I first reviewed The Burger Boys back in 2012. It's not often I get the opportunity to describe a creator as a true original but in Donya's case it would be criminal not to ascribe that term to her.
Her hallucinatory landscapes, stream-of-consciousness narratives and the in-yer-face attitudes of her bizarre casts of characters have singled her out as a unique voice on the UK small press scene over the last few years. That's a viewpoint it would appear is shared by the chaps at Avery Hill Publishing as Todd's new comic Buttertubs was announced last Friday as being part of their 2015 schedule.
In today's 'Small Pressganged' we're sharing some thoughts from both AHP and Donya about the book (coming this June) alongside promotional images and preliminary sketches…

About the book
Buttertubs is a dog who always wants to save the dudes and damsels in distress, but who always mucks it up on account of his inability to stop sweating butter. Running becomes flailing and crashing, everything he touches becomes greasy and strangely flammable, and even simple tasks become fraught with slippery danger.
His nemesis, The Hotdog Queen, needs to watch her back, his friend Hester is always trying to stop his foolish escapades, and there are many, many damsels in distress. All in a day's work for Buttertubs!
Yeah, it's Donya Todd…
A few words from Donya
Buttertubs is a mix of silly stories, cute characters and a sweetly bonkers narrative style. There are fire mountains, swamps, gods, slug princesses and buttery protagonists.
The plot has been pulled from a pool of short story ideas I've been working on for a while, as well as inspiration from my studio partner Jack Teagle. His comic starring a slippery character made me laugh, and Buttertubs grew from there. Tubs himself is a naughty, chubby little dog (which is just the way I like my puppies), but it's his friendships with the badass ladies he meets which pulls the story along.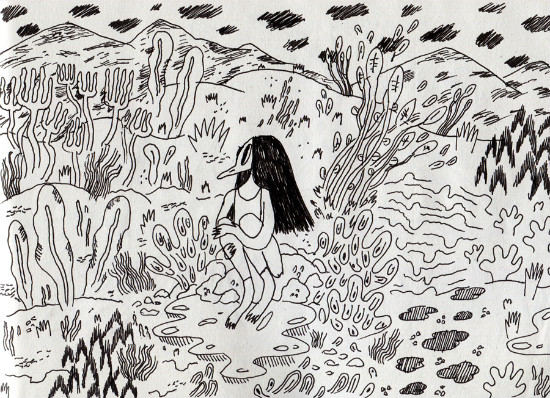 I haven't started final pages yet and am experimenting with different materials – at the minute I'm using pen & ink with watercolour on top. However, don't hold me to that! It could all change so I'll let you know when I do ha ha… I'm really excited to be working with Avery Hill. They've got some awesome artists on board and I'm thrilled to be part of the next batch. I really hope you enjoy this preview and all the Buttertubs action that will be coming in the following months.
A few words from Avery Hill
Donya is one of the great stylists of the indie comics scene, with her mix of psychedelia, 1930s animation, and an intensely cutting edge attitude.  Add to that her blisteringly subversive sense of humour and the whole package is unlike anything else you see in UK comics.  All it took for us to decide to do this project was one image and the title.  She had us at Buttertubs.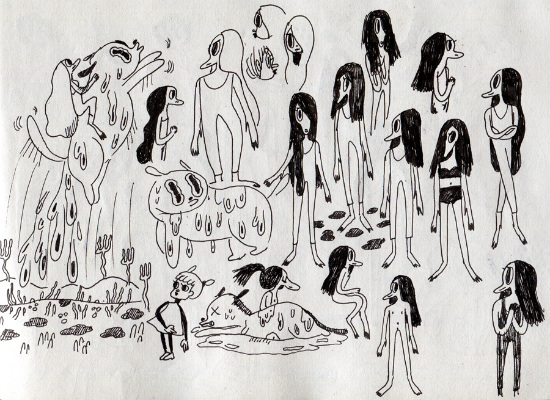 For more on the work of Donya Todd check out her website here and for news on Avery Hill Publishing visit their site here.
For regular updates on all things small press follow Andy Oliver on Twitter here.