It's almost Wednesday, and you know what that means: a fresh load of comics and graphic novels! With so many publications hitting your local comics store or digital storefront, BF is here to lead you through the woods. These are the books that need to be on your pull list this week.
Comic of the Week
The Shadow Hero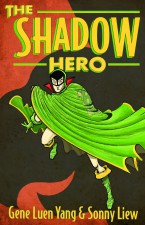 I never thought I'd be recommending a superhero book on here, but Gene Luen Yang and Sonny Liew's revival of the Green Turtle – a short-lived and largely forgotten Golden Age hero created by Chinese-American artist Chu Hung – is a hugely enjoyable bit of work.
In their origin story for the previously enigmatic hero, we meet Hank Chu, the son of an immigrant Chinese grocer and his wife – a pushy proto-'Tiger Mom', who steals the show on a number of occasions. With a light touch, Yang and Liew blend classic superhero themes with an incisive look at the immigrant experience in early 20th century America – an environment that produced many of the creators of the superhero genre.
Yang's witty writing gives the book a playful approach to superheroics that isn't afraid to land a heavy emotional punch when required, while Liew's expressive art gives it irresistible cartoony energy, while also creating a real sense of place and time.
Gene Luen Yang (W), Sonny Liew (A) • First Second Books, $17.99
– Tom Murphy
Days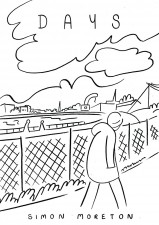 "Quite simply, he is one of the most important and intelligent creative voices in current U.K. small press comics. "
Those were my words on the work of Simon Moreton in our regular 'Small Pressganged' column here at Broken Frontier earlier this year in my annual round-up of the year's best British small press comics. Moreton's stature on the UK self-publishing scene continues to grow, with his autobiographical Smoo Comics receiving critical acclaim for the astonishingly intimate relationship between artist and reader that he fosters through his evocative visual minimalism.
Astute British micropublisher Avery Hill have recognised that talent and are collecting selected material from Smoo Comics from 2011-2012 side-by-side with hard-to-find strips from a number of anthologies to have featured the Bristol-based artist's work. This bumper compilation is an indispensable item for both committed Moreton enthusiasts and those new to his work.
Simon Moreton (W/A) • Avery Hill Publishing, £11.99
– Andy Oliver
The Life After #1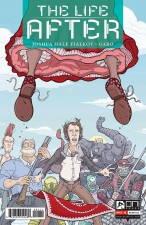 The preview pages of The Life After #1 depict the quotidian existence of the protagonist, Jude. But beyond the usual monotony – wake up, eat, work, sleep – the day-to-day lives of Jude and all those around him are completely out of their hands. The Life After introduces a wrinkle to the perfect clockwork lives of the "infinite city"; Jude wakes up.
Writer Joshua Hale Fialkov and artist Gabo are weaving a deeply existential tale here. Heaven, Hell and Purgatory all play host to this adventure through the afterlife as the aptly name Jude (patron saint of lost causes) struggles against the forces that control his world, and attempts to find meaning in his own existence.
Joshua Hale Fialkov (W), Gabo (A) • Oni Press, $3.99
– Reid Vanier
Spread #1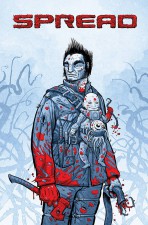 After enjoying his breakthrough on Luther Strode, Justin Jordan managed to parlay that book's success to some high-profile superheroics, most notably DC's Green Lantern: New Guardians, but his love for creator-owned work never went away, as titles like Dead Body Road and his three to-be-unveiled-at-SDCC projects for BOOM! Studios attest.
With Spread, Jordan is not just adding another creator-owned title to his resumé, he's also returning to the same material that caused Luther Strode to make such a splash: violent, visual horror. Spread doesn't go easy on the eyeballs, and you can take that quite literally when looking at the preview pages.
This new ongoing finds humanity facing a horrific ancient disease that takes no prisoners. It follows the adventures of a man nicknamed 'No', who's immune to the 'spread' and stumbles upon a baby girl who may potentially hold the key to mankind's salvation. If only he can protect her from the monsters that are virtually everywhere.
Jordan projects Spread to run for about 60 issues, so get in at the beginning – and watch them eyeballs.
Justin Jordan (W), Kyle Strahm (A) • Image Comics, $3.50
– Frederik Hautain
The Legend of Bold Riley #2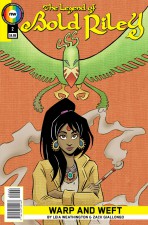 If you're new to Bold Riley like me, here's what you need to know: Princess Rilavashana San Parite, aka Bold Riley, abdicates her claim to the throne of Prakkalore in favor of a life of freedom. She strikes out on a journey through uncharted territories filled with dangerous creatures, beautiful women, and powerful magic.
This is the second issue of the second volume, but it's a standalone tale and an easy enough point to jump onto the series. After suffering a heartbreaking loss, Bold Riley continues southward with no real destination or purpose. On the desolate Broken Head Moors, she's rescued from a terrible storm by an aged weaver whose fantastic tapestries may foretell the shape of what's to come.
Leia Weathington (W), Zack Giallongo (A) • Northwest Press, $4.99
– Tyler Chin-Tanner
Grayson #1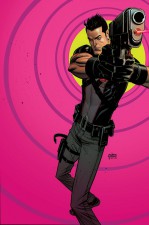 I'm tired of seeing the "You don't know Dick" line attached to all of the preview info for this book. Of course we know Dick. We know him very well. And we like him a lot. After all, Dick Grayson has had a wonderful run through the Bat-family titles for decades as Robin, Nightwing, and even Batman himself. Let's focus on the facts of this new lease on life, shall we?
Tim Seeley is writing, which means that we can count on plenty of action and some very interesting foes. Spanish artist Mikel Janin is providing the pencils, which means that his experience with Justice League Dark and other works for DC give him a good feel for the DC Universe. And because this is a spy comic and not a costumed hero effort, we can bet that Seeley and Janin will be knocking themselves out to make sure this is one unique title. Sounds good to me.
Tim Seeley and Tom King (W), Mikel Janin (A) • DC Comics, $2.99
– Karen O'Brien
Waste of Time #1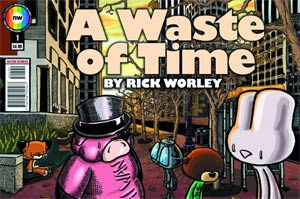 Rick is no ordinary cartoon rabbit. He may be cute. He may be white and fluffy but he is not innocent or adorable. He is foul-mouthed, misanthropic and obsessed with sex. He's kind of the original Ted. Joining him in this surreal cast of small fluffy toys is a closeted fundamentalist teddy bear, a very very foxy fox, and a robot embroiled in a doomed love affair.
Waste of Time is the first full length collection of Rick Worley's irreverent, irresponsible and occasionally oddly sweet autobiographical comic strips that tell you a little bit more than you needed to know. Cartoon Rick is growing desperate for validating success, but his comic creations have a mind of their own and things are about to take a dangerous and bizarrely sinister turn for the worse. Who knows how Rick will get himself out of this one.
Rick Worley (W/A) • Northwest Press, $4.99
– Conori Bell-Bhuiyan
The Beginner's Guide to Being Outside
Fourteen-year-old Megan is as obsessed as any other teenager with her smart phone, iPod, and every other indispensable piece of technology that keeps her in touch with the 21st century world. Resentful at being forced on a family holiday to the Scottish highlands – and dealing with the breakdown of her parents' marriage – Megan is surprised to find herself slowly reconnecting with the scenery around her as the beauty of nature offers a moment of comfort in a troubled time.

All-ages offering The Beginner's Guide to Being Outside is written and illustrated by Gill Hatcher, whose creative and editorial achievements as part of the Team Girl Comic small press collective will be familiar to many readers. Produced in a handsome landscape format, and published by Avery Hill as part of their summer launch of comics, this is a truly beautiful piece of storytelling in terms of both characterisation and visuals. One of the standout small press releases of 2014 so far and one that will no doubt be pointed to in the future as its creator's breakout work.
Gill Hatcher (W/A) • Avery Hill Publishing, £6.00 
– Andy Oliver