By staying focused on a character-driven story even while dealing with extremely prescient political and scientific issues, Greg Rucka and Michael Lark's Lazarus has etched out its place as one of the most relevant and deeply moving tales in comics today.
Set in a dystopian future, the world has been divided up among the handful of families who control all of the wealth. The few who provide them service are cared for. Everyone else is considered Waste and left to fend for themselves.
Each family elects a Lazarus to serve as their protector against the rival families and any attempt at an uprising. One such Lazarus is named Forever Carlyle and this is her story.
The strong debut of the series earned it the 2013 Broken Frontier award for best new series, and this past year saw it build upon the promise  of the initial premise.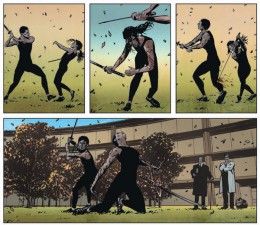 While Forever was always a very appealing character, a bad-ass heroine who could handle a sword and ride a motorcycle, readers were given a chance to learn more about her during the flashback scenes of her childhood. Watching her train tirelessly to earn her spot as Lazarus while suffering through the estrangement from her family added a deeper level of sympathy for her. This even had an effect on the present day storyline as Forever begins to suspect that she may not have actually been born into the Carlyle family.
But perhaps the most poignant storyline of the past year occurred when the perspective was shifted away from the ruling class to learn more about the people living as Waste. In 'Lift' (the series' second arc running in issues 5 through 9) the Barrett family sacrificed everything the have for their children's one chance at having a better life, traveling to Carlyle territory in order to take part in a selection process where only a few will be chosen to serve the family.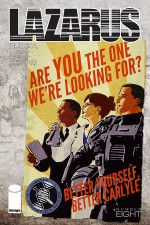 'Lift' was not only a moving tale of family sacrifice, but it also drove home the point that the rich maintain their wealth not just by hoarding money, but by keeping everyone else down by saddling them with such overwhelming debt that even their children will be held down by it.
This series is meticulously researched by writer Greg Rucka, but he never lets it slow down the action as it moves from one thrilling plot point to the next. Michael Lark's artwork is highly cinematic, framing each shot perfectly with his strong use of blacks and moving the eye across the page with an impeccable sense of composition. His collaboration with colorist Santi Arcas makes for some beautiful landscapes as well as seamlessly placed in technology.
There's no sign of Lazarus slowing down going into 2015. The recent conclave has pushed tensions between the families to the brink of war, Forever continues to investigate the truth behind her connection to the Carlyles, and a new figure will rise up to lead the Waste against the families who have forced them to suffer for so long.
Stay tuned, the best is yet to come.