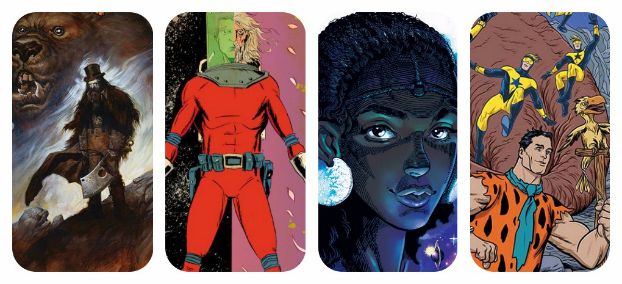 It's nearly Wednesday, and you know what that means: a fresh load of comics and graphic novels! With so many publications hitting your local comics store or digital storefront, the BF team are here to lead you through the woods with our weekly staff picks. Satisfaction guaranteed!
Comic of the Week
Afar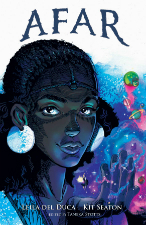 Left to fend for herself in a desert wasteland at the age of 15, Boetema's dreams of a better life suddenly manifest themselves into the ability to project herself across the astral plains, allowing her to temporarily live as someone else on far away planets. But when her inexperience in a conflict results in a young man getting hurt, Beotema must learn to harness this newfound ability in order to save him.
Best know as the artist for the Image series Shutter (which earned her a Russ Manning Promising Newcomer nomination), Leila del Duca expands her game into writing as she joins former art school classmate and webcomic creator Kit Seaton (Eve of All Saints) for this epic young adult fantasy adventure about making your dreams a reality.
Leila del Duca (W), Kit Seaton (A) • Image Comics, $14.99
– Tyler Chin-Tanner
Hillbilly Vol. 1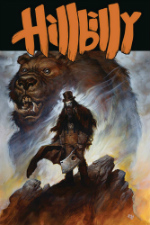 In the rural region of Southeastern Ohio where I live, one needs to drive only about 20 minutes outside of town to find their self in an environment that would be familiar to any fan of the strange world of Eric Powell's hit comic Hillbilly. While there are no apparent witches or demons lurking in the dark wooded hills (or are there..?), folks in those parts definitely live by a different set of rules than most. And, as a culture ripe with great storytelling traditions and even greater stories, it's easy to see why Powell chose Appalachia as a setting for his unique comic.
This week Powell, whose previous series The Goon has garnered him multiple Eisner awards, releases Volume 1 of Hillbilly through his Albatross Exploding Funny Book imprint. Collecting the first four issues detailing the exploits of blind, enchanted-cleaver-wielding hero Rondel, the new trade paperback will also include extra sketch art from the series as an added bonus. Powell's darkly comical, mythology-laden stories are well worth the price of admission, making this collection perfect for anyone who missed out on the single issues from last year.
Eric Powell (W/A) • Albatross Exploding Funny Book, $17.99
– Matthew Box
Lobster Johnson: The Pirate's Ghost #1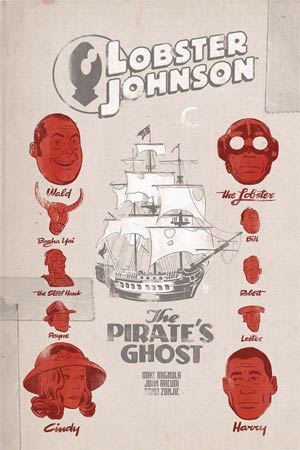 Lobster Johnson stories are the perfect adaptation of the pulp hero for modern readers. He's smart, lethal, has great companions, is enigmatic enough to pull you right into his adventures, and he doesn't always save the day.
A ghostly pirate ship appears in New York Harbor, but what does that have to do with Lobster's hunt for a mob boss? Everything, I'm sure. If you're already a fan of pulp mysteries, you added this to your pull list months ago. If you've never indulged in pulps, Lobster Johnson is an ideal gateway and you should give his latest adventure a try.
Mike Mignola and John Arcudi (W), Tonci Zonjic (A) • Dark Horse Comics, $3.99
– Karen O'Brien
Booster Gold/Flintstones Special #1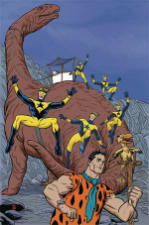 DC's re-imagining of The Flintstones has been one of the surprise critical hits of the last year or so, even if the book's sales haven't exactly matched its acclaim. Much of that appeal has been down to writer Mark Russell's use of the venerable franchise to combine cutting social commentary with a nostalgic twist. If you haven't been following The Flintstones simply because of the online backlash when DC announced their radical new takes on a number of animated faves then you have been missing one of the best books they've been publishing in recent memory.
This week sees the start of a number of one-shot Specials teaming up DC Universe super-heroes with different takes on some much-loved cartoon heroes. In the Booster Gold/Flintstones Special future hero Booster must travel back in time to Flintstones-era Bedrock to discover how to defeat an alien force attacking his own period. This main story is backed up by a Conner-Palmiotti version of The Jetsons and also features a Mike Allred cover.
Look for a whole upcoming host of these frankly bizarre Specials as the likes of the Suicide Squad meet the Banana Splits and Adam Strange encounters the Future Quest characters…
Mark Russell (W), Rick Leonardi and Scott Hanna (A) • DC Comics, $4.99
– Andy Oliver
Black Hammer Vol. 1: Secret Origins

Collecting the first six issues of Jeff Lemire and Dean Ormston's delightfully metafictional superhero series, Black Hammer: Secret Origins chronicles the trials and tribulations of a fractious group of retired and retconned heroes as they while away their remaining years in a pastoral, limbo-like purgatory.
Lemire and Ormston are a collaborative dream team, each bringing their singular creative visions to bear in this brilliant exploration of what happens to our favourite heroes after the latest multiversal crisis forces them from continuity. Bleak, sardonic, and beautifully crafted, Black Hammer deconstructs the superhero epic with wit and insight. Catch up on all the fun with this handy-dandy trade paperback from Dark Horse Comics.
Jeff Lemire (W), Dean Ormston (A), Dave Stewart (C) • Dark Horse Comics, $14.99
– Jason Wilkins