"You're telling me, I live there! It makes The Wicker Man look like Balamory."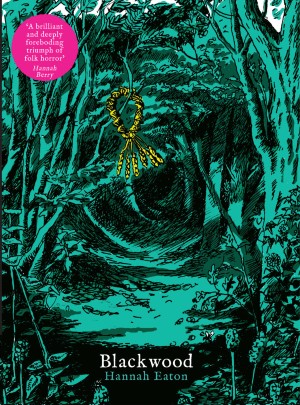 That description of the titular town of Blackwood comes from one of the book's large cast of characters around the midway point of Hannah Eaton's eerie graphic novel. It's a fitting encapsulation not simply of the fictional locale of her story but also of its thematic explorations. Blackwood is steeped in tradition, history and a sense of community. But that latter quality extends only to its established locals, as outsiders are quick to discover.
Ostensibly Blackwood is a murder mystery but in reality it's a far, far more layered work than that. In the ancient woodland that surrounds the rural town two very similar murders occur but decades apart. In 1950 a local man is killed in what appears to have been a ritualistic slaying with links to witchcraft. In the present day a homeless man dies in a murder that bears the same marks. As both deaths are investigated the timeline switches backwards and forwards across the decades as secrets are revealed, hidden truths behind locked doors unravel, and the darker side of Blackwood comes to the forefront…
The initial hook of these dual murder cases, though, is simply an entry point into the wider world of Blackwood and the bleakness it conceals. It's the story of the Weston and Brennan families, and the consequences of the events and family secrets that have shaped the courses of their lives over the years, drives the narrative onwards. Added to this potent mix in the different time zones are the strange cabal of councillors and local businessmen using mystic rites to protect their environment from outside influences; a decadent peer with his own zoo and a workforce of younger men he uses as his playthings; two sets of investigating police officers who must face suspicion and distrust from the locals; and a young boy whose investigations into the disappearance and incarceration of people without trial in the vicinity are ignored by the adults around him.
With so many plot threads feeding into an overarching storyline it may come as little surprise to hear that there are two pages of "family tree" illustrations at the beginning of Blackwood to ensure that readers can keep track of the vast number of cross-generational players in the cast. Eaton slowly builds up the multiple mysteries in chronological increments, shifting between the two historical periods in a manner that allows each to mirror the other, as we slowly piece together how the past has influenced the present in regards not just to the brutal crimes we witness but of the family dynamics and town politics of Blackwood too.
There is much to unpack in these pages but for all its folk horror overtones this is a strikingly contemporary book. Blackwood is a locale that represents the small-minded, parochial self-interest and bigotry of Middle England in darkly outlandish microcosm. What makes events there all the more disturbing is that a year or two ago it would have felt like a fictional warning shot, a moral object lesson that extrapolated current events. Now it feels more like a reflection of them and that is the most horrifying aspect of Blackwood by far.
The hazy, dreamlike artwork perfectly serves a story that feels both occasionally otherworldly in tone and yet firmly rooted in a most recognisable reality. Eaton's time-jumping mystery crosses generations and decades with a frighteningly relevant mix of folklore and social commentary. A quietly brooding indictment of British insularity that is all the more sinister for its unsettling familiarity.
Hannah Eaton (W/A) • Myriad Editions, £18.99
Review by Andy Oliver
Hannah Eaton is a guest artist at tonight's Gosh! Comics and Broken Frontier Drink and Draw (Thursday October 1st). Details here.