MYRIAD WEEK!
This is graphic memoir that doesn't just communicate the issues involved and question the assumptions surrounding them, but crucially also acts as an accessible repository of shared experience for those in a similar position.
So much of this week's Myriad Week coverage has revolved around entrants to their First Graphic Novel Competition and that's entirely appropriate given that, to date, Myriad have published not just the two winners but also three of the shortlisted runners-up. Paula Knight was one of those finalists in the competition's first incarnation in 2012 with her debut book The Facts of Life published earlier this year.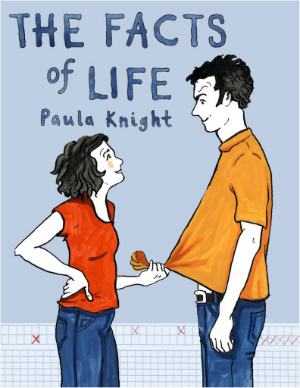 A couple of years back I reviewed some of Knight's self-published minicomics at Broken Frontier here including Spooky Womb and X Utero: A Cluster of Comics which dealt with issues surrounding childlessness, our definitions of "family", fertility and miscarriage. I said then that if there was one thing the reader took away from those comics it was Knight's "ability to constantly play with the form both in terms of presentation and tone, with a notable aptitude for evocative symbolism on show throughout her work."
The Facts of Life expands Knight's exploration of the same themes and there are stylistic echoes of those earlier publications throughout its pages. The book takes the unusual but understandable step for a self-proclaimed graphic memoir of giving its cast of characters pseudonymous on-page identities (with the exception of the recurring presence of Neddy, a rocking horse without a rider that represents its central characters' situation throughout).
As a child, Polly and her friend April make the same curious journey into the arcane realities of the adult world that generations have made before them – discovering the world of sexual relationships in often baffling increments via the media, illicit reading material, her parents and the odd overheard conversation.
Years later Polly and her partner Jack decide to try for a family of their own. But after many miscarriages, and with Polly's health complicated by chronic illness, they are forced to question whether their aspirations of family life are realistic and just why we define the concept of "family" in the way that we do.
Knight's narrative preamble examining her younger incarnation's childhood life is a vital part of this graphic enquiry. It's a reminder of how from a very early age women are indoctrinated into the idea that their identity is defined by having babies; a message that is constantly re-enforced in their impressionable childhood minds as a societal norm.
Where the book's first section looks to the origins of the familial conventions that we are conditioned to accept, the second and middle segment is very much Polly and Jack's heartrending story. This is a poignant account of hopes raised and dashed, of loss and grief, and of a gradual coming to terms with an inevitable decision.
Knight's use of visual metaphor to communicate emotional states through this period is quite astonishing in its efficacy. Sometimes the form that takes is quite literal – her observations of a pair of inexperienced nesting swans on the bank of a local river for example – whereas on other occasions it manipulates and subverts the very structure of the comics page itself.
A resonant song that Polly associates with her tribulations, for example, weaving through panels and immersing her in its grip, poignant character fadeouts on the receipt of bad news, or sudden real world photographic artefacts emerging on the page and taking us from a representation of reality one step removed into the actuality of the situation itself. The Facts of Life is a gentle masterclass in all the storytelling tricks of which comics, and comics alone, are capable.
It's when we get to the book's final section that Knight starts breaking down and questioning why we define family in the way that we do and how the legacy of the past informs that thinking. Seemingly small things like family anecdotes that will never now be passed on take on an extra pathos not just because of the sadness of circumstances but also because it's ingrained on us by our social environment that childlessness somehow equals failure.
There's an understated emotional eloquence to The Facts of Life that is all the more potent for its quiet dignity. This is graphic memoir that doesn't just communicate the issues involved and question the assumptions surrounding them, but crucially also acts as an accessible repository of shared experience for those in a similar position. Paula Knight's long-awaited debut proves to be one of 2017's finest uses of the medium so far.
Paula Knight (W/A) • Myriad Editions, £16.99