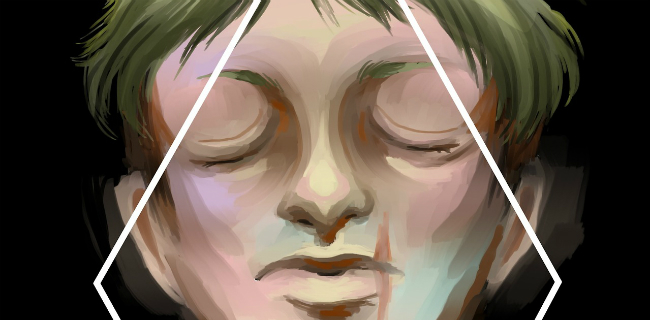 Back in November I alerted 'Small Pressganged' readers to artist Alice Urbino here, suggesting you check out her online work for its intriguing short form use of the medium to convey personal experience – powerful and deeply affecting material that fell firmly in the graphic medicine strand. Urbino's violently slapstick version of 'Cinderella' in the recent Comic Book Slumber Party: Fairytales for Bad Bitches anthology (reviewed here in this column) was in a very different vein but the wicked sense of humour on show therein underlined her versatility as creator.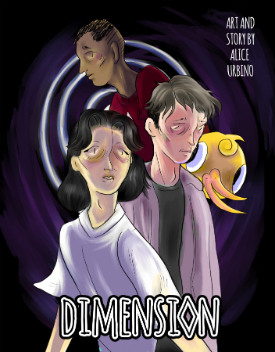 Dimension is her ongoing longer-form project – two issues have been published to date – which explores themes of depression and isolation within a broader fantasy concept. Twentysomething Terry is living an aimless day-to-day routine in a dead end job. He recently split up with his girlfriend, Jess, but even after a month he still hasn't managed to return her belongings to her. His loyal housemate is struggling to defend his behaviour to his social circle, and even his writing, one of his few pleasures, has taken a back seat to his withdrawal from interacting with the world.
Things take an intriguing turn, however, when Terry finally cleans out the house's disgusting old bathtub and takes a good soak in it. His soapy reverie is abruptly interrupted as he finds himself sucked down the bath's plughole and briefly catapulted into another vivid realm of reality altogether. On reluctantly being returned to the "real world" he discovers an entire day appears to have passed in the meantime…
As a basic premise that may not sound particularly involved but Dimension is actually an intelligently layered and potently expressive use of comics to investigate the subject of living with depressive illness. In Terry, Urbino has created a protagonist we instantly empathise with because of her clever contrast of his own desperate reflections on his situation with the unsympathetic viewpoints of those who cannot, or will not, attempt to understand him. This is a character who has become an outsider in his own life – trapped within the confines of his own existence – and, where the comic's cast see a needy loser, the audience see the delicately constructed portrait of a young man in crisis.
If there was one immediate thing I took away from Urbino's slice-of-life/graphic medicine work online it was her ability to deftly exploit all that the comics page offered to trigger appropriate emotional responses in her readership. This is very much in evidence throughout Dimension's pages; her fluid, flowing visual style communicating both Terry's quieter moments of devastated introspection and his grotesque Edvard Munch-style exaggerated bursts of extreme anxiety. Her page construction also forms a foundation for mirroring Terry's state of mind – panels diminish and melt to emphasise a sensation of release, for example, while extreme black backdrops are used to take the reader out of the main narrative, signifying Terry casting off the pressures inherent in his everyday world.
What we see of the dimension that resides at the other end of the bath-located portal is limited to a beautifully ethereal landscape and frozen cave-like structures. The rest of the comic is presented in black and white, evoking a sense of drab, dull numbness to the main character's life with the colour sections of the plughole world bringing a sharp contrast to the rest of Terry's life. It's more than just The Wizard of Oz-style playfulness, however. It denotes a sense of being alive, of truly feeling, that he never experiences in reality.
There's an ambiguity about our hero's cross-dimensional trips that ensures your interpretation of events is constantly veering between the actual and the representational. My initial assumption was that it was an entirely figurative journey but Urbino teases the reader just enough to keep them guessing, with an intriguing recurring motif or two to also add to the mystery.
As with any serialised story a full assessment of its strengths and success as a narrative can only be reached with the completion of the arc. But at this stage I can certainly assure you of two things: firstly Alice Urbino's command of the form to impart information and immerse the reader in her characters' emotional mindscape shows an exceptional talent in the making and, secondly, this is one of the most inventive uses of the graphic medicine genre of comics I have seen for a long time. Watch out for her work in 2015 because she's one of  half a dozen UK creators I think you'll be hearing a lot more about in the very near future.
For more on the work of Alice Urbino check out her site here. Each issue of Dimension costs £3.00 plus postage. You can contact Alice for copies via her Facebook page here or via her tumblr contact page here. 
For regular updates on all things small press follow Andy Oliver on Twitter here.