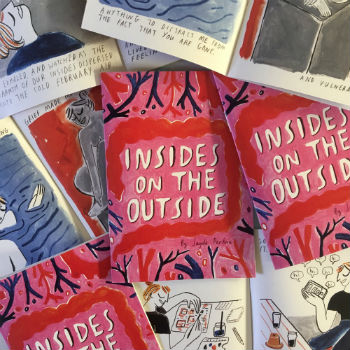 For those perhaps discovering the work of our 2018 Broken Frontier Breakout Talent Award winner Jayde Perkin (also one of 2018 'Six Small Press Creators to Watch') for the first time this week it seems rather appropriate to spend some time looking at her latest minicomic Insides on the Outside, especially given how representative it is of the communicative power of her practice.
Perkin's work largely centres on themes of grief and loss in relation to coming to terms with the passing of her mother. It's a subject she's returned to in comics inclduing Time May Change Me and I'm Not Ready, the latter bringing her to much wider attention last year when she won the prestigious ELCAF x WeTransfer Award. As a result, Perkin's first longer-form comic will be a centrepiece of ELCAF 2019 this June.
As Perkin's body of work has expanded, so too have her differing approaches to conveying her thoughts on the page. From more traditional approach to sequential comic strip storytelling to zine-style presentation, through to children's illustration she's constantly experimented with the storytelling tools available to her. At the heart of all her work though has been a most affecting line in visual metaphor; representational imagery so raw in its emotion and honesty that it's almost devastating in effect.
In that regard Insides on the Outside – a short autobio examination of the impact of losing a loved one – is perhaps as fine a primer for Perkin's style as you're likely to discover in her work. Each page showcases a single image with accompanying descriptive text, many of which present the overwhelming weight of grief in symbolic ways; a literal stripping back of the outer body to reveal its vulnerable insides, for example, or bereavement as a huge dark speech balloon-style cloud like a stygian void. One scene with Perkin sitting on a near mountain of unanswered and sympathetic text and social media messages – unable to respond to their kindness – is particularly memorable.
Once again Perkin's slightly disproportionate figures lend her characters an extra layer of humanity and her colour choices are carefully applied to add an extra emotional resonance to her pages. Insides on the Outside offers no easy answers and is all the more honest and poignant for that. A perfect prologue to her big ELCAF debut in the early summer and an affordably priced minicomic for those wanting to investigate her work further after her Breakout Talent triumph in this week's Broken Frontier Awards results.
For more on Jayde Perkin's work visit her site here and her online store here. You can follow her on Twitter here.
For regular updates on all things small press follow Andy Oliver on Twitter here.
Review by Andy Oliver