Autobiographical work in comics can come from a number of places. On one hand it can be about informing and educating on situations, conditions or experiences. On the other the catalyst may be more immediate, and the result be as much about catharsis and working through one's emotions as it is about providing a narrative for an audience. Edie Woolf's Not Quite Almost 10 Years: A Breakup Zine fits into that latter category; its title obviously underscoring its subject matter, the end of a long-term relationship and its aftermath.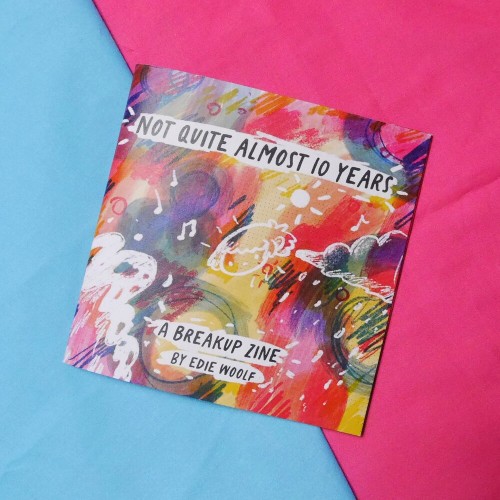 Fitting very much into the minicomic format Woolf takes us from the aftermath of breaking up with her partner (by phone while on holiday with her parents), through the dark days thereafter, and the gradual road to recovery. At the heart of events is the duration of the relationship in question. A near decade that began in the formative years of the ex-couple's mid-to-late teens.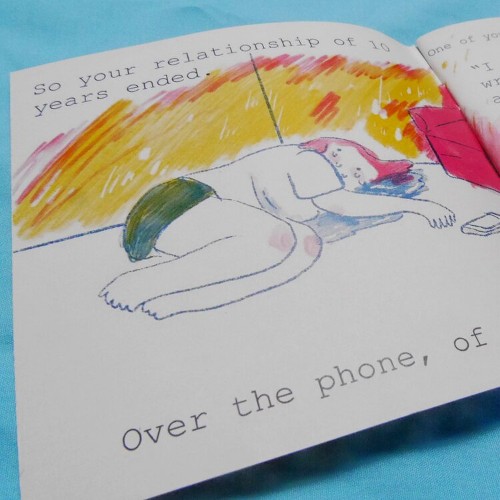 Woolf guides us through this period in a time period-jumping succession of one-page illustrations that mix the existentially impressionistic with affecting visual metaphor. This almost snapshot approach to her experiences allows us to dwell on the emotions each image evokes as both individual vignettes and as part of a sequential narrative. Small moments speak with a loud volume: her ex-partner's name crossed out on a seating plan at a wedding; the concerns of friends when she locks herself sobbing in the toilets; and the trepidatious steps into online dating.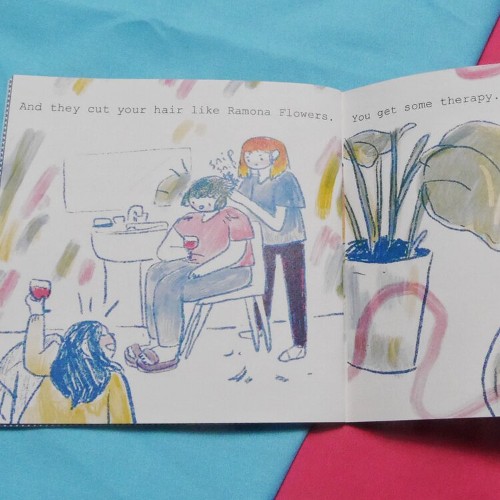 What elevates Not Quite Almost 10 Years from the usual diary comics fare is Woolf's ability to strip back scenes to a core resonance; one that embodies the totality and intensity of the experiences on show. Her fluid cartooning style depicting her interacting with the waves of grief, for example, or the lonely intensity of drunk texting late at night. Adding to the atmosphere is Woolf's changing use of colour which she uses in a mutable fashion to mirror the tone of each image, whether it be figurative or more literal in construction.
Leading to a final moment of epiphany regarding identity, self-discovery and moving on, Not Quite Almost 10 Years treads admittedly well-marked ground but with an approach and cadence that is all its own.
Edie Woolf (W/A) • Self-published, £5.00
Review by Andy Oliver