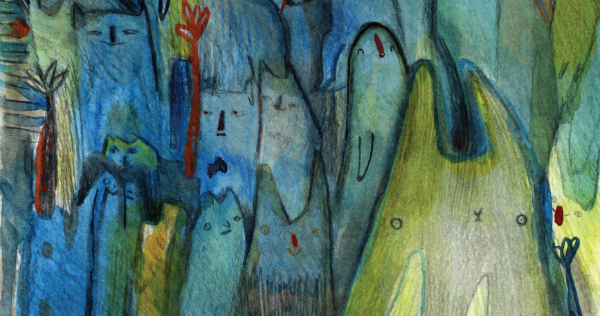 CELEBRATING BCZF!
"Everything happy seems to happen without me…"
Such simple, plaintive, but heartrending words positively abound in Rabbit Thoughts, the debut solo print comic from rising star Kim Clements. In recent months Clements has contributed to two notable UK small press anthologies including a two-page strip in Keara Stewart's dreams and nightmares anthology A Bit of Undigested Potato where she sat side-by-side with such luminaries of the British indie scene as Karrie Fransman, Gareth Brookes and Andy Poyiadgi.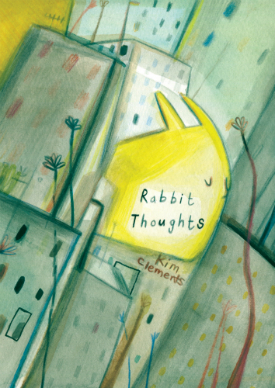 She was also a contributor to that respected mainstay of British self-publishing Richy K. Chandler's recent Tempo Lush Tales of the Tanoox anthology, where she was part of a multi-creator jam story alongside the likes of Jessica Martin, Rachael Smith and John Miers. Long-term BF readers may remember, however, that way back last November I was advising you to keep an eye out on her distinctive visual style when I gave time to her online comic The Great Cat Mystery here. Still not convinced? Then why not head over to the Forbidden Planet International blog where my trusted colleague in comics commentary Richard Bruton recently singled her out in his August 'Pick of the Reviews'.
Rabbit Thoughts is an autobiographical account of a young woman finding her place in the world and dealing with all the anxieties, stress and self-doubt of modern living. Clements is represented by the rabbit of the title which acts as her own anthropomorphic leporine avatar throughout. If you follow her on social media then you will already be aware that she has a visual approach that is firmly grounded in children's illustration. Rabbit Thoughts has definite echoes of this but, on this occasion, the apparent innocence of her imagery masks much darker underlying themes.
Whether this is, strictly speaking, sequential art or whether it more naturally fits into the category of graphic narrative is up to the individual reader to decide. But what Clements so potently communicates here are feelings that we can all recognise. Devastating loneliness ("Sometimes I feel so lost and alone even though I know all around me there is splendour" – below left), helplessness and hopelessness ("I can't stop the fear overwhelming me. I am nothing"), and a desperate detachment from everything and everybody around us ("Everyone has somewhere to be. One day I may join them" – below right).
There are fascinating contrasts here. A deliberate and deceptive childlike naivety in delivery is visual camouflage for a maturity and sophistication in construction that becomes all the more apparent on every subsequent re-read. Clements has an astonishingly intuitive understanding of how the relationship between words and pictures can best be manipulated to bring the reader into her mindscape. Look at her rabbit persona surrounded and oppressed by ghostly tormentors that signify her lack of confidence and her bleaker moments (above centre). Or the sequence where the enormity of the city overwhelms her solitary on-page self (one example below left). A sense of powerlessness and a disconnection from her social environment is almost tangible in these scenes.
While Clements' prose is uncomplicated in structure it's that same lack of guile and her unrestrained honesty that allows us to connect so implicitly with her central character. Her subtle and delicate ability to immerse the reader in this profoundly realised world and entrance them with a hypnotically powerful whirl of kaleidoscopic metaphorical imagery is extraordinary. While the main thrust of Rabbit Thoughts is, indeed, melancholic and reflective in tone it's not without a mounting feeling of acceptance, personal growth and transition as the book goes on. All the more rewarding given how quickly invested the audience becomes in this forlorn little rabbit and her daily struggles. A double-page spread in a cinema where she laments lost love, for example, is absolutely heartbreaking in its eloquent and elegant simplicity (above centre and right).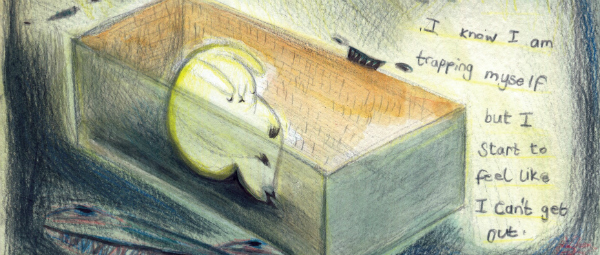 There's an emotional intelligence and empathic quality to these pages that means that you experience Rabbit Thoughts rather than simply read it. With its poignant fragility and haunting beauty this is a truly unforgettable debut comic. 'Small Pressganged' was set up at Broken Frontier in 2011 with a primary aim to unearth the gems of the small press. It's hugely satisfying to know that all these years later we're still introducing you to exciting new creative voices on the scene like the utterly remarkable Kim Clements.
For more on the work of Kim Clements visit her website here and follow her on Twitter here. Rabbit Thoughts is published by Moustache Cupboard Press and will debut at Bristol Comic and Zine Fair on Saturday October 3rd on the communal table. You can also order copies online on Big Cartel here priced £4.00.
For regular updates on all things small press follow Andy Oliver on Twitter here.