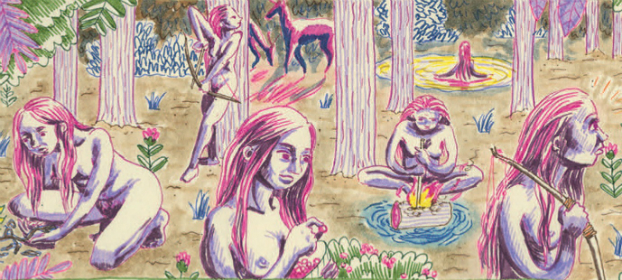 CELEBRATING BCZF!
Last week here at 'Small Pressganged' I previewed a number of the solo print projects debuting from Big Brown Eyes – a collective comprising sisters Emily Rose, Karis and Freya Lambert – at this weekend's Bristol Comic and Zine Fair. Those individual comics, however, are not the only offerings you can pick up from the trio at BCZF. They have also put together an anthology showcase of their work fittingly called Beginnings; a title that marks both the comic's thematic premise, and their debut as a collaborative creative group.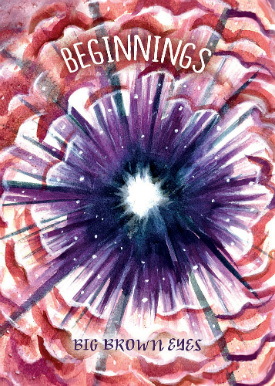 Ranging from new relationships to creation mythology, every short story herein is about the start of something. The work in Beginnings is succinct and easily digestible with its sixteen pages encompassing five tales from the Lambert team. While some of the offerings here are more confident in delivery than others there's a willingness to experiment with the possibilities of the form that is most refreshing in intent for such a neophyte publishing venture.
Karis Lambert opens proceedings with the wordless 'Hella' (banner image above), a two-page story of the cycle of life given a slightly eerie ambience through both its bizarre organic imagery and carefully chosen yet vivid colouring. While it treads thematic ground that has been traversed countless times before it's still an impressive and assured piece of silent storytelling. Karis also contributes a later story 'Distance' which traces the course of a relationship in a non-linear fashion to haunting effect. Her subdued use of colour adding a sense of tenderness to a narrative that has a poignant backwards inevitability to it.
Freya Lambert's two-pager 'Glory' brings the reader into the conflicting emotions experienced before the commencement of battle. It's tense and touching with a fitting use of chronological cutaways to life away from the battlefield but there's not enough room in two pages to explore her subject matter to the depth that it deserves. I'd be interested to see this expanded so that it felt more evenly paced because there's definite potential here. More successful is Freya's 'Holding Breath' (below) which explores ideas of familial regret and parental trepidation. Traditional page structure dissolves into a fluid arrangement of panels in an affecting study of the anxiety of impending motherhood.

Finally we have Emily Rose Lambert's 'The Maker' (below) which is the highlight of the issue. If you were impressed by her pages in the anthology Dirty Rotten Comics #4 earlier this year then this will be well worth your time checking out. It's a story that is playfully cosmic in scope but strangely human at the same time, with her deity figure resembling both omnipotent benefactor and also something akin to a small child rearranging the contents of their playbox. As with her DRC piece her tightly panelled pages have an intricate and involved beauty to them.

While there's evidence here of creators who are still developing their storytelling skills what immediately struck me about Beginnings was the level of ambition on show. Artists who look to weave their tales by not just utilising but positively embracing the unique properties of the medium will always find words of encouragement in 'Small Pressganged'. The Big Brown Eyes Collective clearly understand that comics as a form has its own unique language and I look forward to seeing them hone their craft in future. Definitely a trio to watch.
For more on the Big Brown Eyes Collective visit their tumblr here. You can also visit Emily Rose Lambert's website here. Beginnings will be available to buy at the Bristol Comic and Zine Fair on October 3rd priced £4.00.
You can follow the Big Brown Eyes Collective on Twitter here.
For regular updates on all things small press follow Andy Oliver on Twitter here.