CELEBRATING BCZF!
Experiment is the first collection of comics by Stray Lines who describe themselves as "a collective of Irish and Irish based illustrators and comics artists dedicated to incubating and promoting innovative approaches to comics in Ireland. We aim to stimulate and develop a vibrant comic industry in Ireland and represent this in the global comic market. We love comics and narrative illustrations that are personal, unique, and unafraid to be different."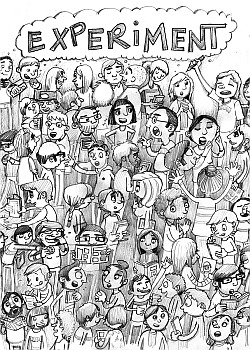 A bold mission statement, perhaps, but one that's off to a fine start with Experiment! The anthology comprises fifteen largely one-page strips – with a single two-page exception – with the titular noun also acting as the book's central theme. It's always something of a challenge to review work that is so concise in nature, and manage to describe such succinct narratives with enough detail to entice potential readers in without giving the entire strip away, but I will endeavour to pique your interest without ruining the element of surprise.
Anthologies, I need hardly say, are always an excellent potential introduction to creators you have yet to discover and there's an entire pool of artists herein that are unfamiliar to me. There's a welcome level of interpretation to that central premise as well, with some artists using it as the theme of their stories and others almost as an instruction to play with the possibilities of the form.
The standout offering for me was Katherine Foyle's classic horror movie-based entry (see top banner image) that takes the famous line "It's alive!" from the castle-bound experiment scenes of Universal's Frankenstein (1931) and completely turns the reader's expectations on their heads in just four panels. It's a witty and clever visual gag and Foyle's art has a beautifully constructed, perception-shattering sense of design to it.

The diversity of the work herein in terms of genre is notable, ranging from sci-fi and slice-of-life to comedy and surrealism. Debbie Jenkinson's humorous 'Bubble: A True Story' (above) with its cartoony and familiar representation of a naive, child's eye view of the world, for example, sits a page away from Clare Foley's dark recreation of the events of the 1971 Stanford prison experiment. Foley's one-pager further underlines the inhumanity of those events through the stark detachment of her visuals.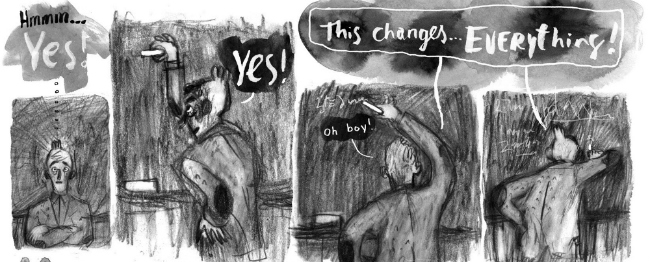 I was also rather taken by the busy panels of Alan Dunne's 'Loop Theory' (above) which mirror the frantic calculations of an agitated academic to great comedic effect, and Matthew Shiell's energetic meta account of an artist at work (below) instantly marked him out as someone to investigate further.

While there are names here that may be familiar to you from the SP shelves of British shops – Sarah Bowie and Paddy Lynch for example – there are significantly more that you may not have come across as yet. Stray Lines will be at the Bristol Comic and Zine Fair on October 3rd. Check out Experiment because it's a must-read recommendation from me for any UK-based small press aficionados looking to expand their horizons and immerse themselves in the Irish self-publishing scene.
For more on Stray Lines visit their site here. You can read the entirety of Experiment for free online here.
For regular updates on all things small press follow Andy Oliver on Twitter here.