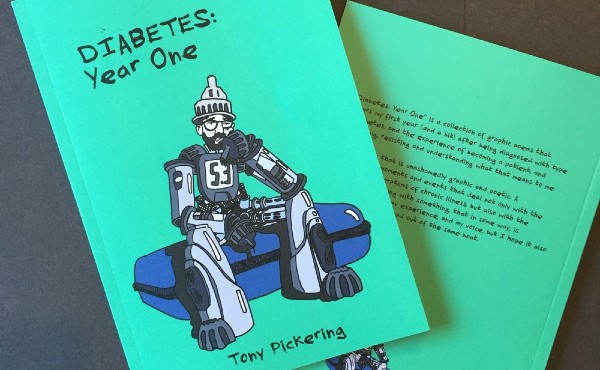 Tony Pickering describes his Diabetes: Year One as a collection of graphic poems, created in response to his diagnosis with type 1 diabetes and the implications of that news. Where some practitioners in the area of graphic medicine may approach their stories as a linear account of their experiences Pickering has, instead, opted to produce a more stream-of-consciousness compilation of his thoughts. The result is a one-shot that is fragmentary in structure but has a raw, and even visceral, connectivity with its audience.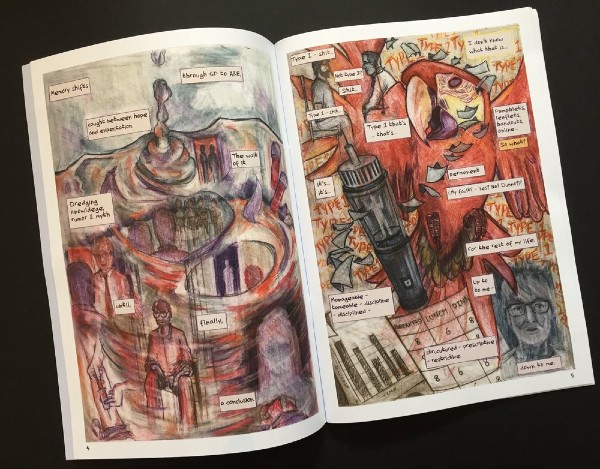 Diabetes: Year One makes heavy use of visual metaphor throughout to portray Pickering's mental state, from the confusion of initial diagnosis to depictions of his life in freefall that take on a very literal representation early on. A fractured internal monologue is used to underline his disorientation as he adapts to his new situation and this lifelong medical condition. In one notable sequence at a medical appointment Pickering is asked if he has any questions. Over the course of subsequent panels his encroaching fears, in the shape of disturbed thought bubbles, slowly begin to overwhelm the page.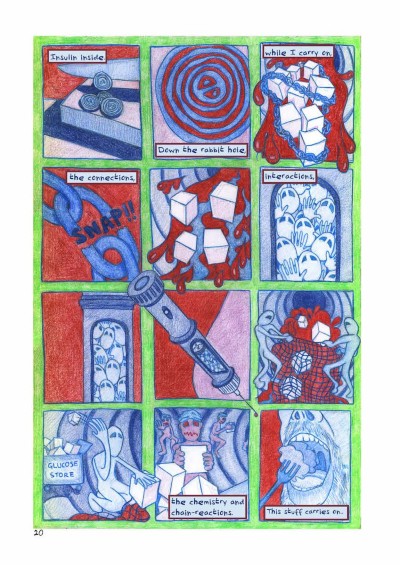 Pickering shifts through varied aspects of his situation, from the day-to-day realities of living with diabetes through to scientific reflections. New routines, new rituals and new regimens are adopted as he flits between the larger picture and a very personal record. His lyrical reflections often float over the stark imagery like a haunting accompanying melody, but he also knows when, on occasion, to step back and let the emotional resonance of his art do the talking instead. If there's one main drawback here it's that the page size doesn't always present the busy pages at their most legible.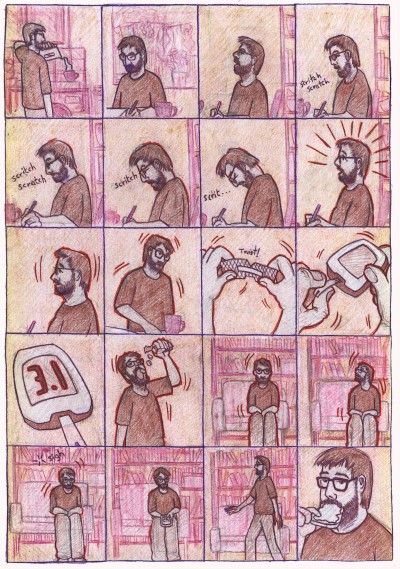 While Pickering's art has a naïve quality in places his understanding of visual sequential storytelling is sophisticated and highly effective in communicating these profound changes in his life. That sense of discombobulation is embodied in an ever changing colour palette and page structures that range from the traditional to the freeform in composition. He constantly plays with notions of time and pacing to give Diabetes: Year One a dream-like quality, with event sometimes breaking out of panels or swirling across the page to emphasise their intensity. This is a comic that takes us directly into Pickering's journey on an almost instinctive level, giving us an intimate understanding of how he approaches the consequences and questions surrounding his diagnosis and providing a fine example of how graphic medicine can bring us so fully into the lives and struggles of others.
For more on the work of Tony Pickering visit his site and online store here. You can follow him on Twitter here and on Instagram here.
Review by Andy Oliver