SMALL PRESS DAY IS COMING!
It seems particularly appropriate to be covering Emily B. Owen's zine-style minicomic Brain Shoodles in the week of Small Press Day not just because it launches at Cardiff Comic Expo on the day but also because it's a publication that is a true representation of the spirit of  the event. Owen explains its title as a portmanteau of "shit doodles". But don't let that self-deprecating label put you off! Brain Shoodles exemplifies everything that is so important about the communicative power of DIY culture in reaching out and portraying experiences we may all have shared.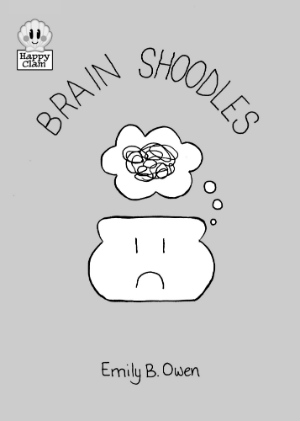 Fitting into the graphic medicine strand of storytelling, the project began as a reflective exercise for the author that was never intended for the eyes of others. In order to make sense of periods of anxiety or depression Owen began drawing small comic strip ruminations on what she was going through. These were eventually tentatively shared on Twitter and from there Brain Shoodles evolved, culminating in a crowdfunding campaign to fund a print version which recently reached its successful conclusion.
The zine details both Owen's darker moments and the mechanisms she finds to cope with them and one-page comic strips are interspersed with single illustrations detailing practical methods for lessening stress in those more difficult periods.
In the course of twenty-something pages Owen details with great candour the ramifications of anxiety's crushing grip, that sense of dislocation and panic it causes, and the self-loathing that can entail. But, importantly, she also reminds anyone going through something similar that they are not alone. There's a message of positivity throughout that is only boosted by the contrasting rawness of the events depicted.
Yes, Owen's stripped back illustrations and basic anthropomorphic brain-style characters are unsophisticated, even crude, in delivery but that enhances the personal nature of the project rather than detracting from it and strengthens her connection with her audience. They're a visual representation of the honesty and openness of their subject and all the more empathetic in nature for it. Rob Jones's lettering narration supplements the emotional core of the subject matter through a variety of appropriate effects and tricks from the letterer's craft.
If there's just one small press comic we cover here at BF this week that will most ably capture the philosophy of Small Press Day it will probably be Brain Shoodles. After all, SPD is about the democracy of comics, about the act of embracing this medium to ensure you have a voice, and about celebrating the potency of the form to convey, share and support. If you're at Cardiff Comic Expo on Saturday then you have the perfect opportunity to grab a copy of the zine from Emily herself there!
You can order Brain Shoodles online here from Emily B. Owen's online store very soon priced £3.00 and follow her on Twitter here. 
For regular updates on all things small press follow Andy Oliver on Twitter here.
You can buy Brain Shoodles from Emily B. Owen at Cardiff Comic Expo on Saturday as part of the Small Press Day celebrations.