It's been several years now since we first covered the often dreamy, always lyrical work of John Cei Douglas at Broken Frontier in the early Great Beast collection of his comics Show Me the Map to Your Heart & Other Stories. I said back then that "One of the aspects of Douglas's work that you quickly come to appreciate is that he's never scared to adopt an oblique storytelling style to fit the tone of his subject matter. It's up to each individual reader to decide whether they perceive this as an author unafraid to make his audience work to determine each story's message, or whether it is interpreted as an opportunity for the readership to take their own meaning from each tale." Those words from 2014 have a resonant echo when considering Douglas's latest book All the Places in Between from mind-body-spirit publishers Liminal 11, given that this too is a story which looks to forge a bond of intimacy with the reader through a connection that is as much intuitive as it is interpretive.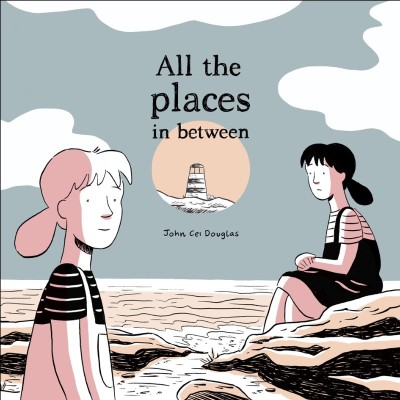 All the Places in Between explores territory that Douglas has touched on before in his work, using extended visual metaphor to examine themes of mental health and identity. Douglas has proven adept over the years at telling his stories without the need for accompanying narration or dialogue whether that be in his profounder offerings like All the Places in Between or more whimsical work like Badger Vs. Tiger. Here, the surface narrative concerns itself with a journey through a symbolic dreamscape as a young woman is our guide on a voyage of self-discovery that encompasses feelings of anxiety, depression and isolation along the way.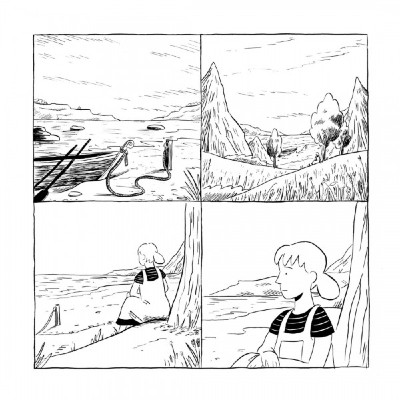 Beginning on a quiet beach we observe our protagonist as she imagines a kind of mirror image version of herself; the catalyst for the inner quest that is to come. As we follow her travels across stormswept seas, barren landscapes, a recurring lighthouse, and an empty, ruined city the character's truths become our truths. From the obstacles she faces we can recognise the challenges we all face with our mental health, the difficulties in conveying those experiences, the people who support us along the way, our worries for the future, and the fears that can absolutely overwhelm us in their devastating wake.
What is crucial to our interaction with All the Places in Between is Douglas's deliberate and measured decision to allow us to take as much from what isn't said here as from what is. The reader is encouraged to react on an empathetic level with the book, not so much to infer meaning from its pages as to absorb it in a far more instinctual way. It's a graphic novella that will doubtless evoke diverse reactions from its audience and that feels very much what Douglas is intending by creating an interpretive space between panel and eye that the reader can inhabit and make their own.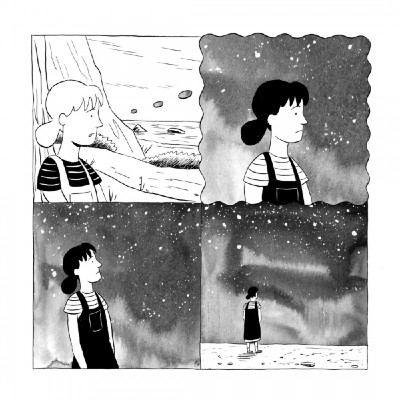 Douglas's gentle cartooning can shift dramatically into moments of crushing intensity; the connective simplicity of his characters as they move through detailed and sometimes ominous backgrounds ensuring our rapport with them. There are some beautifully meta moments here as characters treat the structure of the page as something to be ignored and/or manipulated when it takes their fancy. All the Places in Between is, ultimately a hopeful book though; a contemporary, insightful Where the Wild Things Are that is a powerful reminder of John Cei Douglas's place as one of UK indie comics most eloquent pure visual storytellers.
John Cei Douglas (W/A) • Liminal 11, £11.99
Also available from Gosh! Comics
Review by Andy Oliver