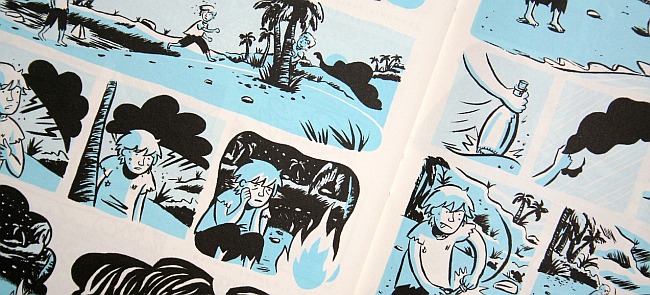 Show Me the Map to Your Heart & Other Stories… sees John Cei Douglas's lingering and poignant comics collected into one mandatory package from British publisher Great Beast. It includes work that was originally published in some of our top UK small press anthologies and one-shots – including the likes of ink + PAPER, Paper Science, Score and Script and Solipsistic Pop – the majority of which is re-presented here in subdued and evocative blue hues that lend a suitably detached and slightly unreal feel to the proceedings.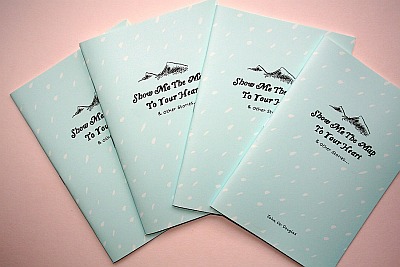 I've briefly covered Douglas's material before when reviewing some of those aforementioned group efforts but, as is largely the case when discussing anthology books, my commentary on individual contributions has, by necessity, been fleeting. Nevertheless, John Cei Douglas is a creator whose short stories have always been memorable for their dreamlike and tender narratives. Pleasing indeed, then, to see Great Beast add his name to their ever burgeoning catalogue of British indie talent.
One of the aspects of Douglas's work that you quickly come to appreciate is that he's never scared to adopt an oblique storytelling style to fit the tone of his subject matter. It's up to each individual reader to decide whether they perceive this as an author unafraid to make his audience work to determine each story's message, or whether it is interpreted as an opportunity for the audience to take their own meaning from each tale. This is readily apparent in the double-pager 'Lost' and 'Found' in this collection which is an excellent example of this meshing of dream logic and metaphor that invites the reader to invest themselves in its protagonist's own journey of discovery.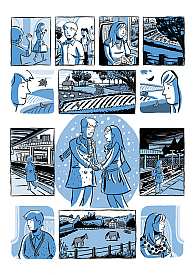 The four-page 'Footnotes' (right)  is a quite beautiful compilation of scattered moments across a relationship that underlines what an accomplished practitioner of wordless sequential art Douglas is. The full emotional spectrum is visited as we observe a young couple – sometimes together, sometimes alone – over the course of their time together, with the same station and rail journeys forming the backdrop to their union. Joy, pain, doubt, hope, passion, sadness… the juxtaposition of moods here is astonishingly realised and devastatingly effective by the story's conclusion.
Of the other shorts here 'Living Underwater' (below) is one of the most distinctive takes on dealing with depression that you will ever see on the comics page. It's a perceptive and deeply intelligent use of the medium to convey the helplessness of anxiety and a particular state of mind and one that works up to an inspiring denouement. Similar themes are echoed in the even more overtly metaphorical 'Bottling it' (top image above). 'Tan Lines' is an instantly recognisable account of those first awkward,  trepidatious stirrings of longing as we verge  on the cusp of adulthood while 'Follow Me' I described as "a magical novella in a page that seduces the reader's imagination with its charmingly storybook narrative approach" in its Paper Science incarnation in this column a couple of years back. This latter story is the collection's only disappointment: its enchanting atmosphere needing the size of its original A3 page to be properly appreciated. Sadly the crammed reduction here ensures some of that charm is lost.
The titular 'Show Me the Map to Your Heart' is the book's longest form piece, indicative of many of the themes and storytelling techniques on show throughout the comic. It translates a contemporary romance into fairytale terms through the story of travelling troubadour Alexander and farmhand Helena and their quest to find the missing parts of her heart. It's a heart-rending entry and one that again showcases Douglas's incredible ability to use the page like a narrative canvas to paint an entire story (or significant parts thereof).
When reviewers talk about art that has an elegance and a clarity to it we're often using those terms as a suspicious shorthand to say it's uninvolved in presentation; that's not the case here even though both words apply to Douglas's visuals. There's an indisputable grace to his layouts but his panels are also often crammed with detail with some of those larger spreads being so elaborate that you can lose yourself within their confines. Those of us who cheer on those tactile, story enhancing experiences that only print can provide will take great delight in the fold-out centre pages of 'Show Me the Map to Your Heart' (below) which add another dimension to that already playfully structured offering. But his tight panels and flowing linework provide a feast for the eyes throughout.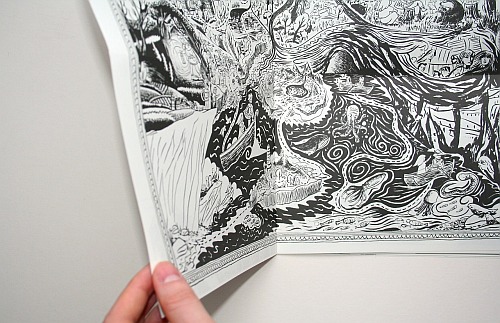 John Cei Douglas has a gift to make the melancholic beautiful and to immerse his audience in the emotional highs and lows of his characters in a way that few creators can match. In a very short space of time Great Beast have shrewdly signed up some of the very best of the new wave of Brit comics talent but, of everything they have published to date, this stunning collection of short stories is an absolutely obligatory purchase.
For more on the work of John Cei Douglas check out his website here. Show Me the Map to Your Heart & Other Stories… is available from the Great Beast site here priced £5.99 in print or 69p in digital form.