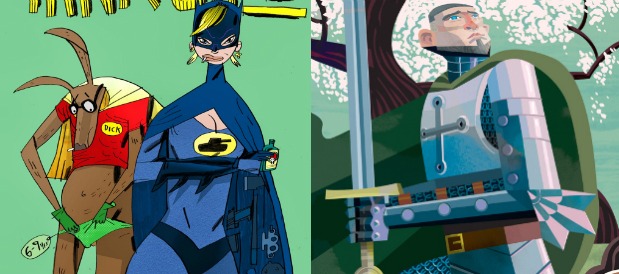 The next Gosh! Comics and Broken Frontier Drink and Draw is coming on Monday April 4th (full details here) and, once again, we have another fantastic line-up of artists involved. To get our ever eager attendees prepared for another night of comics-based bonhomie I took the opportunity to chat to two of our guest creators on the night, Robert M. Ball and Warwick Johnson-Cadwell.
The duo have, of course, collaborated on the British Comic Awards-nominated Dangeritis: A Fistful of Danger, featuring the misadventures of the titular secret agent. Robert M. Ball is also a 2013 British Comic Award winner for the acclaimed Winter's Knight: Day One. Warwick Johnson-Cadwell's back catalogue includes Tank Girl for Titan, The Lovecraft Anthology for SelfMadeHero and the 24-hour comics anthology 24 by 7. He is currently working on Gungle for Blank Slate Books.
Join me as I talk to the pair today about the distinctive narrative foundation of Dangeritis, how their creative partnership was formed, and their thoughts on the state of the current UK small press scene…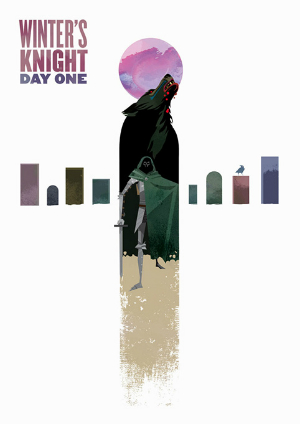 BROKEN FRONTIER: Robert, you broke onto the scene with Winter's Knight: Day One a few years back which was a notably long piece of work for a debut book. Given it was such an ambitious first attempt working in the medium how much of a learning curve was the project for you in terms of your comics creative process?
ROBERT M. BALL: Pretty much vertical. I'd never drawn a single comic page before so it was a case of just having a go and telling the voices (the ones in your head telling you that you're a moron) to shut up. I made it extremely simple – one character, a completely linear, three act structure, and wordless because lettering was a headache I could do without. I've read trades since I was a teenager – so that's what comics are to me, in effect, which explains why I made a comic that was around 50 pages. In retrospect it was insane. Insane, but I'm doing it all over again with the next chapter.
What was the particular appeal for you of working in that specific genre?
BALL: Working in genre is another way of keeping things simple for yourself – your audience will fill in a lot of the blanks themselves and meet you halfway. The dark ages is one of those worlds like the wild west, or the post-apocalypse, or deep space, where you're free of 'realism' and can concentrate on tone and psychology. I'm interested in the picaresque style of fairy tale and myth – characters as symbols or cyphers and Winter's Knight, I hope, has a bit of that going on.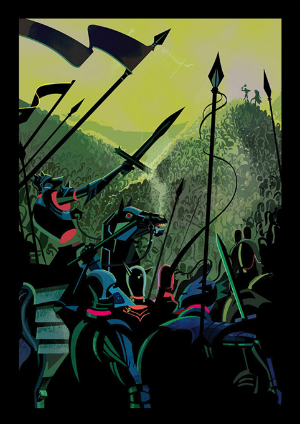 Winter's Knight won the British Comic Award for Best Comic in 2013. Was that immediate recognition for your work at all daunting at the time?
BALL: No not at all, it was an amazing and lovely shock! You beaver away at this thing for a couple of years and it could be met with a chorus of indifference, but the fact people responded to it was the opposite of daunting – it encouraged me to do more!
Your art has shifted between digital and analogue. How does working in different media inform your approach to the page?
BALL: I don't really see any difference in approach. Because I live in London, my 'studio' is around the size of a family sized biscuit tin, so working digitally is mostly a practical decision.
I think style should be driven by the story you're trying to tell, so it's natural for different techniques to lend themselves to different stories. Plus I self-publish my work, so I should take the opportunity to mess about!
To a degree both your protagonist in A Winter's Knight and Derek Danger in Dangeritis – your collaboration with Warwick – are archetypal characters but approached from very different angles. One is essentially a very traditional interpretation and the other a subversion of a familiar fictional character type. Is toying with approaches to the role of the archetype in your comics something that particularly interests you?
BALL: I think they're actually very similar, the main difference being tonal – one is relatively serious and the other is the opposite. I'll leave you to guess which is which. I can't create traditional heroes – the hunk who saves the day. I just can't take it seriously enough for long enough to write about that. My characters all tend to be old and a bit knackered!
Above – the cover and sample pages from Winter's Knight
One of my favourite 'heroic' characters is Dennis Weaver in Steven Spielberg's Duel – just some ordinary shmoe in extraordinary circumstances. That contrast is fascinating to me. Maybe there's a simpler reason – I was once asked if the overweight, middle-aged loser Derek Danger was autobiographical, and there's definitely a grain of truth in there!
Turning to Dangeritis now, how did your collaborative partnership first come about?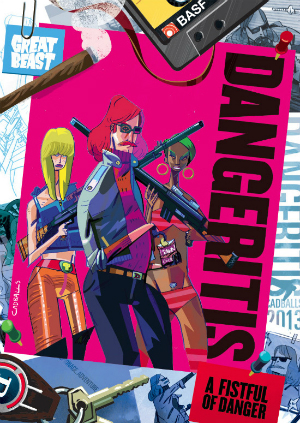 BALL: We became pals through Twitter, I think (my memory's a bit fuzzy) and started doing comic conventions together. We're the same age – I think Warwick's three weeks older which makes him the mature one. Being self-published means you have to generate your own projects, I'd just spent a couple of years making Winter's Knight and we thought producing a joint comic might be a quicker way of getting something new out there. Warwick may well remember it differently, and he'll probably be right.
WARWICK JOHNSON-CADWELL: We became pals through Flickr, I think (my memory's a bit fuzzy) and started doing comic conventions together. We talked a fair bit about what's good and what's rubbish, generally, not just comics and Derek sort of became a visual extension of that conversation. In a way. We planned to kick this stuff about from one to another on dangeritis.tumblr.com where anyone could see. My experience and wisdom moderated by time and Robert's vital freshness, angst and youthful hot-headedness (there's at least three weeks between us in age). And it became the comic from there.
The storytelling structure of Dangeritis is quite a distinctive one. Can you explain your process on the strip and its original delivery online?
BALL: Originally, the idea was for one of us to put our character – Derek Danger – in peril one week, then it was up to the other to rescue him and put him in peril again, but as we worked on it the structure became much looser. We just had this guiding thought of ridiculous action sequences happening in the most mundane places and a world where everything is out to get our hero, so we started with a 24 Hour garage being attacked by ninjas. Obviously.
Robert and Warwick's distinctive collaborative approach in Dangeritis…
I draw one page and hand it over to WJC, he draws the next and so on. On some pages I coloured his art, or he supplied a background for mine, just to mix it up a bit. We didn't want to come across as in-jokey so we put the pages up weekly on Tumblr, and encouraged people to send in plot suggestions and art, all of which was published with the strip.
JOHNSON-CADWELL: We did a page each to start then the order breaks down during the story, we did a collaborative 'catch-up' dps as we didn't post anything for a few weeks where I did panels over Rob's dps. We did a double splash page where I draw the top half and Rob the lower. and some mix n match pages. I like Dangeritis a lot. I think it works a lot better than I expected it to and I'm sure better than we'd planned. I'd love to do more but I'd hate to see us cock it up.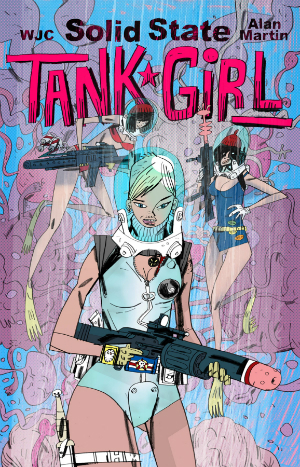 Warwick, your art has a very abstract, impressionistic feel to it and a tangible sense of energy. Is that a style that's developed organically over the years? Who do you look to as your artistic inspirations?
JOHNSON-CADWELL: Organic is pretty accurate. There was no time where I decided to go a certain direction. I just made a thousand different decisions about how to draw and found myself on that road. I often thought about going back to somewhere more commercial but that wasn't as interesting as ploughing on.
People ask questions about finding or choosing a style and that seems weird. When you draw your style grows from that, nothing will kill your art more than imposing a style on it, surely?
Arguably it's your work on Tank Girl (left) that may be the most familiar to the Broken Frontier readership. Did you have any sense of trepidation about working with such an iconic character when you first came to visualising her misadventures?
JOHNSON-CADWELL: Yep, I realised I was going to shit myself worrying about the whole thing so I had to shut down all outside concerns and follow where Alan's script took us.
What would you put Tank Girl's enduring popularity down to?
JOHNSON-CADWELL: She's fantastic, terrifying and ridiculous. The spirit of Tank Girl is carried and kept alive by fans who love Hewlett and Martin's creation.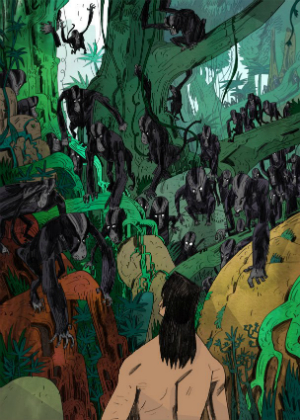 Could you tell us a little about the premise of your work-in-progress graphic novel Gungle (right) and the current status of the project?
JOHNSON-CADWELL: Gungle is not a grand tale, it's a series of narratives set in a fantastic world. It started as an exploration, a story that would reveal itself to me as much as to anyone who might follow it. Similar in many ways to Dangeritis I suppose. But whereas Derek was a spontaneous and enjoyable process, Gungle became a piece of Glorious Creation that I was too terrified to tackle.
It has been years in the making but much of the time has been spent stopping, starting, changing, re-starting and worrying. I have come to grips with that now and the book is going to be finished this year. My sincere thanks to Blank Slate for their monumental patience.
Your earlier work appeared in a number of small press anthologies like Solipsistic Pop and New British Comics.  How vital do you feel anthology participation is for self-publishers in building up a body of published work, forming links with peers, and establishing themselves?
JOHNSON-CADWELL: I was not a part of any sort of comic scene til I started picking up and participating in small press and anthologies. I was a part-time illustrator and anytime/all the time doodler on the south coast far from any like-minded people. I found my way into this world through the internet (blogger) then meeting people and showing them my drawings. I started to post my own work online then was asked to participate in  small press anthologies, they are vital.
WJC anthology contributions in Solipsistic Pop, New British Comics and his guest cover for the Spandex Special
Some of your most recent comics work was seen in the pages of the Lakes International Comic Art Festival tie-in collection 24 by 7. How much of an adrenaline rush was the experience of putting together a 24-hour comic?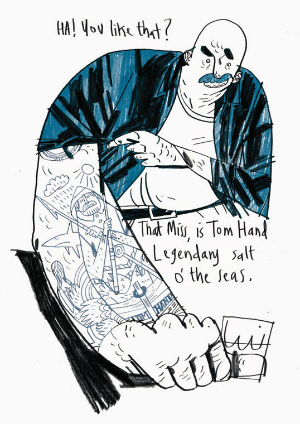 JOHNSON-CADWELL: Nothing like it. Everyone needs to do it. I hadn't work in a studio environment for a very long time and would do one every week if I could. We were supremely well looked after there and that helped a lot.
The adrenaline kept coming too, after he files were finished and the books returned. It became a 44-hour day in the end, after drawing it, getting it back from the printers and celebrating.
You've both been involved in the UK self-publishing world. We examined the intricacies of the current scene in our State of the Small Press Nation series in great depth at Broken Frontier last year.  How do you view the scene in 2016 in terms of its expanding practitioner base and the challenges it faces moving forwards?
BALL: Crikey. I think it's inarguable that there's a vibrant scene and that it's shaken off a lot of some typical clichés and long held prejudices about the format. I think comic shops are almost unrecognisable compared to ten, twenty years ago and the breadth of subject matter being covered is remarkable. Progressive comics festivals like Thought Bubble and ELCAF have also been cruciaI.
I think the challenge is always going to be producing professional standard pieces of work from what is largely an amateur, spare time activity. It seems that we're going in the right direction. Maybe there's an independent comics golden age just on the horizon somewhere!
JOHNSON-CADWELL: Producing comics is far easier to do now than it ever was before. Good ideas are both free and valuable but reproducing them cost money, then getting them out somewhere was harder. Posting online is freely available and good quality printing is much more affordable so self-publishing books should get bigger and the good ideas will flourish.
Winter's Knight Two (left), and The Marionette Unit (centre and right) which is available for pre-order from today here
What are you both working on now? What can we look forward to seeing from you in the near future?
BALL: I'm working on Winter's Knight 2, whenever I can find time, and I'm always up for creating short strips if there's any anthologies out there!
JOHNSON-CADWELL: Gungle. I have a strip in Will Kirkby's magnificent Kickstarter backed book Grenade. There's Gungle.  Also, The Marionette Unit, a Victorian science fiction graphic novel created by Azhur Saleem and James Boyle with art by me. Then there's Gungle . . .
For more on Robert M. Ball's work check out his website here and follow him on Twitter here. His online store is here. 
You Can visit Warwick Johnson-Cadwell's website here and follow him on Twitter here. His online store is here. 
For regular updates on all things small press follow Andy Oliver on Twitter here.
The Gosh! Comics and Broken Frontier Drink and Draw is next Monday April 4th with guests Robert M. Ball, Warwick Johnson-Cadwell, and Broken Frontier 'Six UK Small Press Creators to Watch in 2015' artists Alice Urbino and Danny Noble.