It seems hard to believe that it's a whole four years ago to the very day that the first Gosh! Comics and Broken Frontier Drink and Draw debuted at the John Snow pub in Soho. A collaborative venture between one of the UK's favourite comics shops and BF it was designed as a monthly event that would provide "an opportunity for attendees to find their artistic muse in a relaxed and informal atmosphere in the company of a rotating list of guest creators from across all areas of comics publishing."
The very first Gosh! and Broken Frontier Drink and Draw in 2015. On the left Nora Goldberg who would go on to become the event's third co-host with BF's Andy Oliver and, right, guest artist Tom Humberstone. Photos by Sean Azzopardi. 
With Gosh! providing pre-event signings and Broken Frontier offering coverage to the attending artists beforehand, the Drink and Draw would go on to become arguably the most successful social event on the current London monthly comics circuit. From humble beginnings it's grown into a true and supportive community; with an established core of regulars but an ever welcoming atmosphere for newbies. We're regularly packed out at our current home above The King's Arms on Poland Street and, as our birthday arrives, it seems a suitable moment to look back on four years of Gosh/BF Drinking and Drawing.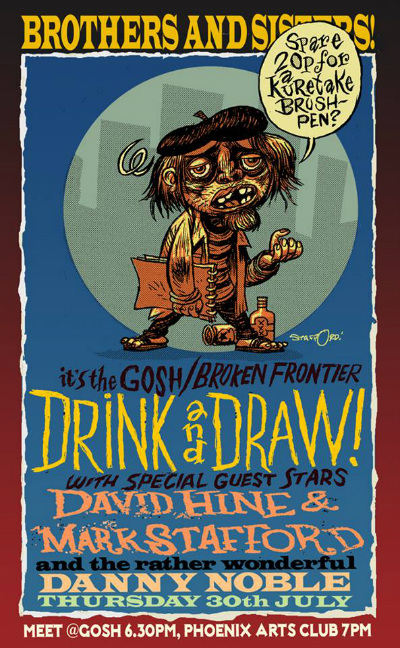 Mark Stafford's poster design for the second Drink and Draw in July 2015
Our first Drink and Draw on Thursday June 25th, 2015 was co-hosted by myself and Gosh's Tom Oldham (with Nora Goldberg taking over from Tom in February 2016) and featured guest artist Tom Humberstone, alongside Danny Noble who would be our Artist-in-Residence for the first year of the D&D.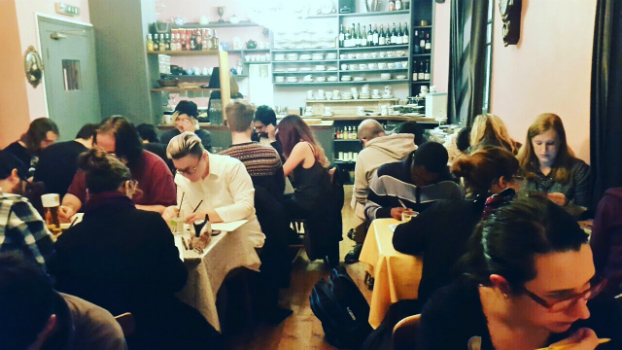 Nora's very first Drink and Draw as co-host in February 2016. A packed affair at the Coach and Horses on Greek Street.
Since then we've featured the following creators from all areas of comics publishing as guests: Tom Humberstone, Danny Noble, Mark Stafford, David Hine, Karrie Fransman, Mike Medaglia, Isabel Greenberg, Emma Rios, Fumio Obata, Verity Glass, Sean Azzopardi, Brigid Elva, Robert M. Ball, Warwick Johnson-Cadwell, Alice Urbino, Krent Able, S.J. Harris, Amber Hsu, Cristian Ortiz, Rozi Hathaway, Ian Williams, Gareth Brookes, Lord Hurk, Emix Regulus, Jade Sarson, Lando, Stathis Tsemberlidis, Hannah Berry, ILYA, Joe Decie, Rebecca K. Jones, Lizzy Stewart, Rachael Stott, Anja Uhren, Gary Northfield, John Riordan, Grace Wilson, Rachael Ball, Matthew Dooley, Sarah Gordon, Jamie Coe, Alex Hahn, Eleanor Crewes, John Cei Douglas, Tor Freeman, Yoyo the Ricecorpse, Korinna Mei, Woodrow Phoenix, Hamish Steele, Sam Baldwin, Grace Helmer, Jayde Perkin, Sabrina Scott, Zoë Taylor, Wai Wai Pang, Peony Gent, Wallis Eates, and also…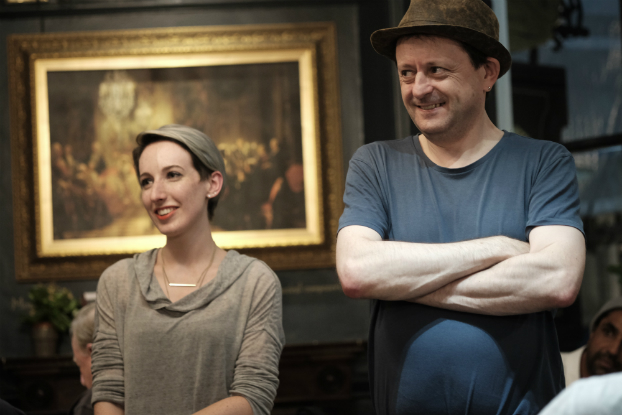 Drink and Draw co-hosts Nora Goldberg and Andy Oliver. Photo by Sean Azzopardi. 
….Chloe Elise Dennis, Baudoin, Shane Melisse, Matthew Pettit, Lucia Soto, Eleni Kalorkoti, Angela Pan, Matthew Swan, Todd Oliver, Katie Skelly, Ariela Kristantina, Apila Pepita, Sara Valta, Alex Potts, Olivia Sullivan, Clio Isadora, Andy Barron, Liam Cobb, Will Tempest, Michelle Mildenberg, Jenny Robins, Elizabeth Querstret, Michael Lomon, Alexander Tucker, David Jesus Vignolli, Andrew Rae, David Biskup, Bethany Hall, William Powers, Luke Healy, Becky Palmer, Miranda Smart, Ben Sears, Kels Choo, Dan White, Cathy Brett, James Albon, Alexandre Franc, Nic Mac, Ed Stockham, J. Edward Scott, Camille Aubry, Maria Midttun, Oscar Price, Alexandra Cook, Kay Wilson, Aneurin Wright, Abs Bailey/Barbawk, Shazleen Khan, Molley May, Aleesha Nandhra, Holly St Clair, Olivia Sualdea and Ram V.
Wow! That's a lot of talented folk.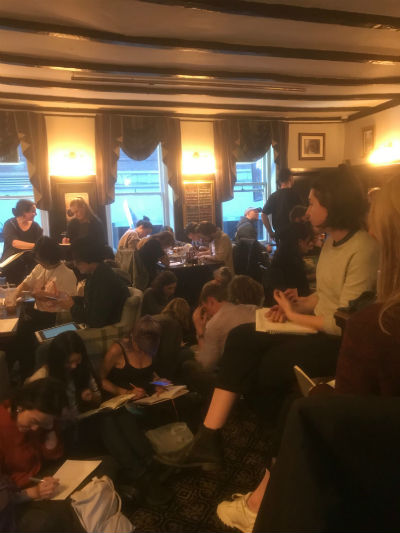 Our current home above the King's Arms in Soho
The format of every relaxed evening sees each of the guest artists choosing a drawing theme for three 20-minute drawing sessions. After each one we show the drawings around the room (no obligation for the less ostentatious attendees!) with a winner being selected by that round's guest creator. The Drink and Draw begins at Gosh! and officially runs between 7pm and 9pm in the pub with more informal socialising continuing afterwards.
Below we've selected some images from the last four years to give you an idea of the monthly fun that ensues on the last Wednesday of the month!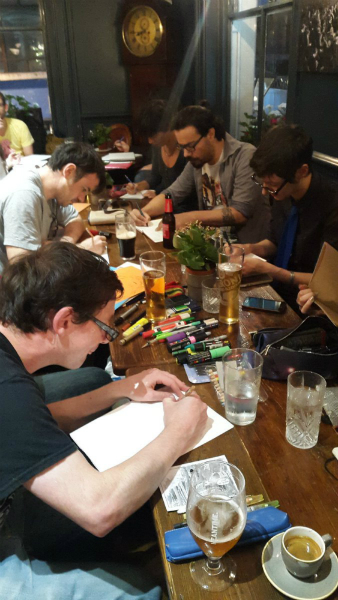 Dedicated drawing from the summer of 2016 including Joe Decie (front left) and Comics Laureate Hannah Berry (front right)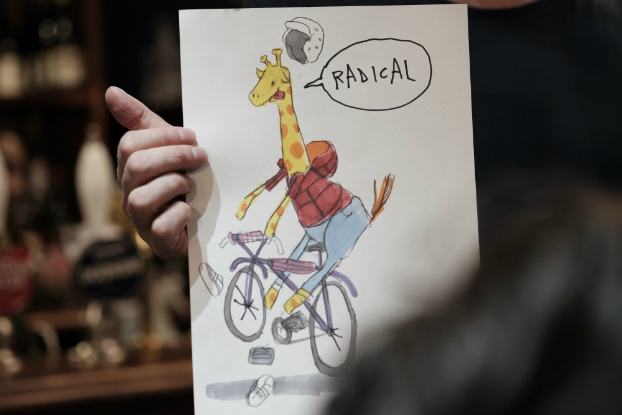 Joe Decie's 'Giraffes on Bikes' drawing theme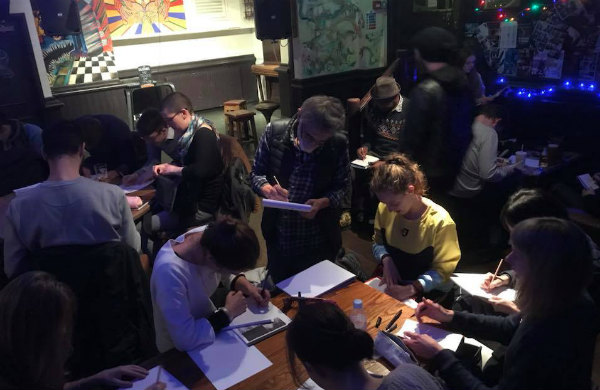 One of our most memorable evenings ever was in partnership with the French Institute in November 2017 when we were all amazed by the whirlwind energy of French artist Baudoin (above and below)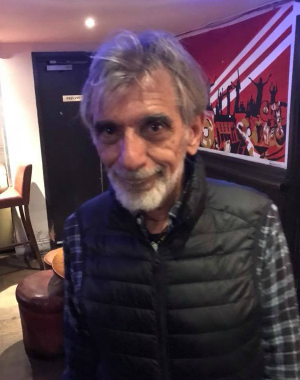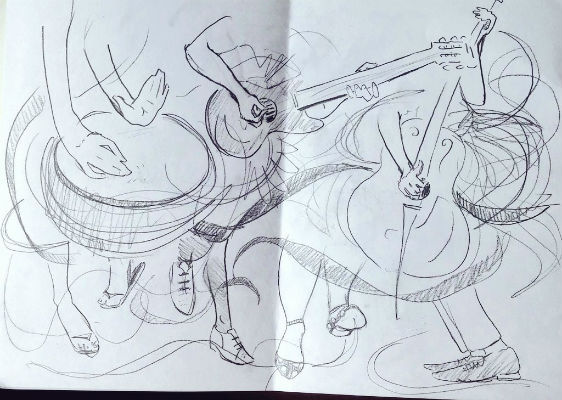 Jenny Robins on the theme of 'music' at the Baudoin evening
Art from Warwick Johnson-Cadwell in April 2016 and Alice Urbino at Gosh! before the same event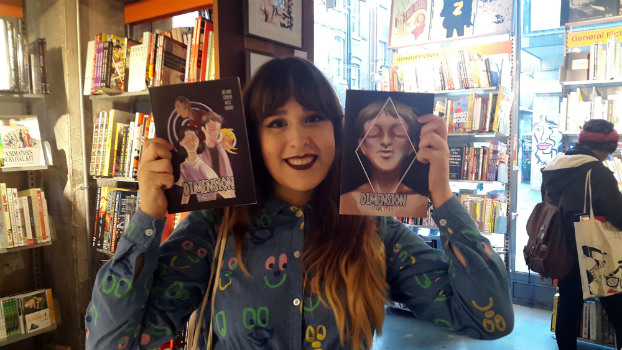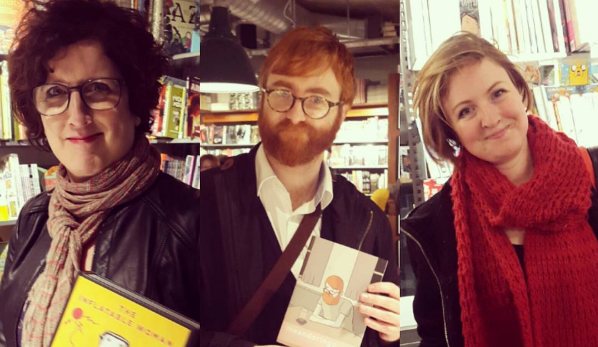 Guest artists' work is on sale at Gosh! before the Drink and Draw begins each month. Above – Rachael Ball, Matthew Dooley and Sarah Gordon. Below – an international flavour is not uncommon and guest artists here include Katie Skelly (USA), Ariela Kristantina (Indonesia), Apila Pepita and Sara Valta (Finland)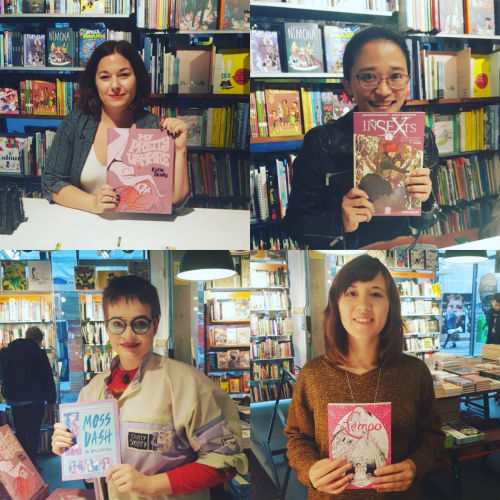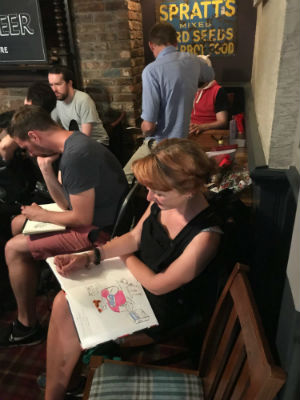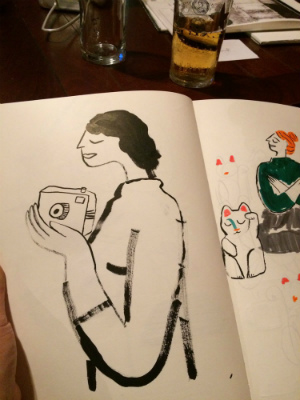 Our Broken Frontier 'Six to Watch' artists are all offered the opportunity to be Drink and Draw guest artists. Above Jayde Perkin at work. Below Olivia Sualdea, Joe Stone, Andy Oliver and Aleesha Nandhra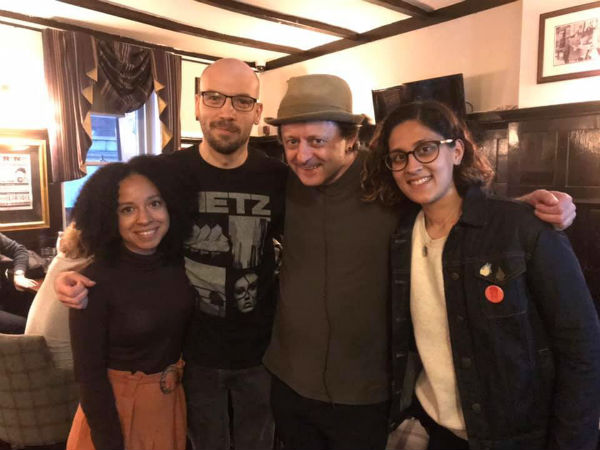 And, finally, in amongst all the celebrations the most important thing to note about this month's Drink and Draw is that it's our Nora's last one as co-host! Over the last three years and four months Nora's enthusiasm for the Drink and Draw, and the community that's built up around it, has been its major driving force. And on a personal note I am going to miss working with her on it every month more than I can say. We'll have more fond farewells on the night no doubt but for now I'm sure I can speak for all the regular Drink and Drawers in saying the hugest "thank you" to Nora for all her hard work since February 2016. Looking forward to seeing you as a punter in July, Nor!
Thanks to everyone who has made the D&D what it is over the last four years from those 111 guest artists, our hosts at the King's Arms, sponsors Cass Art and all our regulars. Happy birthday us and see you all on Wednesday!