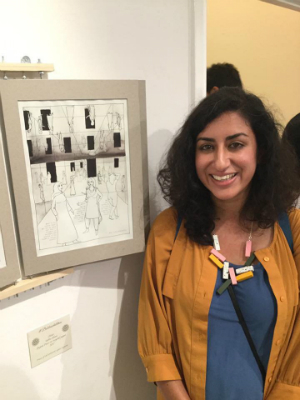 Last night saw the opening of Burnt Roti magazine's 'The Beauty of Being British Asian' at the Old Truman Brewery on London's Brick Lane – an exhibition that includes new comics work by 2017 Broken Frontier 'Six Small Press Creators to Watch' artist Sabba Khan. So eagerly anticipated was this one-week event that queues to get into the launch night snaked around the entire block outside!
Fifteen British South Asian multimedia artists have contributed work to a show that is inspired by Nikita Marwaha's original essay 'The Beauty of Being British Asian' (which you can read here), each taking a line from it that reflects their own experiences to explore "how British Asians navigate their dual identity." The launch night also included performances by five spoken word artists.
Our particular focus, of course, was on the new comics work in the exhibition by Sabba Khan (above right) who has contributed to two major indie comics anthologies – Identity and Performance – by One Beat Zines. Khan's practice, in her own words, is "an exploration of first world city life as a second generation Pakistani Muslim migrant. She explores themes of belonging, memory and identity in hopes to bring unity and inclusion to sometimes tormented narratives."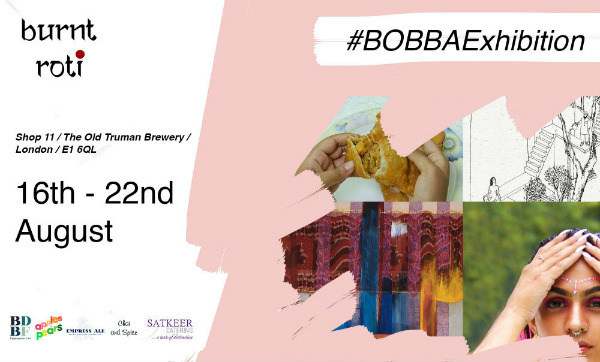 In 2015 I described Sabba's story 'The Box of Contradictions' in the anthology comic Identity as "an autobio comics six-pager that utilises moments of quieter symbolism with some compelling visual metaphor as Khan gives the reader an insight into the conflicting pull of two cultures on her sense of self. The final page, in particular, is unforgettable in its portrayal of a reconciliation and acceptance of the two." She also collaborated with Amneet Johal on the short graphic essay 'The Vagina Dialogues' in the collection Performance and her short comic 'Determination' for the Interfaith Ramadan site can be read here.
When I chose Sabba as one of our 2017 'Six to Watch' artists I said that "her ability to foster an immediate relationship with her readership in a relatively short page count is quite remarkable" and that is again very much in evidence in her work at 'The Beauty of Being British Asian' exhibition –  a comic that examines themes of identity, family, culture and place.
'The Beauty of Being British Asian' runs until August 22nd at Shop 11 in the Old Truman Brewery. You can find out more about the exhibition and the artists involved on the Burnt Roti site here.
For more on the work of Sabba Khan visit her site here and follow her on Twitter here.
For regular updates on all things small press follow Andy Oliver on Twitter here.