When the premise of Afterwords was announced it gave me a sense of acute anticipatory glee. Forget your various super-hero cinematic blockbusters, if you're a fan of UK indie comics then Afterwords is your big summer banner event! Taking a kind of "What If…?" approach, this one-shot presents sequels (or as creator Gareth Brookes puts it "self-indulgent thought experiments") to Brookes's two Myriad graphic novels The Black Project (Myriad First Graphic Novel Competition winner in 2012, Broken Frontier Best Graphic Novel Award winner in 2014 and Angoulême Sélection Officielle-nominated in 2017) and A Thousand Coloured Castles (BF Awards-nominated in 2017) and takes their protagonists Richard and Myriam into nightmarish dystopian futures.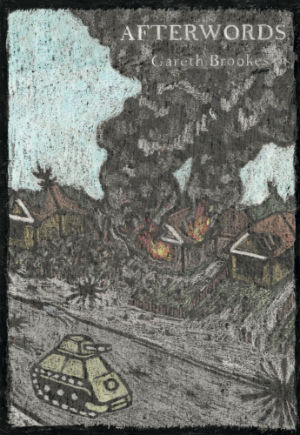 Set in a composite suburbia somewhere in England in the early 1990s, The Black Project followed teenage schoolboy Richard as he sought to create the girl of his dreams from household and found objects. I described this morbidly funny offering as "clandestine first love with a papier mache twist" when I originally reviewed it at BF. Last year's A Thousand Coloured Castles focused on Myriam, a sufferer of the hallucination-inducing Charles Bonnet Syndrome, and her struggle to differentiate the real world from fantasy. I said of it last year that this "re-imagining of twee middle class suburbia, as seen through the fractured lens of a distinctively Brookesian eyeglass, is a visual triumph."
But don't just take my word for it. No less an authority than Dylan Horrocks himself has described Brookes as "one of the most surprising comics creators working anywhere in the world." That's obviously an impeccably good source for a comics recommendation.
Both stories in this special are set a few years from now and revisit the characters of the original works in scenarios that are familiar and yet also take us on fantastic tangents at the same time. For the ever awkward Richard of The Black Project life has perhaps headed in a predictable direction. It's 2028 and he's 43, apparently as socially inept as he was in his teenage years and obsessed with an older woman at work. There are shades of Brookes's brilliant workplace zine Can I Borrow Your Toilet? here too as Richard also finds himself dealing with the boorish behaviour of co-workers Ben and Rob.
In this environment human physical relationships have been superseded by "mysecretgirl" (or guy) automatons, creating a future for Richard that ironically echoes his own past both in chronology and narrative theme. It's representative of the clever way that both stories in this collection manage to both further the themes of their source material by effectively subverting them. A biting irony, then, that the child who was vilified for constructing his own girlfriends should grow up into a world where that has become the norm.
In the second entry, a follow-up to the more recent A Thousand Coloured Castles of last year, there's a similar narrative manipulation. Myriam's medically-induced detachment from actuality in the first book has now taken on a reality all its own as the UK has degenerated into a fascistic police state, turning our initial interpretation of events on its head. This time, however, it's the self-imposed illusions of Myriam's husband, the jingoistic Daily Mail-reading Fred that become the focus.
Whereas Myriam was thrust without warning into her world of perception-altering fantasy, Fred chooses to escape into his by using VR goggles that return his reality to a time of flag-waving street parties and jolly Biggles-style fighter pilots. And yet it's Fred's delusions that remain by far the more disturbing.
Both stories are presented in the visual style of the originals. In the first, embroidered, case this allows Brookes to present constructed tableaux that invite us to dwell on the awkward scenarios and carefully paced bleak humour that is at the core of the story. In the second the crayoned sub-reality of A Thousand Coloured Castles accentuates a very contemporary and topical feeling of living in parallel existences and a telling social commentary on perception and reality.
While the stories herein can, indeed, be read as standalone offerings those who have yet to read The Black Project and A Thousand Coloured Castles will miss so much in terms of nuance and darkly witty self-referentiality without that prior comics schooling. If you fit into that category then I would heartily recommend picking up both graphic novels first. They are, quite simply, far and away two of the most inventive and intriguing uses of the form of the last decade and essential reading. If you're already familiar with them then Afterwords will prove a playful and layered double coda to the artist's most celebrated stories.
Now Mr. Brookes, about that follow-up to Can I Borrow Your Toilet?…
For more on the work of Gareth Brookes visit his website here and follow him on Twitter here. You can buy Afterwords from his online store here priced £6.00. 
For regular updates on all things small press follow Andy Oliver on Twitter here.