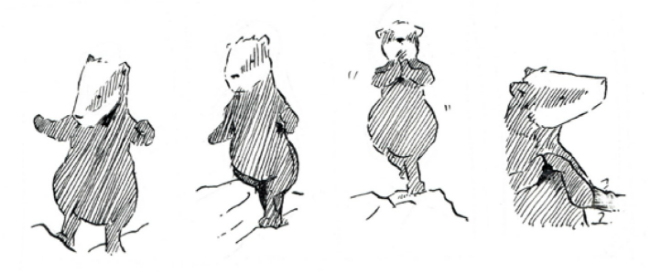 DEBUTING AT THOUGHT BUBBLE!
Howard Hardiman's self-published Badger character has been appearing intermittently for the best part of a decade now, beginning on-page life as a vehicle to explore themes of solitude and loneliness. If you're a very long-term reader of 'Small Pressganged' here at Broken Frontier then you may remember that way back in the early days of this column Hardiman's small press series The Lengths – an uncompromising account of a world of anthropomorphic canine sex workers – was one that got extensive coverage here. That project would go on to be picked up and published by Soaring Penguin Press.
The implication has been that Badger is an avatar for Hardiman himself, and his emotional journey a reflection of his creator's world. On another level, though, the character also embodies the artist's developing comics practice over the years with the latest Thought Bubble-debuting entry in this irregular series being a testament to how far his craft and visual storytelling has progressed in that time.
Badger & Vole recounts a day in the lives of the titular characters in and around their home on the Orkney Islands. It's an uncomplicated account of the pair's exploits as they play with the pets, enjoy the natural beauty of the countryside, and relax by gardening and reading. Told entirely without words, the story invites us into their existences and asks us to share in their contentment as they appreciate the importance and wonder of the smaller moments that make up our daily routines.
There's something more than a little E.H. Shepard to Hardiman's art here. It's so delicate and expressive – especially in terms of visual characterisation – that textual exposition is not just unnecessary, it would also have been an unwelcome intrusion. Hardiman's subtle colour choices – he often places his more darkly rendered protagonists against a softer coloured backdrop – also create a pronounced sense of the pair interacting and moving through their gorgeously realised environment by drawing the reader's eye more fully onto them as our central focus.
This is a short narrative that can be read as thinly disguised possible autobio on one layer or enjoyed entirely on a surface level as a standalone one-shot. It's also one that proves that a good comic doesn't have to be about complex plotting, ostentatious playfulness with the form or elaborately ornamental visuals. Sometimes a good comic can be defined as such simply as a result of the reactions it elicits from its audience, and this gentle, life-affirming tale brims with heartwarming positivity. Make sure that this quietly joyful offering is high on your Thought Bubble "pull-list" in Leeds.
For more on the work of Howard Hardiman visit his site here and follow him on Twitter here. You can pre-order Badger & Vole here priced £6.00. Howard will be exhibiting at Table 8 in the Victoria Hall at Thought Bubble. 

For regular updates on all things small press follow Andy Oliver on Twitter here.