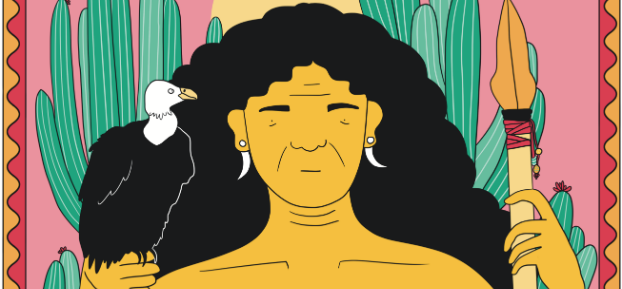 From the delicate symbolism and familial metaphor of its opening sequence Shanti Rai's KO establishes its overarching themes of kinship and the bonds that connect us from the outset. A theological parable with universal resonance, KO is the story of the young titular character's quest to save her family from supernatural forces that threaten to tear them apart from each other.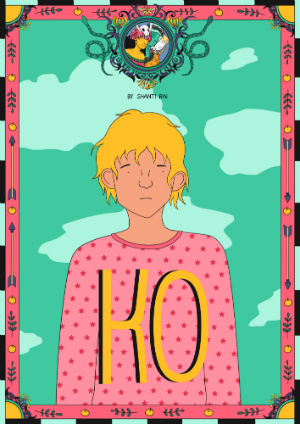 Awaking to discover her parents and brother missing from their home, Ko embarks on a journey to discover their fate and free them from the clutches of the Driads who abducted them. Along the way she will encounter three aspects of creation – Nanna the goddess of the sun, her daughter Mama the incarnation of the Earth and her granddaughter Selene, the representation of the moon – as she traverses mystical realms and strange worlds to find what she has lost.
But what price will the universe expect her to pay and what personal costs must be incurred if her travels are to be successful?
Shanti Rai's short comics story mixes an uncomplicated but appealing artistic style with flowing, often tightly packed panel-to-panel storytelling to give us a painful meditation on love and loss with a mythological slant. It fuses characters with a contemporary outlook with a world of legend to reflect allegorically on the bonds that we value the most and the inevitable sacrifices that life demands of us.
The comic is split into chapters that each begin with their own cover pages, giving a storybook sensibility to the narrative. Two strengths to her storytelling immediately stand out to the reader. Firstly her use of and placement of panels to foster a sense of movement and perspective is highly effective. Her shifting of our viewpoint in the early pages just after the family's disappearance, for example, from outwardly observing Ko's sense of dawning realisation that something is very wrong to seeing the devastating signs of a struggle and abduction through her eyes.
Rai constantly exploits the full structural potential of her page layouts – inset images sit within panels, crammed pages denote a greater sense of the passage of time, and shapes merge and blend to unsettle and entrance – to enhance that sense of the fantastic and the unknown. Secondly, her use of colour is highly atmospheric, giving us a world that seems magical and yet sinister at the same time; an evocative overlap of the delightful and the disquieting.
While there are some looser elements to her plot – characters are thrown together initially with little explanation beyond moving the narrative onwards, and there's an argument to be made that the nature of a world that has one foot in reality and one in fantasy needs a little more exploration or clarity – there's no denying the intrinsic strengths of Rai's visual storytelling or the poignant and heartrending impact that KO has on the reader. A perfect intoductory entry point to the style and work of a newer creator who I suspect we will be hearing a lot more about in the coming months.
For more on the work of Shanti Rai visit her site here. KO is available online here priced £8.50.
For regular updates on all things small press follow Andy Oliver on Twitter here.