A new book by Michael DeForge is always worthy of attention, and even a slender volume like First Year Healthy provides stylish food for thought.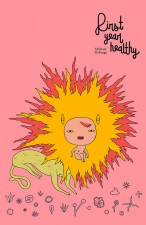 With his mesmerising style, prolific output and gift for unsettling narratives, Michael DeForge is probably the current shooting star in the alternative cartooning firmament.
And after a typically prolific 2014 (this is a list of his work that appeared in print last year, ignoring his weekly webcomic Sticks Angelica), he's launched the new year with this print version of a story that he published on his blog as a Christmas treat in 2012.
If you're still watching the pennies after the holiday season, it's probably worth noting early on that First Year Healthy gives you just 30 pages of goodies for your $14.99. However, for that price you get a beautifully produced little hardback, with different finishes on the cover that make it a tactile as well as a visual treat.
At first glance, it looks like a child's picture book in form. However, across its brief duration it weaves a bleak and enigmatic story of lives on the margin of society. In an insular rural town, a young women recovering from an unspecified mental illness finds herself in a relationship with a Turkish immigrant on the fringes of organised crime.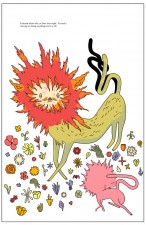 As her perceptions start to warp again and her life starts to unravel, her encroaching illness stalks her in the psychedelic form of a 'magical cat' reminiscent of Louis Wain's later paintings.
DeForge's characteristically off-kilter art style depicts the world from her perspective. It might be a short story, but within its pages we see a plea for acceptance and understanding of those facing the sense of isolation and abandonment that can come with mental illness.
For all the surreal 'freakiness' of the artist's style, he highlights the basic need for human empathy. The narrator is stigmatised after her previous spell in hospital; her neighbours shun her when she needs their help, and she realises that her brothers have pointedly avoided introducing her to their wives and children.
After the first time, people would want to help. They'd be sympathetic. But a relapse would be met with revulsion – anger, even.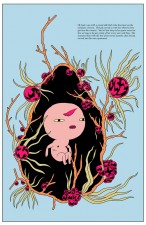 One of the book's key images comes early on: the woman walks out onto a frozen lake as far as she dare, hearing the ice crack beneath her – a simple but apposite metaphor for how she has to make her way through life
As alluded to above, formal purists – with a bit too much time on their hands – might claim that this is an illustrated book rather than a comic: it's made up of full-page panels with no diegetic dialogue, and the protagonist's first-person narration stands separate, in mechanical text.
However, DeForge's unique vision permeates the whole story. His fecund imagery is typically intricate and idiosyncratic, but it's grounded by the measured tone of the narration. The tension between the two is what powers the book and qualifies it as "comics": its elements – text, imagery, colour and production choices – synergise to produce a whole that's greater than the sum of its parts.
You might be able to get more bang for your buck elsewhere in DeForge's catalogue, but this is a tight and touching little work, beautifully presented by Drawn and Quarterly.
Michael DeForge (W/A) • Drawn and Quarterly, $14.99, February 20, 2014.