THOUGHT BUBBLE 2023! New Thought Bubble comics from certain creators feel like a festival tradition; that some intangible spirit of TB would be violated if they didn't have a debut release for me to review in the run-up. For the last couple of years artist, organiser and WIP Comics supremo Joe Stone has collaborated with the equally comics-literate Matthew Dooley on flip book features like Split and Splat. For 2023, though, Stone is going solo again. If you're expecting the usual zany humour and dark slapstick, though, think again. Five Months on Earth is a very different comic to Stone's usual output, reminding us that this is an artist whose versatility is sometimes horribly overlooked.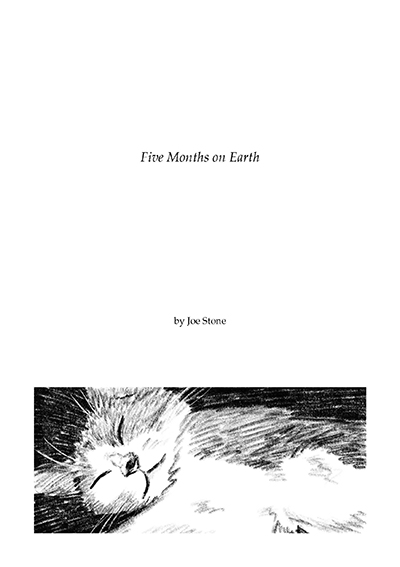 What we have here is something that fits broadly into the mental health awareness strand of graphic medicine; an autobiographical comic that is intensely personal, devastating in its honesty, and yet ultimately hopeful and thankful. It concerns a period in Stone's life around 2018 when his mental health deteriorated to the point that he was diagnosed with anxiety disorder and depression. Treatment and coping mechanisms bringing little relief, Stone decided to give himself an alternative focus in life by adopting a kitten he called Earthling. This new presence in his world would have a hugely therapeutic effect on his well-being. But, as the title suggests, this relationship was destined to be a transitory one.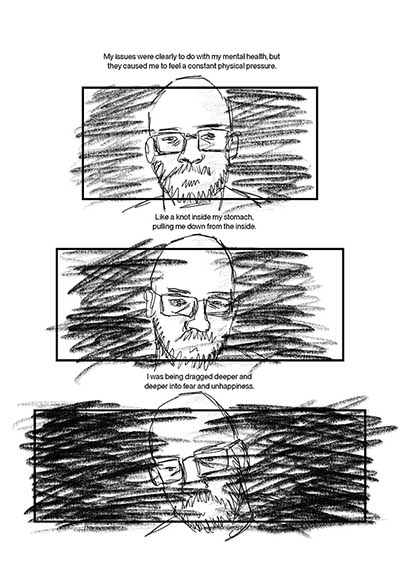 In contrast to his usual animated cartooning Stone adopts a loose realism in Five Months on Earth that is more fitting to its subject matter. Early pages reflect his mood and state of mind by depicting Stone in profile overlapping panel borders, with a constant black haze acting as an intrusive companion. When Earthling comes into his life, however, there's a clarity and a lightness to the pages to signify the changing ambience of his worldview. Stone is an artist whose work shows a constant awareness of how to use the tools of comics to forge a connection with readers and here he does so with a precision that ensures this is a deeply intimate read.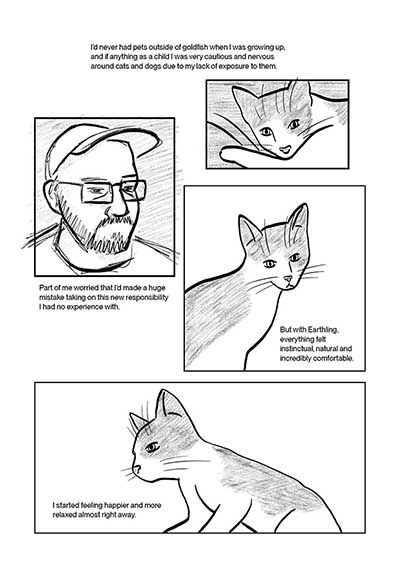 Five Months on Earth won't be what you may be expecting from Joe Stone at Thought Bubble this year but it is some of his finest work to date. It's long overdue that his comics practice was recognised as much as his immense contributions to UK comics community.
Joe Stone (W/A) • Self-published
Visit Joe Stone's site and store here
Joe Stone is at Table C16-B in the Redshirt Hall at Thought Bubble 2023
Review by Andy Oliver