Given that many creators working in autobio talk of the often cathartic experience of processing events in their lives on the comics page it's hardly surprising that over the last year pandemic comics have become almost a genre in themselves. While all work in this area has its own truths to deliver and its own validity, the practice that stands out is that which brings something extra to the mix beyond traditional diary comics, whether that be dark humour, inventive visual storytelling, or unusual perspectives to the events which have engulfed us all since March 2020.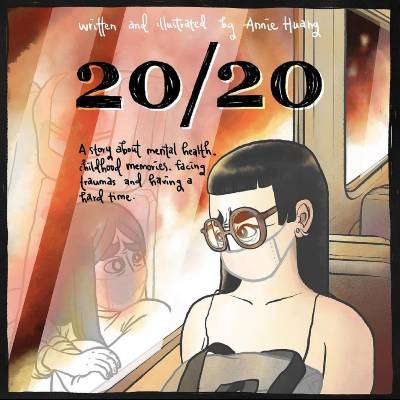 Annie Huang's 20/20, published by Australian indie outfit Blueprint Comics, centres on the early days of the pandemic and takes place over one week in January 2020, with flashbacks to 2003 and their life as a child in China during the SARS outbreak. It's described as "a story of mental health, childhood memories, and facing traumas." As bush fires devastate Australia, Huang is forced to revisit the echoes of their past, to consider their own mental well-being and to deal with a world that is about to change forever.
20/20 is illustrated in an uncomplicated yet highly accessible style that is nonetheless highly sophisticated in its use of sequential storytelling. Huang shifts from panel-to-panel pages to single illustration, through to visual metaphor to suit the emotional range of the comic. They capture that ominous feeling of existential dread that we all felt in the weeks leading up to March 2020 with a quiet sense of foreboding, imbuing and paralleling it with the very personal remembrances that it stirs up for them.
Some of the most powerful imagery comes as Huang's memories take us back to 2003 and the childhood trauma of the similarities of life in China during the SARS epidemic. Panels float across dark cloudy backdrops while Huang's use of light and shade, taking us deep into their psyche as present day circumstances threaten to overwhelm them, will resonate with most of us. Huang's use of lettering is also powerful in its symbolism – empty speech balloons ask us to fill in the narrative gaps in a counselling session by concentrating on body language, while background text becomes more erratic as the situation becomes increasingly frantic and intense.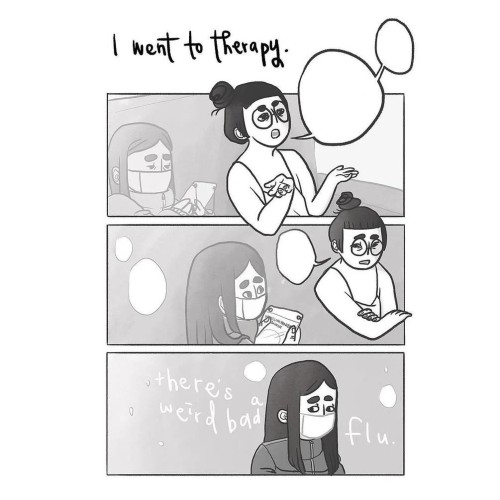 It is to be appreciated that comics dealing with the pandemic will not be something that everyone will feel comfortable with right now. There is undoubtedly a triggering element to them that for some readers will be more than they can cope with at this point in time. However, work like this will provide a vital social record of this era in years to come that will capture these stressful times from a crucially personal and connective perspective. 20/20 is an excellent example of that and also an introduction to the work of a newer cartoonist whose approach to the page bears close watching in the months to come.
You can buy 20/20 and other Blueprint Comics on Gumroad here.
Review by Andy Oliver