SLCZF WEEK! Lucy Sullivan's debut graphic novel Barking was met with widespread plaudits on its debut a couple of years back. Informed by her own experiences it took a notably different approach to the issue of mental health awareness, positively immersing the reader in the experiences of its protagonist Alix. Since then the work of Lucy Sullivan has ranged from experimental alt comics for Colossive Press to Jeff Lemire's Black Hammer super-hero universe.
The last time we spoke to Lucy was before Barking was published, so with the South London Comic & Zine Fair this coming weekend in mind it seemed an excellent opportunity to catch up with one of the UK's fastest rising indie comics stars…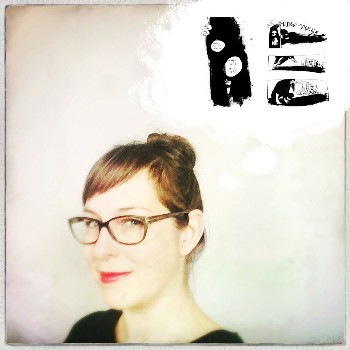 ANDY OLIVER: While many BF readers may be aware of your critically acclaimed graphic novel Barking they may not know about how the narrative was informed by your own experiences. So let's start by asking you about the premise of the book, its real world parallels, and why you decided to tell this story one step removed from your own life?
LUCY SULLIVAN: Barking started off as way of working through a mental health crisis I had in my 20s after my Dad died suddenly and the subsequent depression and anxiety I still have. As I developed and researched the idea I had a number of realisations. I wanted to depict a breakdown from the sufferer's perspective but also talk about not just my experience. I'd seen friends of mine sectioned and found their treatment really devastating which led me to researching mental health practices in the UK.
Whenever I was asked about my project and I mentioned what Barking was about, people would start telling me about their own experiences. In just having that conversation it highlighted how much stigma there still was around mental illness and how much people needed a space and permission to discuss it. Then lastly and perhaps most crucially, I had to confront the fact that I was writing my behaviour back then much kinder than the reality and not facing the worst of what happened, including a sexual assault. I went through some difficult times, much of which I hadn't spoken to anyone about and at the time I was a challenging person to help. I was angry and destructive and wanted to talk about how depression can also feel like that.
It's a behaviour not often displayed by female characters and it doesn't make for a very empathetic lead but I wanted to tell my story and do so openly. So, I decided to combine all these aspects into a single story, set it in a mental health ward and create a character, Alix Otto, to drive the narrative. In doing so I found it much easier to truthfully depict what I went through, and with the addition of the Black Dog and Alix's deceased friend, I found a voice for my depression and anxiety. I hoped that narrative structure would also make the topic more accessible to readers and so far it does seem to have achieved that.
AO: Barking had something of a convoluted journey on its way to publication. Did that open up your eyes to the realities and challenges that comics publishing faces in the UK?
SULLIVAN: It really was a very complicated journey and an eye-opening one at that. In the case of Barking what I learnt was more about the literary publishing world. How the schedules are set around events, the hierarchy of books going to launch and how tiny a list goes out to foreign rights each year. Unbound is primarily a literature publisher and graphic novels were a new strand for them. They wanted high production values on their books which meant high targets for the authors to crowdfund. Barking took the best part of 18 months to raise the £13K needed and it took constant promotion to build my readership from the ground up, a co-commissioning grant from the Lakes International Comic Art Festival and a National Lottery/Arts Council grant that I personally applied for.
It was a lot of work but I was constantly learning about the industry and understanding how much the onus is on the creators finding ways to make that work. During the production stage of Barking my publisher Unbound decided to downsize and make redundancies, including the only graphic novel editor. It was a big shock as from the point onwards I was effectively on my own. I had a pretty steep learning curve of organising launches, negotiating reprints and fine combing contracts and then of course, the pandemic broke and I had to cancel all my events and move the launch online. It was a really challenging way to make a debut book and in many ways Barking wasn't ever actually launched. I hope to rectify that with a 2nd print run one day with a new publisher but I feel like I'm back to square one in terms of what I know of comics publishing.
I'm self-publishing my own comics again but with the addition of getting to do some great gigs around that and with the help of very supportive readers. I've been lucky to have some positive experiences with publishers since but I'm definitely a bit nervous after everything that happened. It's why crowdfunding is such a valuable option for me, I like being able to create without compromise and know that if anything goes majorly wrong it's my mistake and thanks to Barking, I know how to correct it.
There are some amazing publishers here and many I would love to work with but I'm grateful to have an idea of the full production of a book. My advice to anyone getting into comics would be to create what you need to create, get your work out there yourself so that you know every aspect of making a comic and getting it into shops. Oh and join the Society of Authors. They have a comic creators network and are an excellent support if you do get a publisher. Without their advice on contracts I'd be in a very different position right now.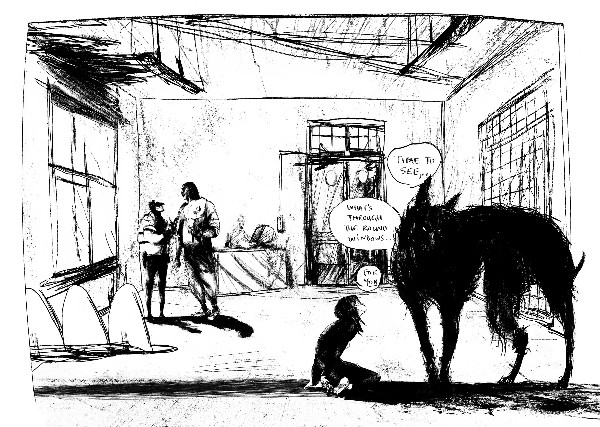 AO: When we last spoke at BF you said that you hoped Barking would be a book that would help to open up the conversation around mental health and help to diminish the stigma around it. With that in mind what have been some of the most rewarding responses from readers to Barking?
SULLIVAN: It's been a genuine privilege to hear from readers about how Barking affected them. Although the story combines mine and other people's stories with research it's still a very personal book for me. To find that it resonates with so many is both humbling and a bit heartbreaking, but shows just how many people battle with their own mental health. I think the pandemic has opened up that conversation much more widely now and it's much less stigmatised.
I'm still surprised that Barking all but sold out during that first year of lockdowns (2020) though, it's not an easy read and revolves around someone having their liberty taken away but perhaps that was part of what drew readers to it. It's been embraced in a way I couldn't have foreseen and by an audience I wasn't expecting. I often get emails, tagged in reviews of it or now approached at events to chat about Barking and without fail that person will reveal something about their own experiences.
Having that honest discussion is the best way to fight the stigma and all I hoped to achieve for it. I'm really grateful to see that realised. So thank you to everyone who bought it, read it or spoke to me about what it meant to them. It's really nerve-wracking when you put your scariest moments onto the page then into the world and I'm really grateful for how respectful readers have been with that, it's a huge positive in this age of conflict for humanity.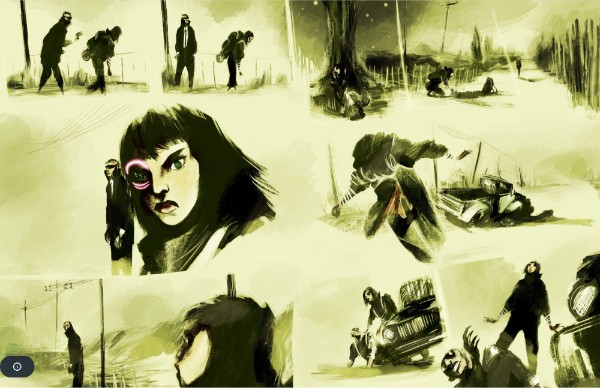 From IND-XED, by Fraser Campbell and Lucy Sullivan
AO: The growth of graphic medicine has been something of a phenomenon in comics over the last few years. Why do you feel that comics is such an empathetic medium for communicating these stories and connecting readers with the issues concerned?
SULLIVAN: It's something about the level of intimacy you can have with readers. I think It's incomparable to any other medium. When a reader sits down with your comic it's just them and your story. Even the way you physically read a comic, holding up close to see the details in a panel is intimate and a little like sharing a secret. And then there's the nature of the language itself. My friend Nick Abadzis often describes comics as the most sophisticated of languages but one that anyone can access and I think that's so true. That combination of image and text with flow and pagination that comes in a dizzying array of styles and genres, there's nothing like it.
Then you take the level of empathy a reader has to bring in order to engage with a story and mix that with a topic like graphic medicine and you have a perfect medium for literally putting someone on another person's shoes (figuratively speaking!). You can find a comic on almost any topic now in graphic medicine and no matter how much you may or may not know about it, you can read it from a personal perspective. I hope clinicians will see its potential in working with patients and sufferers. It does seem to be growing in popularity within health care sectors and could be a hugely beneficial tool. We could certainly all use a bit more empathy with each other at the moment.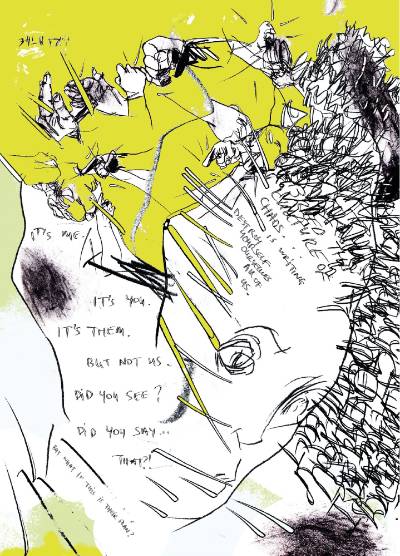 The Lucy Sullivan Colossive Cartographies edition
AO: Since the success of Barking you've been involved in collaborations as part of anthologies, micropublished zines and comics. Where else on the indie and small press scene should readers be looking out for your work?
SULLIVAN: I've been lucky to do some exciting projects since Barking and pretty varied ones at that. On the UK scene I've drawn artwork on indie comics like IND-XED with Fraser Campbell, Black Cat with John Reppion for Skrawl Magazine #1 and a story with Jordan Thomas for Metallic Dynamite plus pin-ups for indie titles such as Killtopia and a cover for Hey, Don't Go! for Steve Thompson. Fraser Campbell and I collaborated again on a 1 page comic for Tales From the Quarantine edited by Frazer Brown that'll hopefully be published soon and I drew a panel for the jam story that runs throughout the book.
I was stoked to be part of the first Cartography zine series for Colossive Press, I highly recommend checking out the wealth of indie creators involved in that project, it's amazing.
I drew an interactive comic with Peter Davison for YOSHIN 10, a fascinating project to commemorate the 2011 earthquakes in Japan and available to read for free on the app or website. I also self-publish zines and have some of these comics on my website to read or buy.
In the US I've contributed to Hey Amateur!, Insider Art and Heavy Rotation edited by Shelly Bond (Off Register Press) and created artwork on Sweeney Todd & I with Dan Watters and Hassan Otsmane-Elhaou for Razorblades #3 (Tiny Onion Studios), that's included in the collection that's been picked up by Image and will be out this July.
It's been really helpful for my own comics to collaborate and learn from such a wide range of creators, it's a great way to hone your craft and be a part of such a lovely community.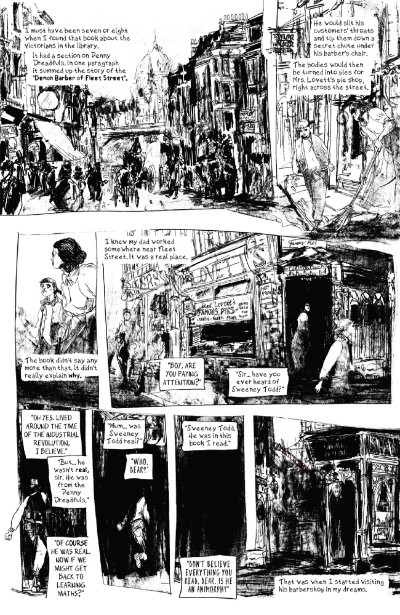 'Sweeney Todd & I' from Razorblades #3 by Dan Watters Lucy Sullivan and Hassan Otsmane-Elhaou
AO: Given how distinctive and haunting your artwork is let's turn to your process. Can you give us some details on the mediums you work in?
SULLIVAN: I come form a background in Illustration and Animation and my artwork is very influenced by it. I like to try out different mediums and aesthetics for each project. It helps to keep me engaged and excited by the process itself. For Barking I used a combination of biro and carbon typewriter sheets, drawing straight onto the page in loose structure, without under drawing or planning, then scanning these in and laying out the spreads in Photoshop. It was a long-winded way to make a comic and I learnt a lot about the process, especially how important planning is! Since then I tend to thumbnail every spread and test out the aesthetic before drawing the final artwork.
I've done one fully digital comic in Procreate (IND-XED) which created a really interesting look but took 3 times longer than normal. I think this way down to being able to zoom in and adjust at a pixel level. It's not great for a control freak like me so I'm back to mostly traditional media now and using digital just for effects, layouts and occasionally colour. It really depends on the project though, some involve layers of colour and texture in Photoshop, some are just Black & White. The only constant so far is that I've used carbon sheets to create line art on nearly every project. It's probably what gives the distinctive look as you can barely see what you're drawing when you use them. There's something about that lack of control and the physicality of the material that I really enjoy.
I use dip pens, sticks and sometimes my hands to create the texture and line. I've tried using inks but it doesn't yet produce the look I'm after, I'll keep practicing though. I recently bought a large light pad and have started making rough layouts at print size to then draw over and it's been a total game changer. I can work much faster, create using mixed media on the same page over and have original artwork afterwards. I've started experimenting with watercolour and the plan is to create the artwork for my next comic Shelter by combining it with the carbon line art. I used the technique on my Wild Fictions pin-up for Department of Truth and I love the atmosphere it creates. I think the medium can really influence the mood of a piece and for an artist it's a fascinating process to delve into.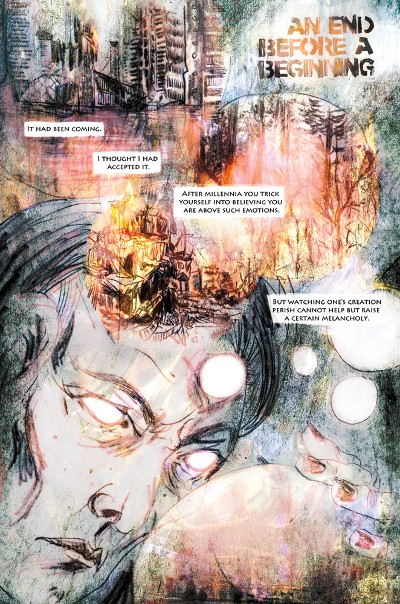 Jordan Thomas and Lucy Sullivan from Metallic Dynamite
AO: How much of a dream was being asked to be a contributor to Jeff Lemire's Black Hammer universe recently?
SULLIVAN: Honestly it's such an amazing opportunity I still feel like I've made it up! Jeff was one of my early supporters having backed Barking and inviting me to draw a couple of Black Hammer pin-ups. I felt really very lucky to have that support from not only a creator I admire but a very decent person too. I couldn't believe it when he emailed me out of the blue about working together and then asked me to not only draw but also write a Black Hammer short. The timing was perfect too as I'd just reached the conclusion that I needed to start making my own stories again.
I had a great experience collaborating but I missed writing and had ideas that were forming so I decided to close my commissions and then Jeff gave me this incredible opportunity. It was a completely open brief too. I was given the character and told to write something I would enjoy drawing. Black Hammer is an enormous universe with a loyal fanbase so I can't pretend I didn't get a bit freaked out at the start but I was researching my next idea and thought it could work to set this comic in a similar universe. In the end I came up with the idea fairly quickly and pitched it to Jeff, he gave me the green light and then I just got on with it.
It's been wonderful to stretch my storytelling and writing in making it. It's a much more complicated comic than any I'd done before and Jeff's response when I handed it was wonderful. I've no idea what the fans will make of it but I hope they'll enjoy it, it's full of things I'm fascinated by and the artwork is a new direction but one I'm really pleased with. I think the plan is to publish it on Jeff's Substack, Tales From The Farm, in August and hopefully it may be printed in the future. I'll certainly be posting about it when I know for sure.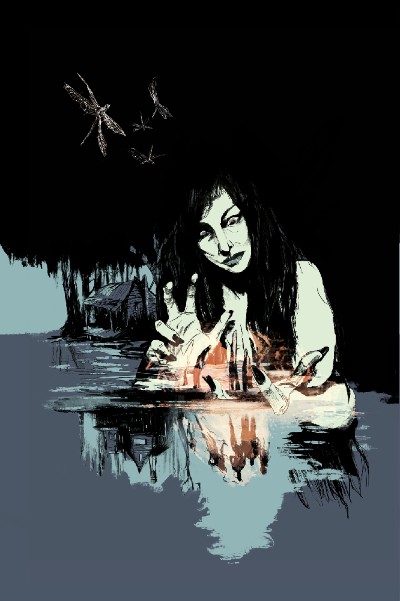 Dragonfly by Lucy Sullivan from Jeff Lemire's Black Hammer universe
AO: We can't finish without asking you about what you're currently working on and whether there are any teases you can give us to future projects? What, for example, are you able to say about your folk horror story Shelter?
SULLIVAN: Shelter is inspired by my family history and will mix folk-horror with cultural mythology and urban unease. It's a community of stories of the trials faced by the Irish immigrant population of West London from 1969 onwards. I developed it from a desire to create stories that focused on voices not often heard from that era. I'd pitch it as The Long Good Friday meets American Gods but these stories will be from the perspective of the women or those on the outside of society. At the centre of this world are some formidable women and a network that gives help to anyone who finds themselves in hot water. But the solutions are somewhat unusual as this in a universe where nothing and no-one is quite as they seem, where the supernatural rubs shoulders with the mundane.
It's still forming as a larger concept but I've written a short story to develop it further called Early Doors. This is the tale of Ealga Culhoun, recently arrived in Shepherd's Bush and landed on her feet thanks to her Brit cousin Tommy. He's set her up with a bedsit, a barmaid's job at the local pub and all seems to be go swimmingly. But soon Tommy demands payment for his favours and Ealga finds herself in need of Shelter.
The script of fully written and I'm currently thumb-nailing and designing the layouts. I hope to draw it this summer and I'm planning to use watercolour and carbon for the artwork to give it a feel of the era. The production is being financed by my supporters on Patreon and once completed I'll run a campaign for the printed comic on Crowdfundr, a new ethical platform. I'll hopefully have the books ready for Thought Bubble this year and then get onto developing the larger project. I'm not sure if this will be single issues or a collected book of tales but that will come with development. It's definitely a very ambitious concept and I'm enjoying researching and creating it very much. If anyone is interested in finding out more please find me on social media (Twitter or Instagram) or join my Patrons who get exclusive monthly updates on the project and behind-the-scenes discussions on making comics. Or look out for me at Thought Bubble and grab a copy.
Interview by Andy Oliver
Lucy Sullivan is at Table 6 at the South London Comic and Zine Fair this Sunday July 10th.
For more om Lucy Sullivan visit her website here
You can visit the Lucy Sullivan online store here