Given how many comics creators are on the team at Broken Frontier we have an unwritten rule on the site. While we may cover their work in terms of features or interviews we won't review it, for obvious conflict of interest reasons. However, when it comes to the series of Colossive Cartographies from Colossive Press (the zine micropublisher founded by BF's Tom Murphy and Jane Gibbens Murphy) we're going to bend that rule slightly. In the first instance this series features projects from some of the most innovative names on the UK indie comics scene who deserve the exposure and, secondly, it is such an excitingly experimental series that it would be totally remiss for a site that has rooted itself in the alt side of the UK small press scene to step back from covering its releases.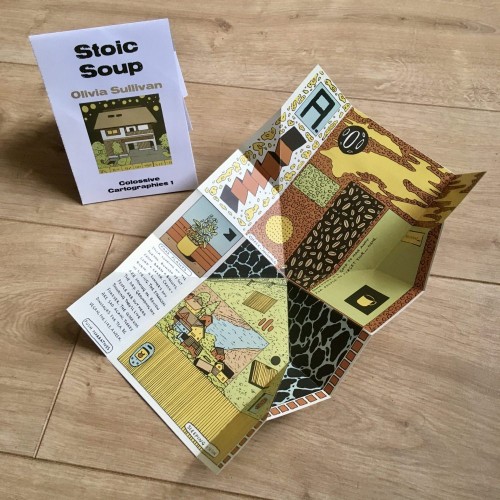 Olivia Sullivan's 'Stoic Soup'
The Colossive Cartographies were inspired by Murphy's discovery of the Turkish Map Fold, which allows an A4 sheet of paper to fold into an A6 cover that springs open as a tactile, interactive object. Seeing the potential in this for a unique narrative experience Tom envisioned "something in print akin to a series of 7-inch singles" and began approaching names from not just comics but also the wider worlds of small press and DIY culture. The result is a series of diverse and even disparate graphic narratives that embrace sequential art, photography, illustration, poetry and collage. The possibilities are endless and these deceptively ephemeral offerings have become one of the great joys of my small press reading in the latter part of 2020.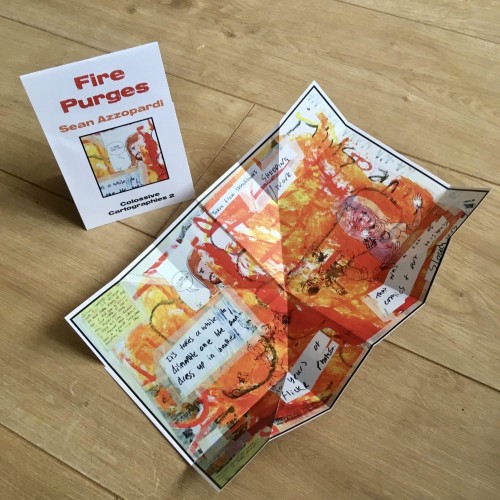 Sean Azzopardi's 'Fire Purges'
As readers can see from the accompanying images the covers open up into a larger canvas, the creative approach to which the artists are free to tackle as they will. Of the initial fourteen contributors to the series many have used the map emblem as their creative framework but in radically different ways; not just thematically but also structurally. Perhaps the standout for me was Colossive Cartographies #7 'Caves of Ahuna Mons' by abstract comics practitioner Gareth A Hopkins with colours that pop off the page in their depiction of an alien bioluminescent cave system. But it's Hopkins' clever illustrated use of the outside fold of the zine to emphasise a barrier between the caves and humanity's perception of them that adds an extra dimension to this entry.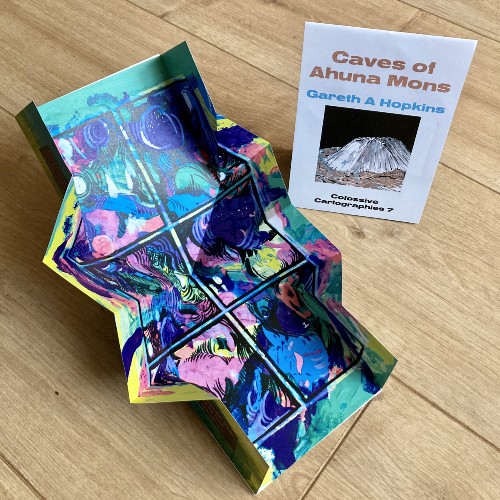 Gareth A Hopkins' 'Caves of Ahuna Mons'
Other notable offerings in the range include another vitally important voice in UK abstract comics Olivia Sullivan who gets to translate her stream-of-consciousness visuals into a tactile presentation in Colossive Cartographies #1 'Stoic Soup'. Sullivan's dissection of one living abode into a series of fractured moments and perspectives, alongside her usual accompanying rhythmic prose, underlines a quality to her work that should perhaps be more appreciated. Every subsequent re-reading doesn't as much reveal new truths as invite the reader to re-interpret and reconsider the existing ones. A reminder that Sullivan's emergence as one of the most innovative practitioners in the alt comics world has been a key development on the UK scene in 2020.
Another much covered artist at Broken Frontier over the last few years is Peony Gent whose lingering and haunting graphic poetry is a perfect fit for this format in #7's 'ears of my ears'. Here she provides a meandering exercise in existential meditation, embodying concerns that shift back and forth between the micro and the macro. Gent's quiet subversion of the structure of the comics page is always a subtle joy and, as ever, I long for the day that a perceptive publisher collects her visual soliloquies between the covers of one volume.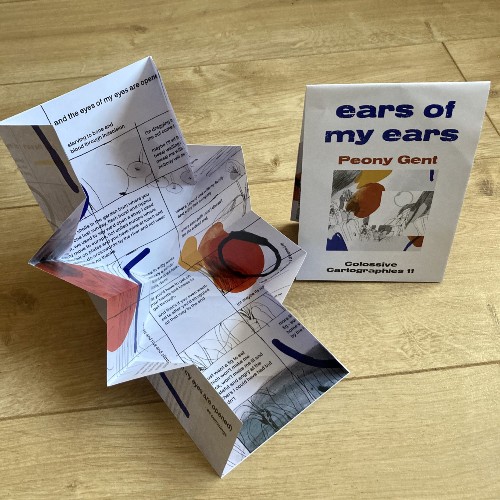 Peony Gent's 'ears of my ears'
Small press mainstay Sean Azzopardi speaks to us of creativity, letting go and moving on in #2's 'Fire Purges' while his oftimes collaborator Douglas Noble is at his eerie best with #10's 'An Unfolded Photograph'. Noble is another creator we have been covering for many years (since 2011 in fact). One who has characterised his work with the term "unfriendly romance and geographic terror". Here, a sequential art narrative surrounds the imposing figure of an ancient tree, towering above the panels. With Noble's comics the horror often lies as much in what isn't said as what is, with their folkloric overtones speaking of something primeval and daunting.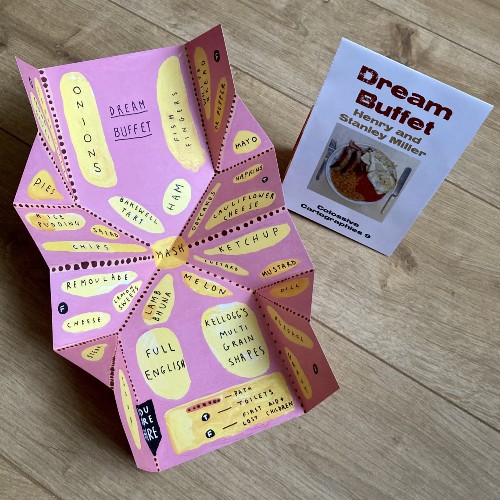 Henry and Stanley Miller's 'Dream Buffet'
'Dream Buffet' in #9 allows father and son team Henry and Stanley Miller to let loose in their inimitable irreverent manner with a gastronomic delight that takes a totally sideways, word-based approach to the map conceit, complete with a cheeky baked beans motif on its outer edges. Mhairi Braden's 'Crannog Lands' in #13 takes a more literal approach to the map theme with imagery that the reader can just lose themselves in and create their own narratives from. And 'Bobby Branstone's Gloves' in #3 by Jane Gibbens Murphy underlines the versatility of the concept, with an anecdotal piece of family history that use photographs, maps and artefacts to tell its story. Other contributors to these first fourteen issues include Victoria Sellar, David Bray, Lucy Sullivan, Tom Murphy (featuring the poetry of Paul Verlaine), Iestyn and Oliver East.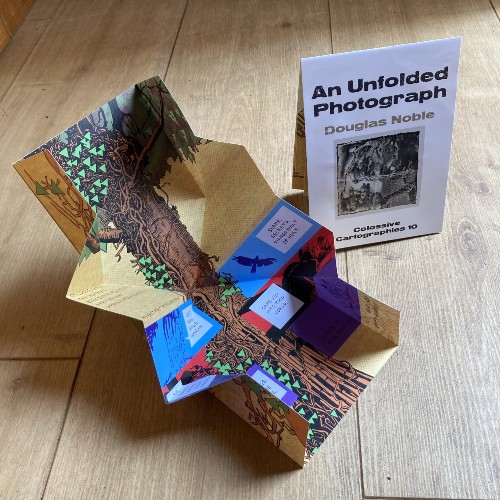 Douglas Noble's 'An Unfolded Photograph'
It's obvious from the editions published so far that this accessibly priced series has boundless possibilities for creative interpretation and playfulness. Indeed the breadth of styles and content here complement each other wonderfully, building into a reflective collection of the unceasing invention of the UK small press world. Inevitably, their physicality lends much to the experience, ensuring the reader's connection with the material has an added layer of interactivity and thus intimacy. One of the absolute creative high points of UK small press work in 2020 and an unmissable, essential investment of your time if your tastes lie in the realms of the alt and the experimental.
You can visit Colossive Press's online store on their site here. Follow Colossive Press on Twitter here and on Instagram here.
Review by Andy Oliver