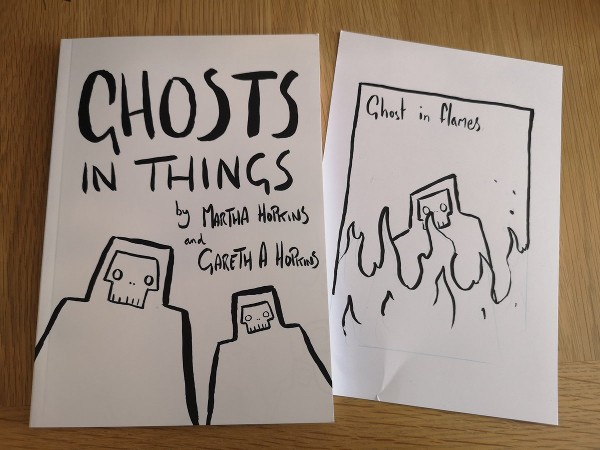 There's something undeniably appealing about intergenerational creative projects. We've seen it before on the small press scene, perhaps most notably with the stalwart presence of father and son duo Henry and Stanley Miller whose contributions in the UK evolved from self-publishing through to comics activism as the organisers of the much-loved Catford Comics and Zine Fair. A particular favourite of mine in this area is Beatrix and Kristen Haas Curtis's Princess Wolf and Her Life of Darkness, a daughter/mother collaboration that was charming on every level. Noted abstract comics creator Gareth A. Hopkins has continued this trend with Ghosts in Things in partnership with his daughter Martha (with a small contribution from son Bill who we are told "wanted in on the action when he heard there was the possibility that money would be involved.")
Ghosts in Things is essentially what it says in the title. A collection of over one hundred cartoons placing spooky entities in everyday situations and objects. Like any running joke, of course, the fun here is in the repetition. The ghosts in question all have a standardised look but one that is just unearthly enough to lend the necessary incongruity to their multiple appearances. Initially these hauntings take place in or around household locales (bookcases, bathrooms and bedrooms) but they soon evolve into far weirder scenarios (ghosts in giraffe costumes, in the blowholes of whales, sucked into black holes, and in hot dog buns).
It's the ever more inventive situations that the ghosts appear in that ensures the joke never runs dry or overstays its welcome. Ghosts springing out of envelopes, trapped in Venn Diagrams, or moving around a U-bend. I was particularly amused by the more topical entries like ghosts on a Zoom call, in a social media meme, or at an extinction level event. While this isn't strictly comics the rapid-fire procession of images, the revisitation of ideas, and the speed with which the reader moves through its pages does give the illusion of the sequential. Something a little different from a direction more renowned for its abstract and oblique storytelling but Ghosts in Things is a huge enjoyable piece of diverting fun with an endearing collaborative starting point.
Gareth A Hopkins, Martha Hopkins, with Bill Hopkins • Self-published, £10.00
Review by Andy Oliver