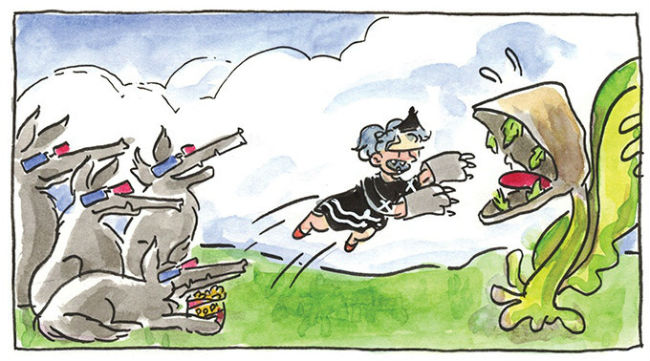 It obviously goes without saying that trying to find upsides to the events of the last few months would be a pointless and inappropriate exercise. However, one thing it has given me the opportunity to do is to spend the time I would have used for multiple weekend and evening comics events to revisit some of the small press comics and zines I have picked up over the last couple of years and never covered. One of those is a project that I don't believe it would be hyperbolic to describe as unique – the uplifting mother and daughter collaboration Princess Wolf and Her Life of Darkness.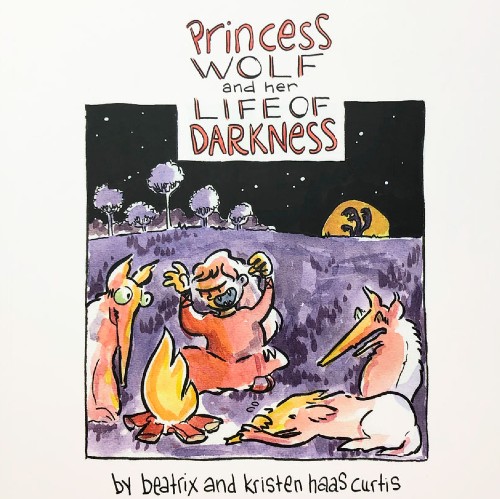 Created by Beatrix and Kristen Haas Curtis, this story was a product of the 100 Day Project with Kristen incrementally re-imagining in comic strip form the adventures of her daughter Bee's character Princess Wolf every day for just over three months. A chunk of the story would be recounted by Bee each night before bedtime, with Kristen then committing it to the page. The next morning it would be referred back to those younger editorial eyes for notes and approval! Collected in one edition it's a joyous affair, a perfect blend of child-like wonder and parental guidance as the central character's freeform world and her often wonderfully illogical story comes to life in front of our eyes.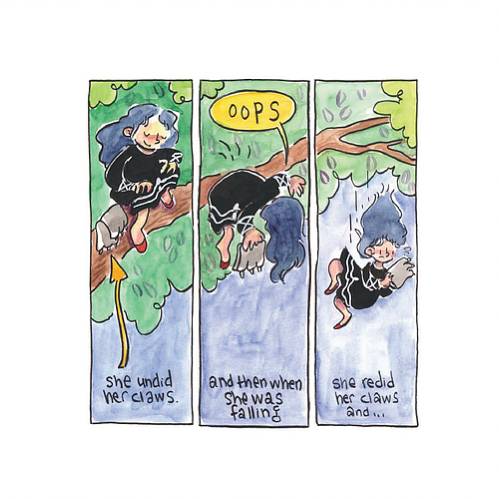 From the description of that creative process you will no doubt have already worked out that this is a book that is not concerned with narrative structure but rather about immersing oneself in the vibrant imagination of a child. Princess Wolf's misadventures have a quirky and delightful randomness. Her companions, for example, are wolves whose lupine form hides the fact that they are the boys she didn't want to marry, who have now been transformed into lycanthropic incarnations. Along the way she encounters evil plant creatures, faces the problem of two wanderers who have been transformed into living statues, and attempts to crush her nemeses the sun and the moon. All with her trusty magic wand Zidray Zap at her side.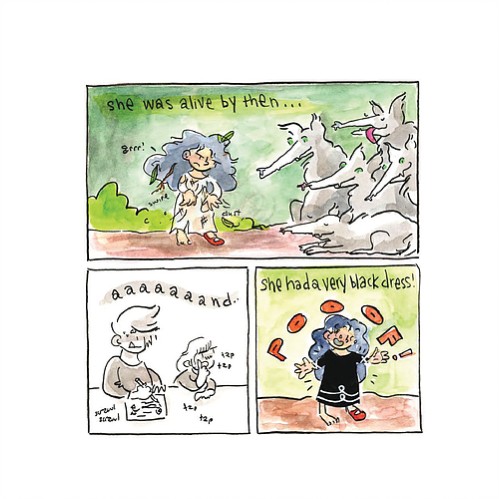 What makes this such a beautiful piece of storytelling, though, isn't simply the on-page realisation of Bee's concepts. Throughout we jump backwards and forwards between Princess Wolf's world and Bee and Kristen's as they discuss the events which are being portrayed, with Kristen commenting on their collaborative process with an amiable sense of fond exasperation. It's a rather meta endeavour, as much about the tale of this partnership as its narrative product. Kristen's expressive and lively cartooning is perfect in bringing Bee's sparky imagination to vivid life but ultimately the real story here is the one about the mother-daughter bond. And that's where the appeal and charm of Princess Wolf and Her Life of Darkness is at its most joyous.
This really is the very epitome of feelgood comics and, ultimately, feelgood comics are something we've never needed as much as we do right now…
You can buy Princess Wolf and Her Life of Darkness from Kristen Haas Curtis's online store here or from the Good Comics online store here in the UK.
Review by Andy Oliver