Every few weeks we sift through all the dozens of crowdfunding communications we receive here at BF each week to bring you a handful of the more intriguing, exciting, experimental and daring uses of the form that we spot, along with some interesting campaigns we've found ourselves. These are comics that both fit the Broken Frontier coverage ethos and that we think deserve your support and backing!
Welcome to Crowdfunding Corner…
Sweaty Palms Vol. 2 – The Anthology about Anxiety
The who and what: The second Sweaty Palms volume containing over 300 pages of shorts exploring living with anxiety. The creative line-up includes AnneMarie Rogers, Barbawk, Jenn Woodall, Kelly Bastow, Luke Howard, November Garcia and many more.
What's on offer: This volume has a song specially recorded for it by Chicago-based band Ashby and the Oceanns and available as an MP3 as part of the reward levels. That's a unique bonus in itself but the campaign also includes poster, pin, postcards and sticker set combos, plus original art and commissions.
Sample art from Luke Howard and November Garcia
Why you should back it: The first volume was very well-received and this second edition has an impressive list of indie talent attached to it. Graphic medicine is something of a passion of ours here at BF and this collection of autobio work, looking to communicate and inform, is well worth your time.
– Andy Oliver
Princess Wolf and Her Life of Darkness
The who and what: Kristen Haas Curtis's unique collaboration with her young daughter Bee. The adventures of Princess Wolf have been incrementally captured by Curtis from story fragments delivered by Bee and turned into panels of an ongoing story.
What's on offer: This hit its funding target almost immediately when launched this week so the higher level reward tiers are gone already. But you can still get a copy of the book in print or digitally.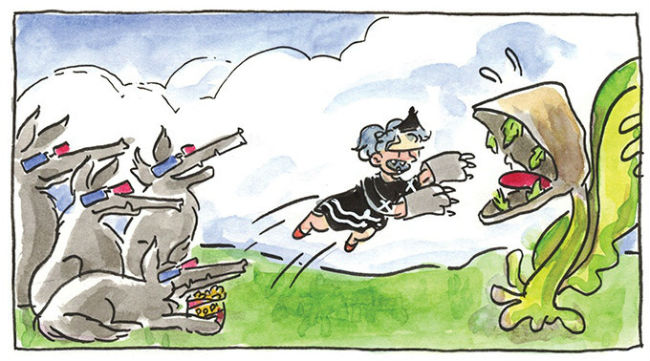 Why you should back it: Kristen Haas Curtis has a charming and instantly accessible artistic style and UK readers may have already grabbed her work from Good Comics who published Crushing. With such an enchanting backstory to the book's origins how can anyone with even a sliver of a heart not be touched? If you watch that crowdfunding video and you don't melt then you clearly have no soul…
– Andy Oliver
Erol Vs Evil
The who and what: A one-shot 48-page offering from Darrell Thorpe, aka Forpe, this fantasy comedy follows the adventures of Erol the Bonehead on an "epic crusade" as he seeks to become a member of the Piece Brigade. It's the first story to be set in his ongoing FreeDoom world.
What's on offer: Stickers, arts prints, enamel pins and desktop wallpaper are some of the goodies on offer outside of the print and digital versions.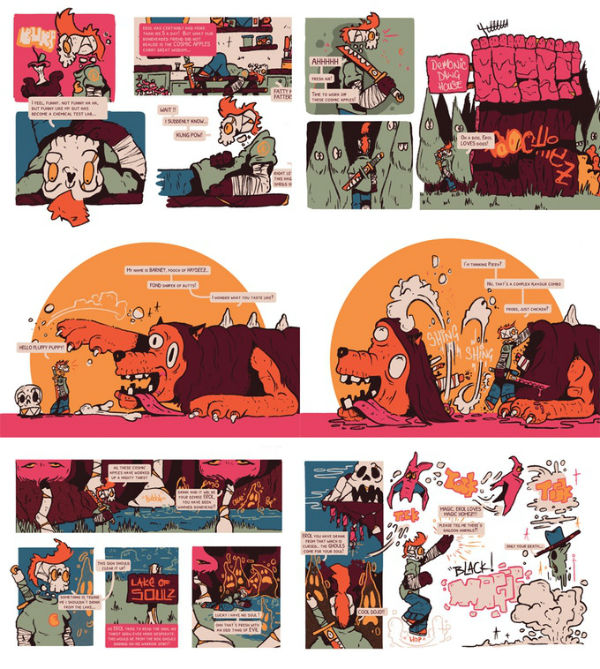 Why you should back it: Darrell Thorpe's busy and incredibly inventive pages seem lure enough to us. He's a creator whose work has been quietly bubbling away in the background on the UK scene for a couple of years now and this project looks set to be his breakout moment!
– Andy Oliver
Drugs & Wires Vol. 1
The who and what: A cyberpunk sidestep series set in Eastern Europe in an alternative 1995, Io Black and Mary 'CryoClaire' Safro's Drugs & Wires follows Dan, a recovering VR junkie. This mix of pastiche, slacker comedy, social commentary and genre send-up has gained a loyal webcomic following over the last few years.
What's on offer: Postcards, art prints by guest artists, supplementary material, stickers, a pin and even a t-shirt all feature on the various tiers. There's also a suitably retro element including a mystery floppy disk "filled with secrets" and the option to be drawn into a crowd scene.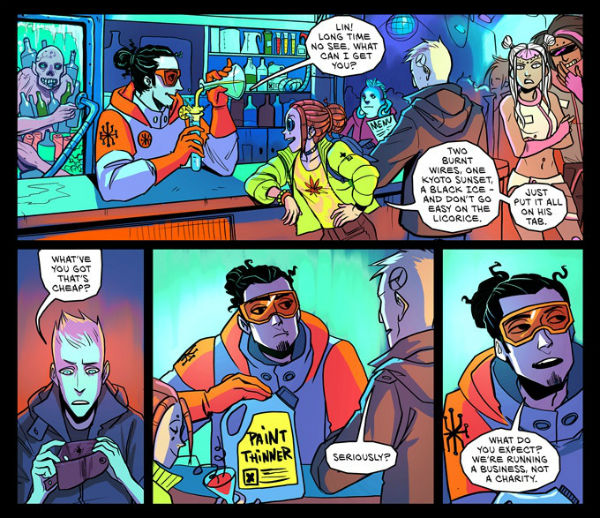 Why you should back it: I first met Mary Safro a few years ago when I was doing portfolio reviews at the East London Comics and Arts Festival (ELCAF) and it's always a pleasure to see one-time aspiring artists going from strength to strength. I reviewed the first print issue here at BF back in 2015, particularly praising Safro's visual storytelling and describing the book as "bleakly amusing and morbidly observed." And, trust me, I meant that as a compliment!
– Andy Oliver