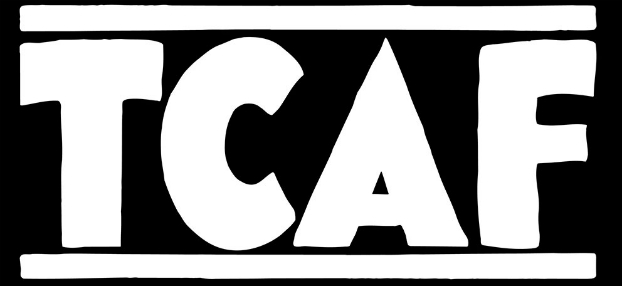 Welcome to the Broken Frontier Bulletin Board, our semi-regular round-up of comics-related events, panels, exhibitions, shows and fairs designed to give our readers inspiration for extra-curricular activities of a sequential art-related nature…
The UK Small Press at Toronto Comic Arts Festival, Saturday May 13th-14th
You hardly need a blog post a couple of days before TCAF begins to let you know it's happening so we'll forego the usual What?/Why?/Where?/When? format for this part of the post. But as there are a number of UK small pressers to have featured heavily on Broken Frontier exhibiting and, as BF is big on championing its coverage regulars, we thought we would remind our international readers of just a few of the Brit names attending to look out for (with table numbers)…
Avery Hill Publishing (206) – The three-time Broken Frontier Award-nominated publisher will be debuting Charlo Frade's Goatherded at the weekend. We reviewed it here this week and described it as "proof positive that Avery Hill's established reputation for unearthing and nurturing the next generation of acclaimed indie talent is a deserved one indeed. Make sure to pick up a copy if you're at TCAF at the weekend. Goatherded should be on every festival-goer's "must-buy" list."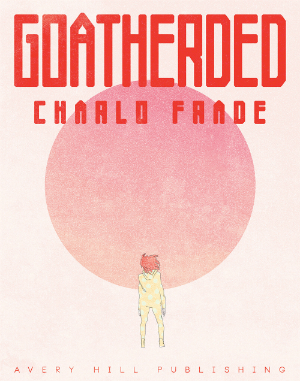 Avery Hill will also have copies of British Comic Award-nominated Maleficium by Broken Frontier's own EdieOP. This is a wonderful piece of creepy yet ultimately feelgood all-ages storytelling from a creator who fuses the endearing and the sinister together like no other. It tells the story of would-be boy wizard Huxley Leighton-Lomax as he seeks to save his family from a malevolent supernatural darkness that haunts their house.
I said of it here at BF "Here we have characters we fall in love with from the very beginning, a threat that plays on fears we can all empathise with, and an adorably feelgood factor despite the occult overtones of the subject matter; all wrapped up of course in that signature and slightly unworldly [EdieOP] artistic style."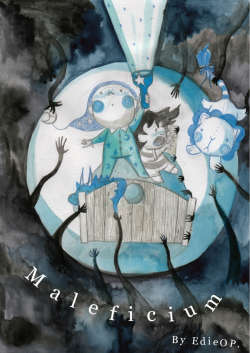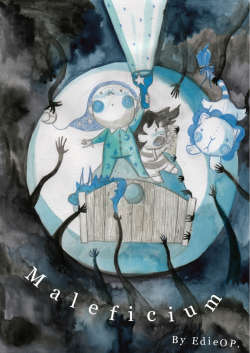 Sean Azzopardi (287) – One of the UK scene's longest-serving contributors, Sean's autobio work has hit its own Golden Age in recent years. He's currently working on his first full-length graphic novel The Voice of the Hall (to be published by Soaring Penguin Press). You can see his creator's commentary on his most recent comic 50 – about reaching the titular milestone – here.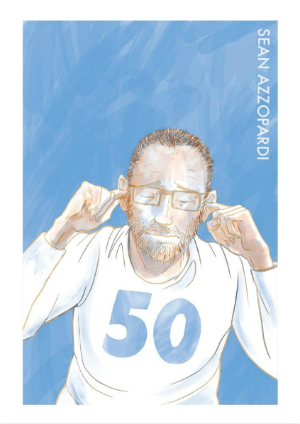 Breakdown Press (235) – Two-time Broken Frontier Award nominees for Best Publisher, Breakdown continue to impress with their own distinctive strand of alt comics, including books by Michael DeForge, Antoine  Cossé, Anna Haifisch and Alexander Tucker. You can catch up with all our recent coverage of their publications here.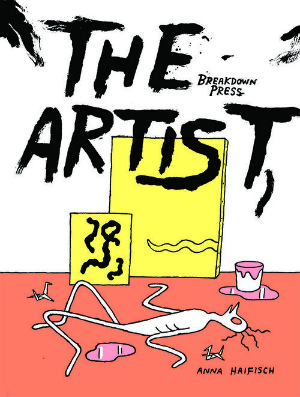 Gareth Brookes (268) – The dark social commentary of Brookes's work was most recently seen in A Thousand Coloured Castles, his second graphic novel from Myriad Editions. A crayoned mystery surrounding a woman whose perceptions of reality are clouded by her medical condition, we said of it here that "this re-imagining of twee middle class suburbia, as seen through the fractured lens of a distinctively Brookesian eyeglass, is a visual triumph." We also recently interviewed Gareth here.
Cryoclaire (232) – Cryoclaire and Io Black's Drugs & Wire eschews the usual cliches of cyberpunk-style stories and gives us a different take on the genre that examines life in a 1995 alternative timeline Eastern Europe. We reviewed the first issue here at BF saying of the visuals "bleakly amusing and morbidly observed, [Cryoclaire's] visual storytelling is confident and assured throughout."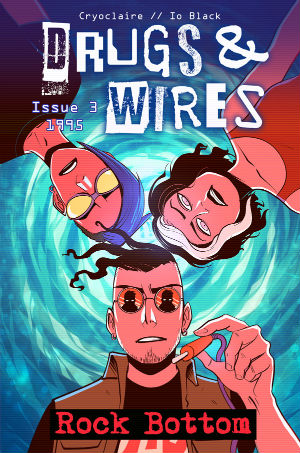 Joe Decie (103) – Like Gareth Brookes, another gent with a long-awaited graphic novel recently published. Collecting Sticks recounts a weekend in which the Decie family went "glamping" (glamorous camping) and found it not very glam at all. Slice-of-life observational humour and fantasy divergences collide in usual Decie-an style. You can read a review here at BF and an interview with the whole Decie family here.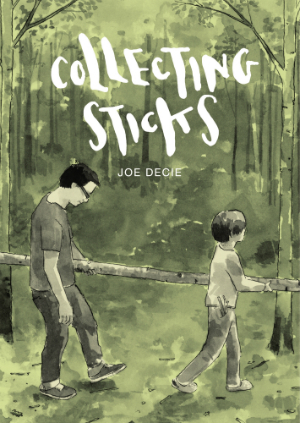 Metaphrog (252) – The duo's new Hans Christian Andersen adaptation of The Little Mermaid (Papercutz) is garnering huge critical acclaim at the moment. Our EdieOP reviewed it recently here and said of its beautiful hues "the use of colour throughout the entire book is consistently and intelligently used and contributes extensively to setting the mood."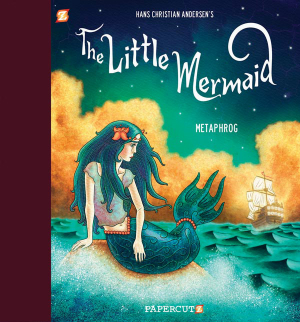 Cristian Ortiz/CROM (Q5) – Three books into Cristian Ortiz's unique brand of fantasy/autobio and it's becoming obvious that something very special is going on in his Golden Campaign series. We called the most recent issue "a reminder of what a genuinely promising talent Cristian Ortiz is" here at BF.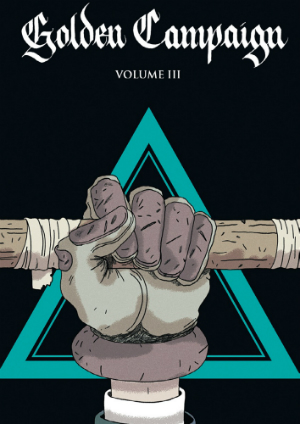 Rachael Smith (206) – It's hard to pick out just one Rachael Smith offering because her witty, touching and character-led graphic novels from House Party to The Rabbit to Artificial Flowers are all highly recommended. But if you're very lucky she may have some copies of her essential Wired Up Wrong minicomic left; an engaging and touching look at living with anxiety. We interviewed Rachael at BF here last week.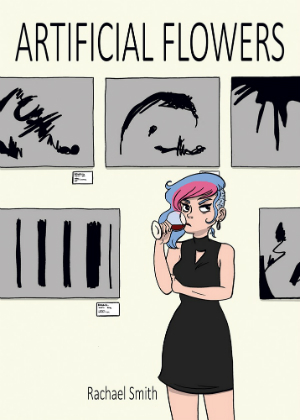 ComicPopUp, Brighton

What? Simon Russell's initiative is a cracking idea – a one-day pop-up comics-selling event this Saturday offering the work of some top indie talent on their behalves as part of the Brighton Artists Open Houses festival. A way to complement the usual convention/festival circuit that isn't dependent on artists being there.
Why? With the work of over 50 creators on sale this is a great chance to sample some of the very best of the UK small press scene. It includes comics from BF 'Six to Watch'-ers like Emily Rose Lambert, Rozi Hathaway and Danny Noble as well as names like Joe Decie, Katriona Chapman, Dirty Rotten Comics, Rachael Smith, Jack Teagle, Dan White and BF staffer Jenny Robins.
There's also the opportunity to watch artist Zara Slattery (Two Birds) at work, to take part in Jaime Huxtable's giant comic-making antics, and to have portraits drawn by manga artists Inko Ai Takita and Kutsuwada Chie.
Where? Family-friendly pub The Hanover, Queens Park Road, Brighton BN2 9ZB.
When? Saturday, May 13th 2017, 12pm-5pm
More details… You can get more information on the event here or from the Facebook event page here.
Do you have a similar small press/indie event you want to let us know about? Get in touch via our Contact Us page here.