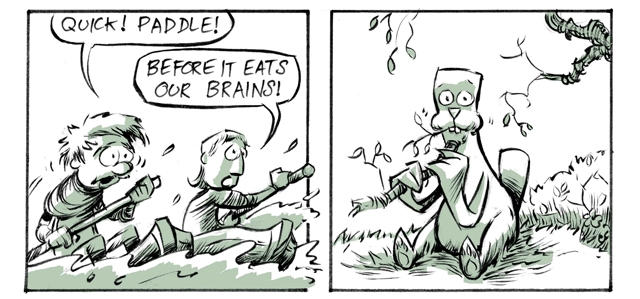 Jaime Huxtable is a creator whose work I have come across on a number of occasions, and in varying capacities, of late. He's an artist who continually impresses with his versatility; equally at home as an accomplished cartoonist – as his work in John Miers's anthology Score and Script shows – or as an illustrator bringing period drama to beautifully observed life. That latter I had the privilege of noting during my time earlier this year as a judge on the 2014 Myriad First Graphic Novel Competition when Better Beasts, Huxtable and writer Mark Pembrey's as yet unpublished tale of rivalry in the early days of palaeontology, was chosen for the longlist.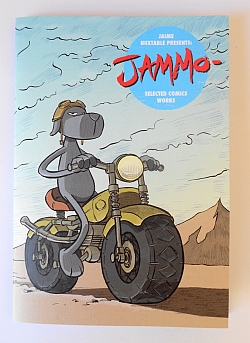 Jammo is a collection of Huxtable's work from sources including anthologies, competition entries and self-published comics. It's one of those compilations of material of diverse provenance that on the one hand can feel a little disjointed as a discrete entity in and of itself, but on the other is an extremely effective showcase for the artistic range of an individual creator. A potpourri of slapstick, dark humour, historical adventure and eerie fantasy.
Breaking up the various strips and short stories throughout Jammo are the one-page exploits of the Afanc (see top image), a strange beaver-like creature of Welsh legend whose rather inconsequential and dim-witted nature belies his status as alleged monster. These shorts act as both a running gag giving the reader a familiar point of reference throughout Jammo, and as a pointer to Huxtable's ability to construct a complete narrative in just a handful of panels. His comic timing here is particularly neat, working on those same newspaper strip principles of immediate set-up/progression/punchline. The Afanc has his/her own site for those wishing to investigate further.
One of the more memorable offerings in these pages is 'Elly's Evil Teddy', a runner-up entry in the Dundee Comics Prize in 2011, judged by DC Thomson and the University of Dundee. The judges were looking for a children's humour strip for the 21st century and this tale of a malignant teddy bear constantly trying to get the young girl who owns him into trouble is a clever twist on all those weekly comic strips with a child/non-human chum dynamic that I recall from my Thomson/IPC comics-buying youth. In some ways it has a traditional British comics set-up, albeit a skewed one, but there's a darkness to it that gives it a very contemporary edge.

What's very apparent throughout Jammo is Huxtable's profound understanding of those storytelling tricks that can work only in comics. 'The Colour of C' (below) is the finest example of this, giving an account of a young man returning to the family home some months after his father's death to discover that before his demise he had been working on a machine to allow people to see the colour of sound; a unique ability that said parental figure had himself possessed since childhood. The realisation of this strip's central conceit just wouldn't work in the same way in any other medium. A clever use of word balloons and visual "sound" effects ably express the synaesthetic subject matter of this poignant four-pager as the son painstakingly attempts to recreate his father's work.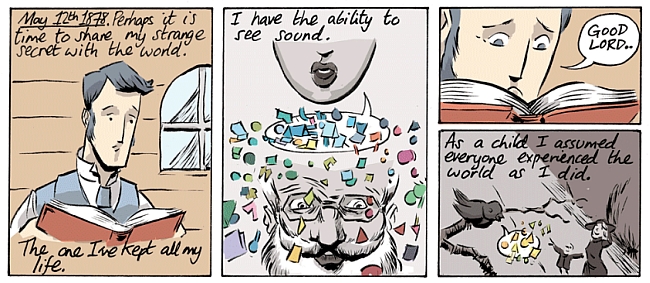 No doubt some who pick this up as a collection will find the contents a little too disparate and thematically diverse. Without qualification that's perhaps, superficially, a fair observation given the material here ranges from a historical biography of 12th century priest Gerald of Wales (below) to a strip where Edgar Allan Poe and Roger Corman discuss the director's adaptation of 'The Fall of the House of Usher', all the way through to the cartoon violence on show in 'Bear Faced Freak'. But collections like this serve a hugely important role in acting as a portfolio in print for up-and-coming creators, and what's immediately apparent in Jammo is the scope of genres/styles that Huxtable is able to turn his hand to. He's an artist who has that rare ability and temperament to adapt his style to the subject matter rather than adapting the subject matter to his style.

With two Myriad First Graphic Novel Competition longlist nominations to his name – and as one of the 2014 judges I can assure you that's an impressive achievement in itself – Huxtable's talent is long overdue a far wider audience. Jammo represents an ideal and vital entry point to his work for the uninitiated, or those who have only previously come across his comics in passing.
For more on Jaime Huxtable check out his site here. Jammo is available from his online store here priced £4.00.