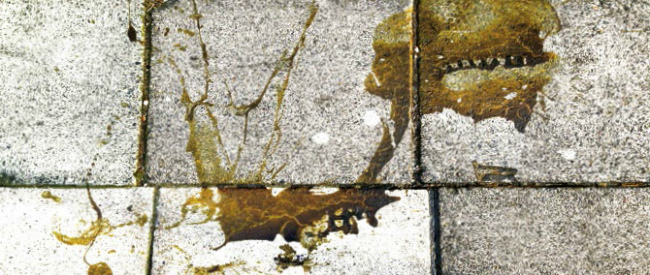 In Nearlymades, Simon Russell combines found imagery with piquant snippets of text to create a work that rewards the reader's attention.
There's been a lot of traffic of late for the idea of 'poetry comics', with the launch of new anthologies (Ink Brick in the US and Over the Line in the UK) and an exhibition at the Saison Poetry Library in London's Royal Festival Hall.
It's a rich idea: the visual elements of comics gives the creator the opportunity to use the, um, lexical and graphic elements of the work to generate new ironies and dissonance – or even to do away with words altogether and to mainline the experience through images alone.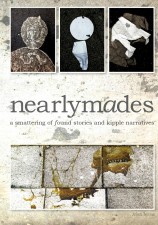 Simon Russell's Nearlymades doesn't identify itself explicitly as 'poetry', but in its remixing of found imagery, combined with enticing and evocative little snippets of text, it achieves that same kind of distilled, intensified experience.
Using a visual artist's eye, Russell picks out details of the urban world around him, takes them out of their original context and recasts them as strange new environment. In doing so, he has created an intriguing and visually attractive work that requires a contribution from the reader and repays repeated readings.
Three little-used words crop up when you're considering Nearlymades, and it's probably worth looking at each in turn to shed a little light on what Russell does within these pages.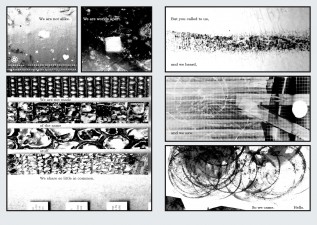 The first, highlighted on the cover, is 'kipple'. Of course, if you're read more proper books than what I have, then you might well be already familiar with the concept: it was coined by Philip K Dick in his novel Do Androids Dream of Electric Sheep?
Kipple is useless objects, like junk mail or match folders after you use the last match… When nobody's around, kipple reproduces itself. For instance, if you go to bed leaving any kipple around your apartment, when you wake up the next morning there's twice as much of it.
No one can win against kipple… It's a universal principle operating throughout the universe; the entire universe is moving towards a final state of total, absolute kippleization.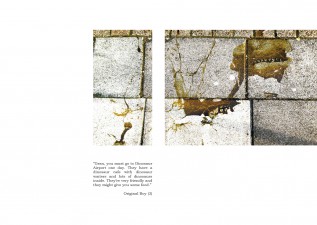 In Nearlymades, the process of kippleisation forms part of the wider entropic drift. As images, objects and locations become degraded over time they reveal a secondary meaning or purpose – one that can be identified using the second of our keywords: pareidolia, or "the tendency to perceive a specific, often meaningful, image in a random or ambiguous visual pattern."
Usually relegated to finding the Virgin Mary in a piece of toast, this is the engine that really drives Nearlymades, as Russell generates creative tension by playing off abstraction and representation against each other.
Peeling paint on a wall or the grain in a piece of wood become a window into another world – a landscape where Norse gods may get stuck into their cosmic conflict, or ancient peoples play out their creation myth. With the addition of an oblique title or a fragment of text, the transformation is complete, creating a little mental theatre for the reader to enter and develop a new interpretation.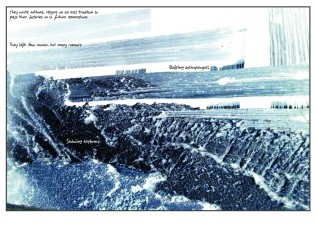 The third keyword is one that I've brought to the party: hauntology. Now I know that's one of those awful hip cultural buzzwords – like its cousin 'psychogeography' – that's been rendered useless by vague, opportunistic appropriation down the years.
However, it's something that I've been considering a lot in connection with comics over the past few months, and the arrival of Nearlymades suddenly provided a catalyst for me to make a few connections.
Of course, at this stage I could go off on a 3,000-word riff on the origins of the term in critical theory and Jacques Derrida and all that, but there are other sites out there that will scratch that itch if required. For a simple surface-skater like meself, the definition submittted for inclusion in the Collins dictionary will probably suffice:
"Social movement concerning the idea(s) of the past and the future, haunting, bleeding into the present. Often filtered through themes such as childhood and the phenomenology of landscape."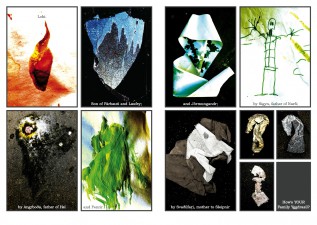 Much more specifically, I think about 'hauntology' in the context of a lot of the music I listen to while working.
Perhaps epitomised most literally in the output of the Ghost Box label, it tends to be more about atmosphere and the evocation of a particular psychic state than harmony, melody or other conventional musical structures. It weaves together snippets of old soundtracks, field recordings and the deliberately retro use of analogue equipment to create an air of unease – even dread.
And it seems to me that what Russell achieves in Nearlymades – either by luck or judgement – is to create a similar idiom for comics. He takes the familiar, the mundane little patterns of time and decay we see around us every day, and transforms them into beguiling visual koans that invite – or even demand – an act of interpretation from the reader.
This sort of theory-minded unpacking is a million miles away from my usual reviewing style, but in Nearlymades, Simon Russell creates a comics idiom that nudged me into some new thinking. And it's an absorbing piece of work that might do the same for you.
Simon Russell (W, A) • Boing Graphics, £9.00