As mentioned the last time I looked at the Colossive Cartographies from Colossive Press, this tactile series of one-shot art objects took its inspiration from Colossive co-publisher Tom Murphy's toying with the Turkish Map Fold; a process that allows an A4 sheet of paper to fold into an A6 cover that opens up as an interactive object. Seeing the potential in it, Murphy invited creators from both comics and other media to contribute ideas for the format. Thus was born the Colossive Cartographies series, a collection of mini visual narratives that I described last year at BF as "one of the absolute creative high points of UK small press work in 2020."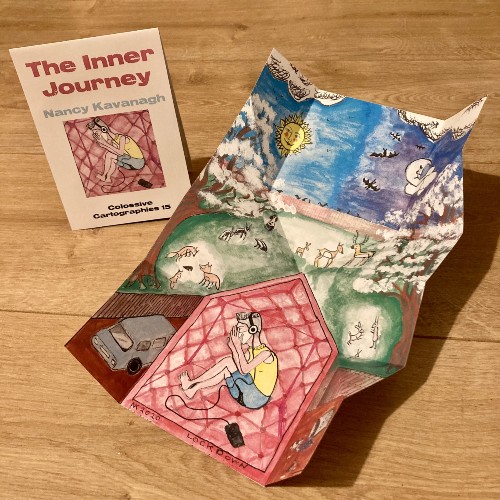 Nancy Kavanagh's 'The Inner Journey'
In the interests of transparency I need to also underline that Colossive Press's Tom Murphy is the same Tom Murphy who has been a long-time part of the Broken Frontier team. But, as I said in our previous coverage, it would be a crime against DIY culture not to give the range coverage here given we're a site that focuses on the very best small press, alt, experimental and micropublished work on offer. And it goes without saying that the Cartographies fit every one of those categories In terms of both practice and practitioners.
The first 14 editions contained work from such oft-featured Broken Frontier favourites as Peony Gent, Olivia Sullivan, Sean Azzopardi and Douglas Noble. The latest batch, taking us up to #21 feature Nancy Kavanagh, Tim Bird, Miranda Smart, Simon Russell, Joe Decie, Hannah Lee Miller and Patrick Wray. The curation for this project has been excellent from the start, ensuring an eclectic number of approaches and ever inventive exploitations of this curious format. Mixed media artist Nancy Kavanagh's 'The Inner Journey' (Colossive Cartographies #15), for example, is a meditation on something that will be familiar to all of us over the last year – the lockdown experience – that ingeniously uses the very creases of the Turkish Map Fold-style to create a sensation of oppressive claustrophobia.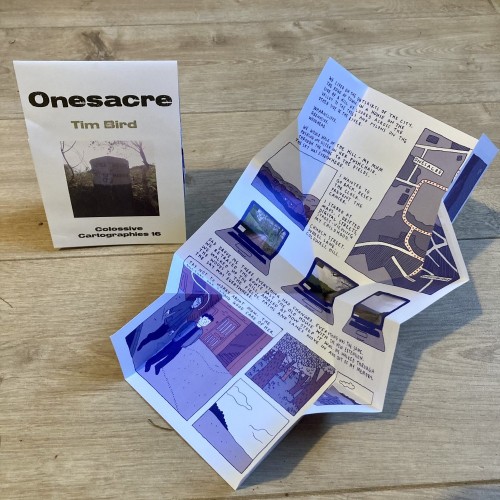 Tim Bird's 'Onesacre'
Tim Bird's psychogeographical comics explorations from both Avery Hill Publishing and his own self-published work (The Great North Wood, Asleep in the Back) have ensured his practice was always a must for this series. In 'Onesacre' he delivers something unsurprisingly profound within the immediacy of the format. It documents a return to his childhood streets and haunts, and weaves maps, photos and single illustrations into its comics narrative. Bird uses every space of the fold-out canvas available to him here, making this a truly tactile experience.
Miranda Smart is one of a growing movement of UK comics creators (including fellow Colossive Cartographers Olivia Sullivan, Peony Gent and Gareth A Hopkins) continuing to take the medium into new territory. 'Altitude' in #17 is a fine example of her abstract approach to narrative. A story that invites the reader to find their own narrative within its imagery, asking us to react to it as much as interpret it. Its sequential art but its arrangement blurs, if not totally obscures, concepts of beginning and end. Smart's work – which has appeared in the iconic Heavy Metal – is long overdue far greater recognition.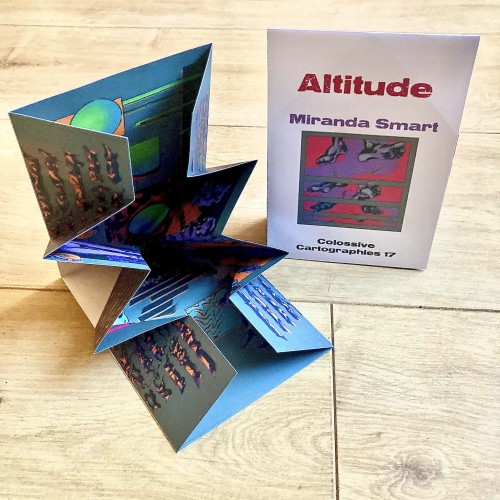 Simon Russell's 'Mappa Moon Day' in #18 is perhaps my favourite piece in this latest crop. It runs with the map starting point to create a reflection on nostalgia and the ageing process that charts the many fictional realms that have played pivotal parts in his life. Here the Bottle City of Kandor, The Shire, Whoville, Gormenghast Castle, Moominvalley, Sherwood Forest, Wonderland, New Genesis and so many others, all sit side by side in a map of the formative influences on his own mental landscape.
Joe Decie's 'Wait, Why Did I Come in Here?' in #19 is a blueprint ode to procrastination; slivers of Decie's day that build up into a monologue of the minutiae of distraction and avoidance. It's Decie expertly adapting his signature blend of day-to-day mundanity and whimsical fancy to an alternative means of delivery. It's also pleasing to see new work from Hannah Lee Miller in #20's 'Not this Conversation Again'. Miller has been a long-standing presence in the UK small press world (I first reviewed her work way back in 2013 in Dementia Dad) and she's another artist in this latest batch of Cartographies to think about how the folds of the page can be used as a storytelling tool in this account of relationships and cyclical arguments.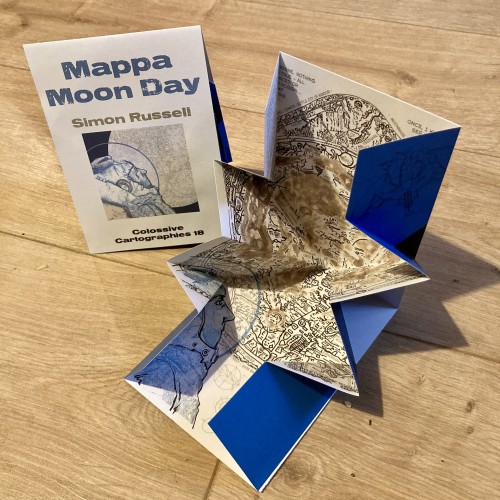 The final offering in this sample is from Patrick Wray (The Flood That Did Come) with #21's 'Mirror Mirror'. Wray's piece is described as "fragments of ideas and memories that might be contained within a given moment". Much is deliberately left to the reader's inference here but Wray has also considered novel ways of utilising the properties of the Turkish Map Fold with one main central image accompanied by the fractured thoughts of the "protagonist" sitting on the reverse outer folds of the page.
Colossive Cartographies remains a wonderful exercise in flexible creativity and a perfect entry point into the work of the creators involved for those wanting to explore the UK small press and DIY culture scene further. I simply cannot recommend this series more highly.
You can visit Colossive Press's online store on their site here. Follow Colossive Press on Twitter here and on Instagram here.
Review by Andy Oliver