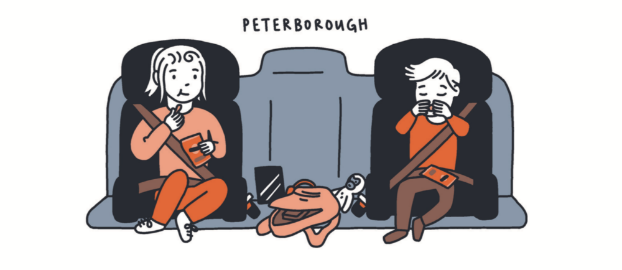 Re-iterating what I said last week at Broken Frontier – when we chose Asleep in the Back as our 'Comic of the Week' – Tim Bird's practice has come a very long way since the early days of his Grey Area explorations of place, space and time from Avery Hill Publishing. In fact it's grown and evolved considerably since even that 2015 British Comic Awards win for Grey Area: From the City to the Sea with Bird undeniably becoming one of the most important comics creators currently working in the area of that much contested term of psychogeography.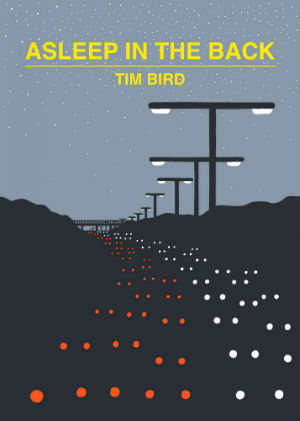 Last year saw perhaps Bird's most ambitious work to date with The Great North Wood which explored the history of the ancient forest that once covered the area of South East London and of which only pockets still exist even though its presence is engrained in the local area (you can also read an interview with Bird about the book here at Broken Frontier). Asleep in the Back is smaller in thematic scale but is certainly no less resonant in delivery, providing a generational tale of how mesmerising an experience long family car journeys are when you're young.
Split into two interlinked sequences, Asleep in the Back reminds us of the near universality of some of those accepted rituals of childhood which, by their monotony and routine, become strangely comforting. In the first section he looks back to his own younger years and post-church Sunday lunches with his grandparents before setting off on the family trip home. Perspective and panel positioning initially recreate that time when our parents were giants to us in every sense and the world was a huge and daunting place, while the journey home itself becomes a series of geographical increments for the young Tim with a feeling not so much of the family car moving through the world but of the world moving around it.
It's here that Bird will take many readers back to a sense of shared childhood memory; that strangely soothing hum of the motorway and its stark iconography as it would slowly sweep us away into a dreamlike, melodic and almost hypnotic state of mind. The parallels with life's own passage become more pronounced as we enter the second segment of the book wherein Bird depicts similar events but from the perspective of an observer. Here we watch his own family unit, the fidgeting and the distractions of his children within the confines of the car, echoing the past but also emphasising the changes in that ritual over the intervening years (largely technological ones!). Again the movement of time is so carefully and touchingly crafted in panel structure leading into a beautifully judged finale that brings us firmly into the moment with a simple but sudden immediacy.
Unlikely as it seems Asleep in the Back feels like something of  an indirect thematic sequel to The Great North Wood, also exploring in its own way motifs of memory and its elusive tangibility. While Tim Bird's work is consistently acclaimed it's a source of continual surprise that it isn't more widely recognised internationally. This carefully paced and introspective piece only serves to remind us of his now established place as one of the UK indie scene's most important creative mainstays.
You can find out more about Tim's work on his website here and visit his online store here. You can also follow Tim on Twitter here.
For regular updates on all things small press follow Andy Oliver on Twitter here.
Review by Andy Oliver