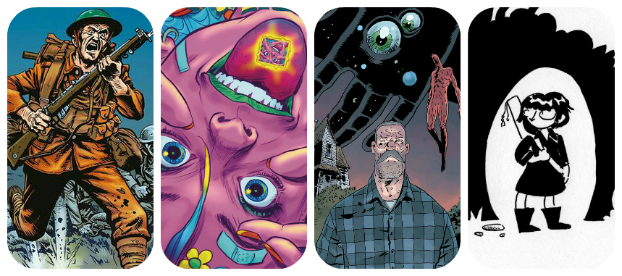 It's nearly Wednesday, and you know what that means: a fresh load of comics and graphic novels! With so many publications hitting your local comics store, comics events or digital storefront, the BF team are here to lead you through the woods with our weekly staff picks. Satisfaction guaranteed!
Comic of the Week
Charley's War: The Definitive Collection Vol. 1 – Boy Soldier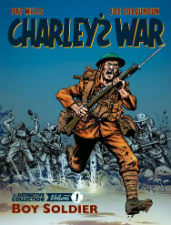 There are those who rightly point to Charley's War as one of the greatest war comics ever but we would go a little further here at Broken Frontier and say that it's simply one of the greatest comics ever, regardless of genre. First published in the pages of the weekly Battle in the 1970s it's writer Pat Mills's masterpiece and the ultimate showcase for the brilliance of Joe Colquhoun, one of the finest artists to ever grace the pages of a British comic.
As part of Rebellion's Treasury of British Comics this definitive collection sees the saga reprinted with all-new lettering and, finally, with the colour pages presented as originally seen. Follow 16-year-old Charley Bourne as he faces the horrors of the trenches in this uncompromising and damning indictment of the carnage of the First World War.
Pat Mills (W), Joe Colquhoun (A) • Rebellion, £19.99
– Andy Oliver
The Bridge: How the Roeblings Connected Brooklyn to New York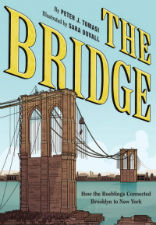 The psychogeographical meets architectural biography in writer Peter J. Tomasi and artist Sara DuVall's intriguing sounding account of the construction of New York's Brooklyn Bridge. This remarkable story – of not just the engineering feat but of the family responsible for it – comes from a writer perhaps better known for his super-hero work. But longer-term Tomasi fans will be aware of his ability to cross genres with ease.
A layered tale told from both a social and familial perspective, The Bridge is already getting significant coverage outside of the comics press and looks set to be one of this year's comics offerings with a true crossover appeal.
Peter J. Tomasi (W), Sara DuVall (A), John Kalisz and Gabe Eltaeb (C), Rob Leigh (L) • Abrams, $24.99
– Andy Oliver
The Wonderful World of Tank Girl #4: Tank Girl Takes a Trip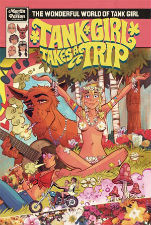 Tank Girl Takes a Trip is the last in the series of four stand-alone issues published as The Wonderful World of Tank Girl. Part of the continuing 30th Anniversary celebration of the iconic character, writer Alan Martin and artist Brett Parson have used this series to feature Tank Girl and her bonkers band of friends cavorting and carousing their way through some outrageous single-issue adventures. And #4 promises to be the trippiest of them yet.
When an old friend shows up, Tank Girl is presented "with a problem that can only be solved by taking a dive, deep into the rabbit-hole of her own subconscious." A cautionary tale about the mind-altering effects of gaming… or is it the funny-tasting tea having that effect?… maybe Brett Parson just wanted to draw Mad Max-esque vehicles… wasn't Barney in charge of getting the tea?… and why is there a pink aardvark at the table again?
Oh yeah, it's time to freak out, man! Enjoy your trip.
Alan Martin (W), Brett Parson (A) • Titan Comics, $3.99
– Karen O'Brien
Dirty Rotten Comics #12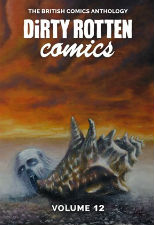 If that strikingly haunting Andrew Warwick cover isn't eyecatching enough, this latest volume of one of our favourite comics showcase anthologies is, as ever, chock full of names from the UK indie scene to ensure its regular status as a must-buy small press item this week.
Dirty Rotten Comics has a deserved reputation for being one of the most important platforms in the micropublishing world for up-and-coming talent and this issue is no exception. Broken Frontier 2018 'Six to Watch' creator Jayde Perkin's offering will, understandably, be the first one we turn to when we grab our copy but expect quality shorts from Paul B. Rainey, Rebecca K. Jones, Tom Mortimer, Hattie Comics and many more in what is always one of the best collective efforts in comics. You can order it at an ever accessible price online here.
Anthology – Various creators • Throwaway Press, £6.99/$8.99
– Andy Oliver
Survival Fetish #1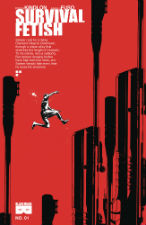 With their edgy, high-energy approach to finding new voices in comics, Black Mask Studios have created quite a stir since their first books hit the shelves. The latest debut to demand your attention is a five-part dystopian urban thriller from writer Patrick Kindlon (We Can Never Go Home, There's Nothing There) and artist Antonio Fuso (James Bond), who looks to be turning in another blast of busy, dynamic monochrome action.
In a scenario that will appeal to readers of near-future hits like DMZ, Days of Hate and Black Mask's own Calexit, downtown Honolulu has been rendered into a warzone by battling militias and gangs. Amid the bloodshed, free-runner Saheer has become a celebrity by running medicine and information through the perils of the city. However, even this hero of the streets has secrets of his own, in what promises to be a blistering mix of political intrigue and high-octane action.
Patrick Kindlon (W), Antonio Fuso (A) • Black Mask Studios, $3.99
– Tom Murphy
Action Comics #1000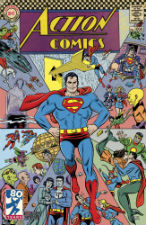 This milestone issue of the Man of Steel's debut comic may have lost much of its celebratory momentum (thanks to that needless renumbering stunt in 2011 robbing it of its true millennial legitimacy) but there's still plenty of reasons to join the party for current and lapsed Super-fans alike.
A previously unseen Curt Swan story, for example, hearkens back to the glory days of super-hero comics and there's a host of creators from the character's rich past involved in the proceedings too, including Jerry Ordway, Louise Simonson, Marv Wolfman and Dan Jurgens. And there's also a first taster for what Brian Michael Bendis has in store for Superman for those looking forwards.
Thankfully DC has resisted the urge to publish 1000 variant covers as well (though they may well be kicking themselves at that lost opportunity when they read this – I expect to be headhunted for their marketing department within an hour of this going live) but there's still one for every decade of the book's history. The Michael Allred cover for the 1960s shown here is far and away the pick of the bunch.
Anthology – Various creators • DC Comics, $7.99
– Andy Oliver
Blackbird Days
This slender collection of short stories from Angoulême winner and Eisner nominee Manuele Fior will be a treat for anyone who's been waiting for new work since he followed up the decade-spanning relationship drama 5,000km Per Second with last year's The Interview – a near-future bit of science fiction that also delved deep into time and emotion.
The ten tales collected here demonstrate the same narrative wanderlust that has characterised his two graphic novels so far. They cover lives and experiences as diverse as a father who loses his son in a Berlin park, a teacher abandoning her students in Paris, a young woman's first impressions of Oslo, a couple vacationing in Italy after receiving bad news, a man's suffering during the First World War, a painter visiting the baths on Ischia and a grandmother's tale of how she escaped war in Indochina.
Concluding with an autobiographical snapshot of the 2015 terrorist attacks in Paris and a finale in which two giant robots battle it out in the centre of the City of Light, this is another treasure box from one of the most eloquent talents working in comics today.
Manuele Fior (W/A) • Fantagraphics Books, $22.99
– Tom Murphy
Ismyre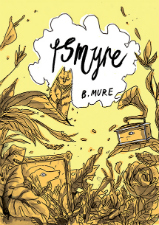 B. Mure's fantasy mystery was originally included as a Staff Pick when it debuted last year at the Bristol Comic and Zine Fair. This week sees the graphic novel officially released to bookstores which seems an appropriate time to remind you to pick up a copy if you haven't already.
Ismyre follows sculptor Edward Goodwill who is struggling with a commission from the government alongside the haunting singing coming from a neighbouring home and the strange occasional disappearances of pieces of his work. Added to this mix are vanishing locals, eco anarchists and an enigmatic magic-user named Faustine…
With a truly lush use of colour and central plotlines that converge from unexpected directions this is a spellbinding reflection on loneliness and self-doubt. I described Ismyre here at BF as "undoubtedly the breakout work of a small press creator who has long been due far greater recognition" when I originally reviewed it. The prequel Terrible Means was also recently announced for later this year from Avery Hill so if you have yet to enter the world of Ismyre this would be a most appropriate moment to rectify that situation.
B. Mure (W/A) • Avery Hill Publishing, £8.99
– Andy Oliver
Good Comics Reader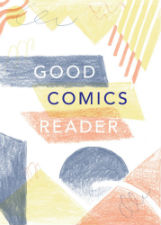 Micropublishers tend to build up their own pools of creative talent that they draw from. I've likened this in the past to the comics equivalent of theatrical repertory companies and this week sees Good Comics present an anthology that brings together their past, current and future artists in one package of comics shorts.
Presented in A4 format this anthology features Peter Wilkins, Elizabeth Querstret, Ellie Crewes, Faye Spencer, John Cei Douglas, Robin William Scott, Paddy Johnston, Samuel C. Williams and three of our Broken Frontier 'Six to Watch' creators over the years – Rozi Hathaway, Josh Hicks and Olivia Sullivan. Half of the proceeds from the comic will go to mental health charity Young Minds which is an added draw for ordering a copy here.
Anthology – Various creators • Good Comics, £6.00
– Andy Oliver
Black Hammer: Age of Doom #1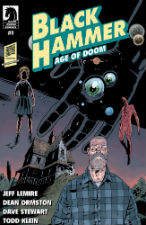 The 2017 Eisner Award-winning series returns for a new volume of the continuing adventures of the golden age superheroes who once saved the world only to find themselves trapped on a farm in a small town in the middle of nowhere. With the rest of the world believing they're dead, the heroes are forced to blend in as "town folk" while trying to find an escape.
This new arc begins with the arrival of Lucy Weber, the daughter of the original Black Hammer. She's discovered where they are and how they'll finally be able to get out, but something tells me getting the answers from her might not be as easy as you'd expect.
Jeff Lemire (W), Dean Ormston (A), Dave Stewart (C), Todd Klein (L) • Dark Horse Comics, $3.99
– Tyler Chin-Tanner
Crushing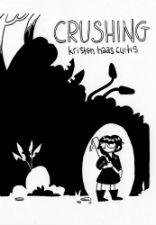 Not to be confused with Sophie Burrows's small press book Crushing (reviewed here last week at BF by our Tom Murphy), this week sees another release from Good Comics in the shape of Kristen Haas Curtis's comics zine. Originally created for the 2017 Fumetto Internationales Comix Festival in Luzern, Switzerland, Crushing is a wordless 20-page A5 offering that explores themes of "birth, wordplay, life and death."
With added notes and reflections this looks to be the perfect print introduction to an exciting indie artist many may already be familiar with from her social media presence. You can order a copy online here.
Kristen Haas Curtis (W/A) • Good Comics, £4.00
– Andy Oliver
Out in the Open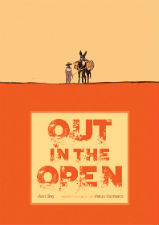 There's been no let-up in 2018 for UK publisher SelfMadeHero after all the excitement of their 10th anniversary in 2017. High profile releases have included the latest volume of Best of Enemies by Jean-Pierre Filiu and David B, and the Nick Cave and the Bad Seeds Art Book by Reinhard Kleist. And with some Broken Frontier favourite creators like Rachael Ball, David Hine, Mark Stafford, Chris Baker, Matt Fitch and John Harris Dunning all lined up for the rest of 2018 it's like the celebrations never ended!
Hitting stores this week, Out in the Open adapts Jesús Carrasco's novel about a young boy fleeing a violent homelife and finding himself in a drought-devastated landscape, and of the aged goatherd who comes to his aid. A powerfully delivered yet very human tale and one that looks to be another significant release from one of the UK's most vitally important comics publishers.
Javi Rey (W/A) • SelfMadeHero, £14.99
– Andy Oliver