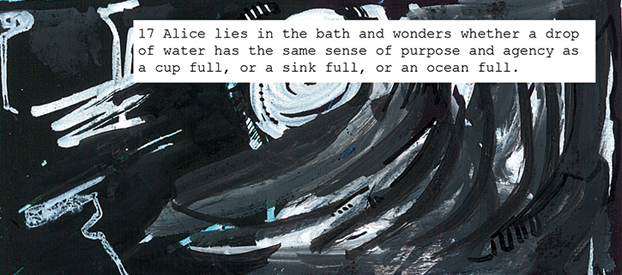 If you spend much time around the dark entries and shadowy corners that attract your average small-press aficionado, you'll have heard the name of Gareth A Hopkins murmured often in recent years. He should be on a lot more people's lips.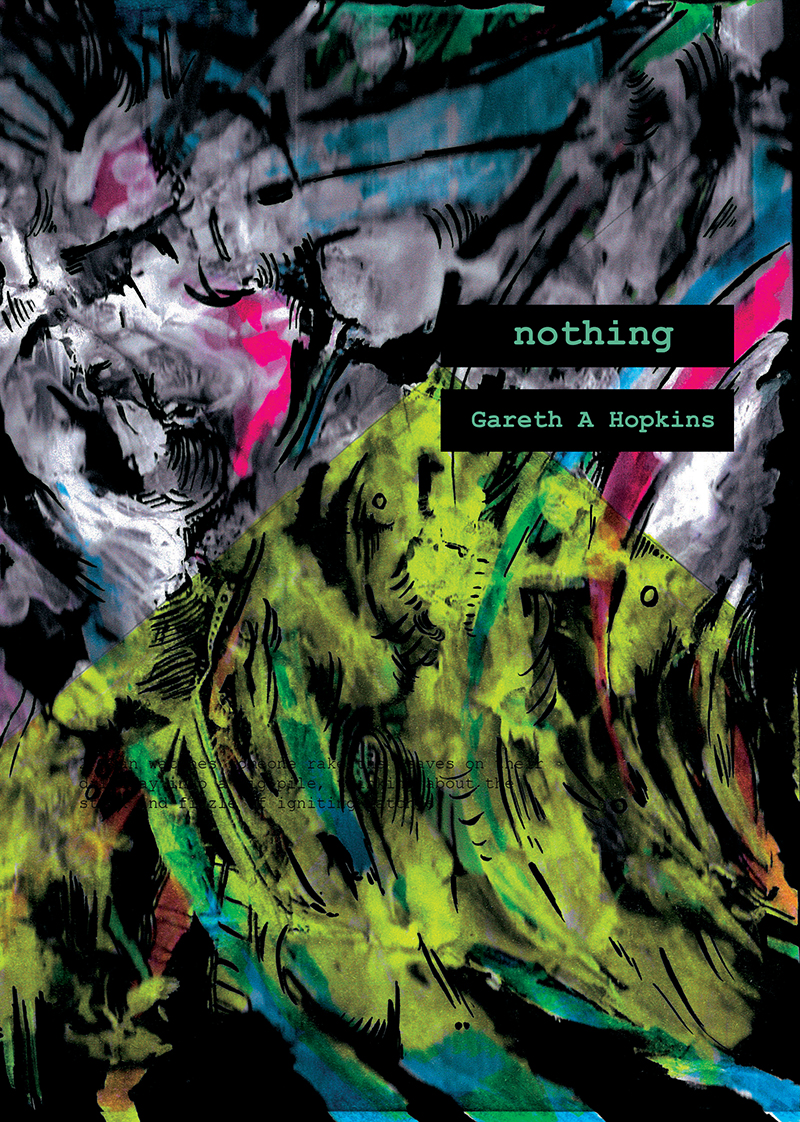 His prolific output and the development of his singular approach to abstract comics have created quite a stir among those who know. Petrichor (published by Good Comics and available – along with some other fine work – as a free download at the time of writing) was by some distance my favourite comic of 2019. It's a stunning meditation on time, memory, grief and love that highlights his unique method: a forceful and intricate graphic style, studded with fragmented but often piercing insights.
Nothing is the fourth of seven self-contained chapters that will form a larger sequence entitled Explosive Sweet Freezer Razors. It moves his parameters slightly by shifting from his more usual introspective focus to a catalogue of little reflections from the minds of named individuals. 
Against a series of swirling, dynamic pages, the bulk of the text comprises 66 numbered sections, many as short as a single sentence. Each of them presents a simple action or a thought from a character's consciousness: the sort of invasive little brainworms that can pop up at any time of the day or night – some mundane, some profound and some heartbreaking.
The general tone is one of ennui, regret and isolation, but the book also glistens with nuggets of humour; Phil's concern about the possible role of MS Word if computers take over the world made me chuckle out loud, while Fatima's conclusion on 'promote your art here' Twitter threads will prompt a knowing nod. Then, for its closing section, the book shifts to a more direct, declarative style, in a series of dazzling double-page spreads that puts Hopkins' iterative process front and centre.
Produced in broader strokes than some of Hopkins' previous work, the pages of Nothing – mostly monochrome, but often glinting with vivid flashes of colour – generally follow the frame-to-frame structure of 'regular' narrative comics. However, his use of abstraction rings the doorbell of that bit of your brain that looks for structure and recognition and then runs away. Instead, the work takes your eyes on a bit of a mystery tour, providing a strong ambient counterpoint to the more literal text.
Nothing is a little gem of a comic that runs on that most precious of commodities: empathy. Hopkins gives us the voices of Carla, Charlie, Alice and the rest, but what we really hear is something altogether more universal about being a human right now. We are them and they are us.
Nothing is available on ComiXology and the Comichaus app and marketplace, or contact Gareth directly for a PDF.
For more on the work of Gareth A Hopkins visit his site here and his online store here. You can follow him on Twitter here and on Instagram here.