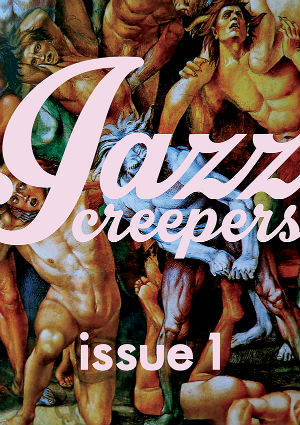 Any good M.R. James story — or more appropriately, what with this being a comics site and all, any good Hellboy short — will see an old, seemingly forgotten myth or relic being resurrected in the present day. The horror comes from the uncanny contradiction of something ancient rearing its head in the contemporary.
It's this weird and eerie charge Douglas Noble has previously harnessed in his Strip For Me series (especially Horrible Folk and The Dreadful Work, the latter of which was the first book I reviewed for this very website!) and which is more-or-less the angle of Jazz Creepers, a new anthology edited by Noble which debuted at this year's Thought Bubble.
Noble gathers collaborators both alive and otherwise, including work from the likes of Sarah Horrocks, abstract comics pioneer (and Alpha Flight podcast host) Gareth A Hopkins, and a collaboration between Noble and Vilim Cerny. These stories are broken up with suitably gothic interstitial illustrations by turn-of-the-century British artist Helen Stratton, which isn't the only act of artistic appropriation in Jazz Creepers.
Having rifled through the British Library archive, Noble presents baroque Dutch engraver Hendrik Goltzius's 1588 work 'The Four Disgracers', crops a renaissance painting by Luca Signorelli for the cover, adds panel borders and speech balloons to blown-up medical illustrations by Joseph Amesbury to create a Thing-like narrative of an alien presence in the arctic (above right), and adds some darkly comic verses about mortality over work by Richard Dagley.
Paul Jon Milne's gleefully grungy story 'The Onderer' (above left), meanwhile, recontextualises some more contemporary pop cultural artefacts, as a killer straps crudely photocopied masks of movie stars to the faces of his victims. The effect of "real" images appearing amidst Milne's brilliant cartooning, where the inks appeared to be layered on with a trowel, is disquieting even if the tone is more glib.
Hopkins goes for proper folkloric horror with the monochromatic 'White Rabbits', while Sarah Gordon illustrates a Fats Domino song with fever dream-ish imagery of skeletons and puppet strings. The stand-out is probably Horrocks's 'M: Or The Crystalline Tremors of an Abject Being', a homage to Possession actress Isabelle Adjani and Italian filmmaker Lucio Fulci (both of whose films she's discussed in depth before on her fantastic, defunct podcast 'Trash Twins' with Katie Skelly) with a period-set nightmare of the upper classes with stylistic nods to Guido Crepax.
On his site, Noble calls Jazz Creepers #1 "an anthology of florid stories, of disreputable comics, and unruly imagination." He's not wrong. Imagine how much creepier things could get in issue 2?
Anthology – Various creators • Strip for Me, £6.00 in print or $4.99 on ComiXology
Review by Tom Baker