SLCZF 2023! Our Inside Look feature at Broken Frontier provides creators with the opportunity to share exclusive commentaries on their comics projects with our readers, giving insights into the genesis, process and themes of their work. It's one of the oldest regular features at BF, first appearing on the site back in the mid-2000s and also one of our most well-received. Today, as part of our SLCZF 2023 celebrations, new micropress Absolute Collider Press (Gareth A Hopkins. Martha Hopkins and Bruce the Printer) give us some insights into their ethos and output. Make sure to visit their table at the South London Comic and Zine Fair on July 16th!
ABSOLUTE COLLIDER PRESS GET INTERVIEWED BY THE GHOST FROM GHOSTS IN THINGS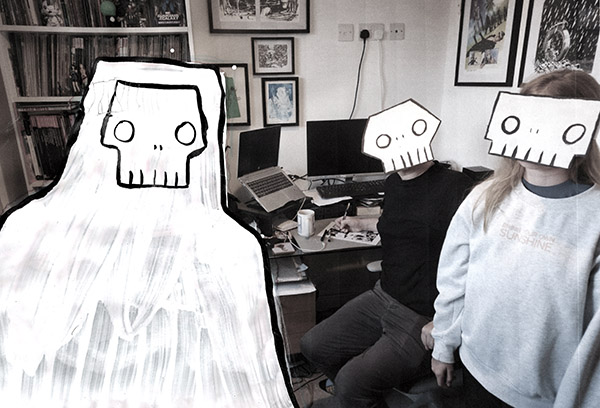 FOR FRAMING PURPOSES, ABSOLUTE COLLIDER PRESS HAVE DECIDED TO PRETEND THAT I, THE GHOST FROM GHOSTS IN THINGS, AM INTERVIEWING THEM. HERE'S A PHOTO OF US ALL TOGETHER.
WHAT IS ABSOLUTE COLLIDER PRESS. Absolute Collider Press is a micro-publisher founded and run by Gareth A Hopkins and Martha Hopkins, who know each other by being father and daughter.
WHO IS ABSOLUTE COLLIDER PRESS. There's three of us: Gareth A Hopkins (that's me), who's been making abstract comics like Explosive Sweet Freezer Razors and Petrichor for a few years now; Martha Hopkins, who's been making her own comics since last November; Bruce, the printer, who is a printer.
WHY IS ABSOLUTE COLLIDER PRESS. We set up Absolute Collider after Thought Bubble 2022. Together Martha and I made a book called Ghosts In Things which was 108 pictures of ghosts being in things, and I was selling it from my table at Thought Bubble. Martha asked if she could help sell the book with me, and I figured she'd spend a few hours behind the table, get bored, and that would be it. Except Martha loved being behind the table, had untapped reservoirs of patience for quiet patches, and was amazing at convincing people to buy our book.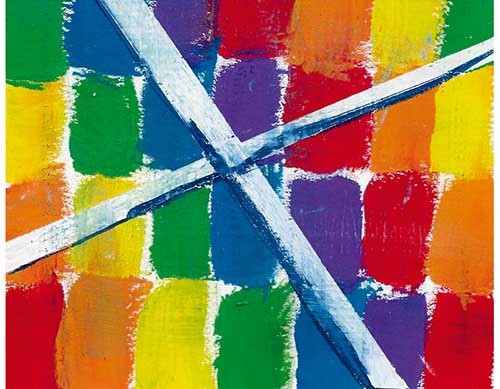 A sample from Martha's Panjabear
When we got home, Martha was ready to do Thought Bubble again, right away, but it didn't feel authentic to get a table under my name and install Martha behind it again, and it also felt over the top to apply for a table for just her. So Absolute Collider was set up initially as a happy medium, where we could table together under a single name. Things quickly snowballed, though.
WHAT DO YOU MEAN, THINGS SNOWBALLED. Well, once we'd got it in our head to set up under a banner, we realised we'd need more than one book to sell. Martha was a fair way through her first solo zine, and I realised that with a little extra effort we could do a little more with the idea. As well as Martha's solo work, we decided to take the opportunity and publish other little runs of comics that probably wouldn't find an outlet otherwise. We saved up a bit and bought a new printer – 'Reggie', an old HP that I'd been using to print my own comics up until then was on his last legs, and was rarely on his best behaviour, so we brought Bruce in to do the bulk of the printing (Reggie still does some smaller jobs).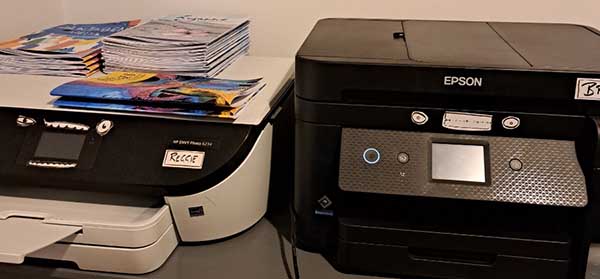 OH WOW, ANTHROPOMORPHISING YOUR PRINTER, HOW QUAINT. Well, um, a bit. It's as much a practical consideration as a twee one, to be honest, as it helps work out how we split any money we make. Printing tiny runs in the numbers we need to keeps costs right down, meaning we can split any money made equally between all collaborators on a project – for ease, Bruce The Printer gets treated as a collaborator. His cut pays for paper, ink, and other sundry costs, and the creators get as much money as we can squeeze out of the process. It's not a lot, but it is hopefully fair.
THE WHOLE SETUP STILL SEEMS A BIT MUCH, WHY DON'T YOU JUST SEND THEM TO GET PRINTED BY SOMEONE WHO'S JOB IT IS TO PRINT THINGS PROPERLY. Well, our print runs aren't very big, and doing it this way means we just print what we need when we need it, rather than have boxes of comics and books littering the house. Like: we've got a lot of those already. When we do larger projects (basically anything over 32 pages) we'll get things done properly.
The other benefit to this setup is that we can be a bit more casual about deadlines and not having to plan too far in advance. It's hard to illustrate this without making us look bad… but with a week to go before SLCZF we've still not finished the comics we're hoping to have with us.
YOU SOUND SLAPDASH AND UNPROFESSIONAL TO ME. SO WHAT HAVE YOU PRINTED. At this point, we've published three things, which all came out quietly in A first wave this May. They are: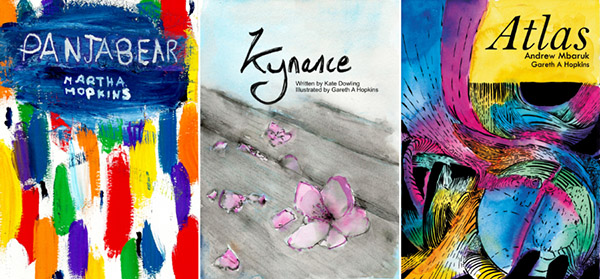 Panjabear, by Martha Hopkins: Panjabear is a collection of 16 paintings by Martha. Here's where I hand over to Martha to talk about it a bit more: "I don't want to talk about it because talking about it is boring. It's some paintings! There's nothing fun to say about it…. Yep, there you go, that's enough." (At this point, Martha literally leaves the room.)
Kynance, written by Kate Dowling with art by Gareth A Hopkins: I've known Kate for years now, first meeting on Twitter. Together we briefly worked on a comic based on Kate's characters Crosby & Syd, but the project faltered because I ran out of steam, sadly. More recently I shared a video of a folder's worth of pages I'd made in the early days of my project Explosive Sweet Freezer Razors which hadn't been used, and Kate asked if they could be combined with a prose piece she'd written about her family home. That ultimately led to Kynance, a heartfelt and poignant comic about home, and family, and the elements that make up memories.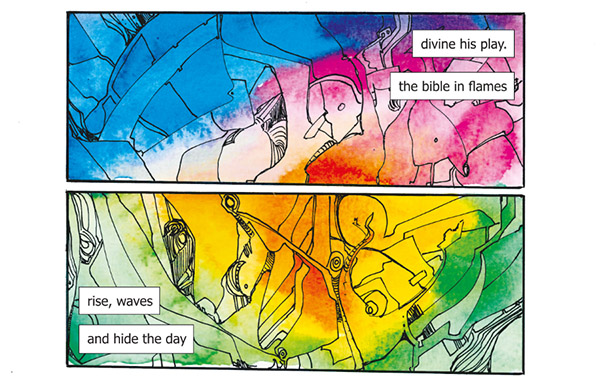 Atlas (above), written by Andrew Mbaruk with art by Gareth A Hopkins: Andrew is a Vancouver-based rapper and poet that I've been following since hearing him on the Weird Rap podcast a couple of years ago. As well as being erudite and having a wicked, dark sense of humour he's incredibly prolific, making music and releasing it as he feels like it, something which speaks to my own tendencies as an artist. I reached out to him asking if he'd be up for working on something together and to my genuine delight he said 'yes' but it faltered a bit then as neither of us knew how to proceed. In the end, I asked if it would be OK to adapt his song 'Atlas' and he agreed, and I worked on a series of alien landscapes for the words to float across, some of which came out of my work on 'The Gone Tower'. There's a saying that 'you make stuff, and work out what it is afterwards' and I've still not worked out what Atlas is, yet, except I'm really proud of how it turned out.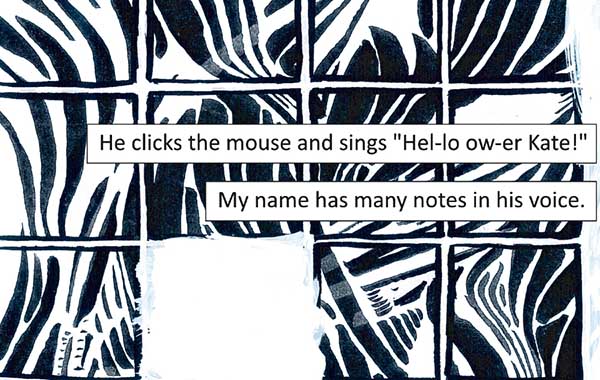 More from Kynance
WHAT, IS THAT IT. Um, no, not quite. We've got a load of other stuff just about ready to go, and hopefully some of it will be ready in time for SLCZF (which will be our debut event). Most pressingly, Martha's got another comic very close to completed, but it still needs a bit of sprucing up before we let Bruce take over. Bill Hopkins (my son, Martha's brother) has written something which I'll be combining with some comic pages – he's stayed back for the most part because he thinks the whole endeavour's a bit too much effort, but he was complaining that he didn't have any money so Martha suggested he make a comic and we'd pay him out of any copies we sell. I'm also hoping to find time to finish 'A Taste Of Feathers', a comic about dead angels. We've also approached a couple of other comics creators who's work we're excited by to see if they'd be interested in us printing something for them, but it's a bit early to name names, yet. And my nephew Louie has said he's working on a series about a talking hot-dog, which we'll be releasing as soon as it's ready.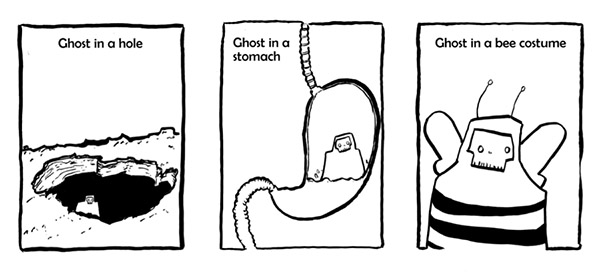 ANY NEWS ABOUT WHAT I MIGHT BE DOING NEXT. Oh, we're working on an updated, expanded version of the original Ghosts In Things (Martha wants to redraw some of her pages now that she's more confident as an artist, and we also want to give it a bit of extra reach. Plus we've sold out of the copies we'd got printed. But Bruce isn't quite up to the job of a book that big so we'll likely be crowdfunding it in time for Thought Bubble).
ANYTHING ELSE? I don't think so, you can go and do something else if you fancy.
THANK YOU.
Buy all things Absolute Collider Press here
SLCZF is held at Stanley Arts on July 16th. More details here.