PRIDE MONTH 2023! Our Inside Look feature at Broken Frontier provides creators with the opportunity to share exclusive commentaries on their comics projects with our readers, giving insights into the genesis, process and themes of their work. It's one of the oldest regular features at BF, first appearing on the site back in the mid-2000s and also one of our most well-received. Today, as part of our Pride Month 2023 celebrations, Scottish illustrator, comics artist, CHIP Collective co-founder, and SICBA winner Cat Laird talks about their mythology-themed series My Monster Ex-Girlfriends which you can buy online here.
Prior to 2020 I had an idea I'd been wanting to explore for a comic about immortality, relationships, change and stability spurred on by the intrigue of characters who are immortal or have very long lifespans. It started with Immortal Rain, a manga I first bought as a 15th birthday gift for a friend and liked so much I almost kept it and got her something else! Immortality has a wealth of benefits and ramifications as a concept, from the initial thought that it would be nice to never worry about death, to subsequently realising the mounting horrors: Outliving your friends and family, physical and mental pain, and the endlessness of it, just to name a few.
I wanted to focus on the interpersonal relationships my immortal character would have with those around them. I imagine if you know you'll outlive other people it would affect your view of yourself in relation to others and could make you pull back or try and prove your humanity.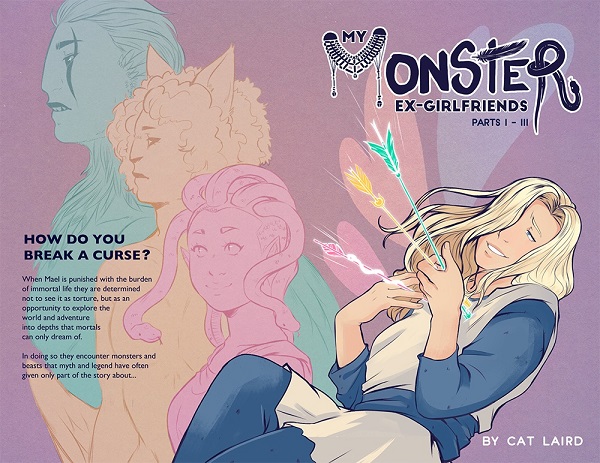 My protagonist, Mael, is a human cursed with immortality and struggling to find anything positive about it. Mael loves helping people, to the point of being overly self-sacrificing at times, and is haunted by their idea that they failed to help so badly that they were punished for it. I don't think there's anyone out there who hasn't made big mistakes that have changed themselves and their view of the world. Learning to live with your decisions can be very difficult for some. Mael has been physically changed by their mistake and I wanted them to attempt tangibly using this change as a force for good. The first thing Mael thinks of that they can use their immortality for is throwing themselves into danger, just so nobody mortal has to risk it, and what could be more dangerous than monsters?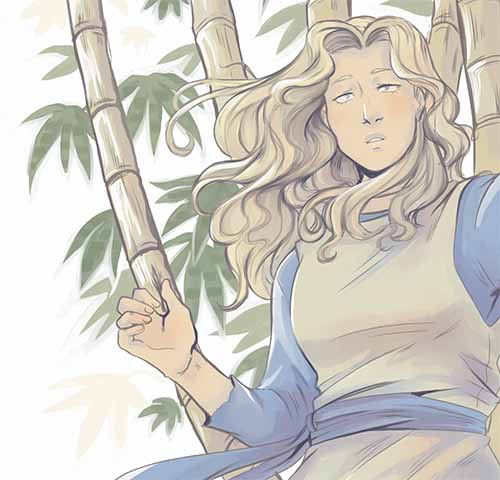 I started my series of short stories that would come to be known as My Monster Ex-Girlfriends when pandemic isolation was announced. I wasn't quite ready to start the larger story I'd begun developing but I wanted to make a digital comic given that conventions were impossible and my online shop was shut while I was unable to post orders. I'd drawn out the Gorgon and the Sphinx at this point too and was itching to draw their stories!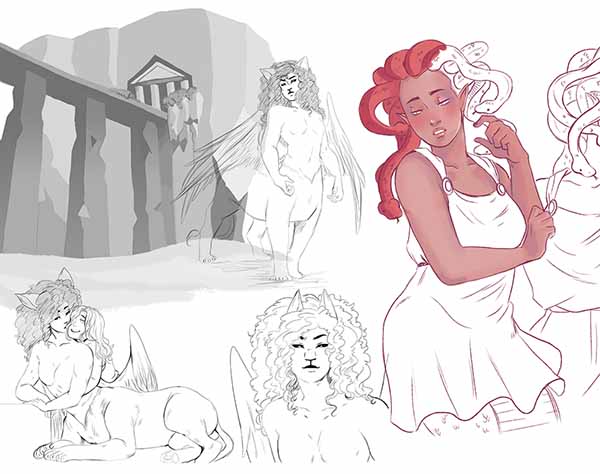 I wrote and drew out the first two comics in the series in 2020. During their creation I changed art programme from Photoshop to CLIP Studio, which was an adventure in and of itself! I completed the third story, which was the longest one, in 2022 and compiled the trilogy for print. This last story, where Mael meets a flock of Harpies, was also spurred on by my chronic pain issues that had begun in 2021. It's a lot more emotionally charged and violent in some places which reflects a lot of my own turmoil at the time.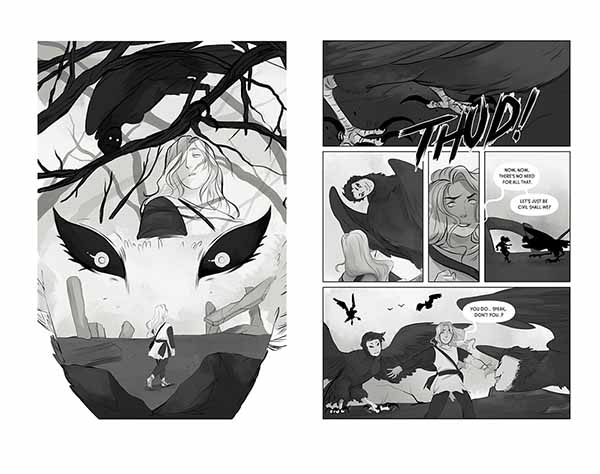 I have a whole range of characters I'd love for Mael to meet, all with varying issues in their lives related to their own physical monstrousness. I knew from the very beginning that I wanted these characters to also change Mael in small ways, and it would be something that only Mael could experience due to their immortality.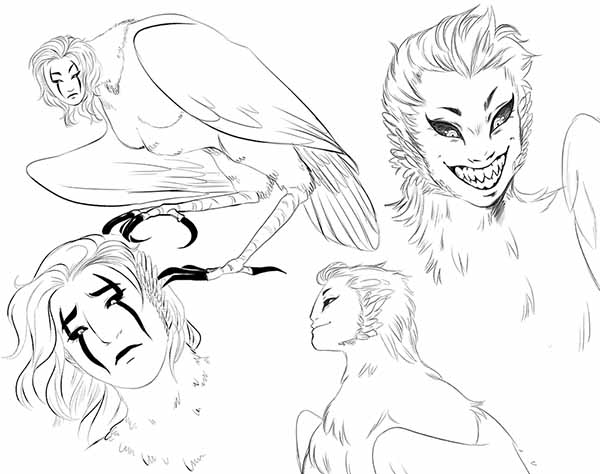 For example when Mael meets the Gorgon, Honest, Mael only survives the initial encounter due to the fact their body can't be frozen in stone for long before the stone crumbles away. Mael is then the first person to see just how lonely an existence Honest leads, and the bond they create by covering Mael's eyes leads to change for them both.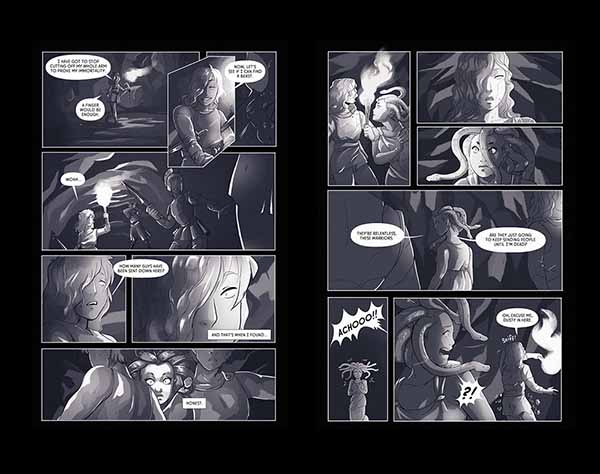 When developing Mael I knew I wanted a protagonist who uses they/them pronouns, as a reflection of my own identity. When discussing the story I generally use the term sapphic to describe the romances as Mael is specifically attracted to people (and creatures) who are typically feminine presenting. Mael is very assured of their identity, who they love, and gets a great amount of enjoyment from it. I haven't used modern labels within the story so that readers can use their own terms, and I don't have other characters question identities either. If my story has has Gorgons, Sphinxes, Harpies and more, a world where these identities aren't questioned is not the most unrealistic part!
In future I'm hoping I'll be able to start the main story for Mael and that there will be more parts to My Monster Ex-Girlfriends set at various points within this timeline. I've left a lot of Mael's history, including how and why they were cursed, a mystery for now. It's something Mael doesn't want you as a reader knowing, so please stick with them over time and maybe you'll get to know them too as they get to know themselves a little better.
Buy My Monster Ex-Girlfriends online here
Article by Cat Laird