Celebrating Pride Month! Given that we have been running a number of reviews this month for Pride 2022 it feels appropriate to also give some space to relevant work that we have not given time to in the past. Gengoroh Tagame's Eisner Award-winning My Brother's Husband has become celebrated as one of the finest LGBTQ+ stories the form has ever produced. Apart from its wide critical acclaim it went on to be adapted for television in Japan as a live-action drama series.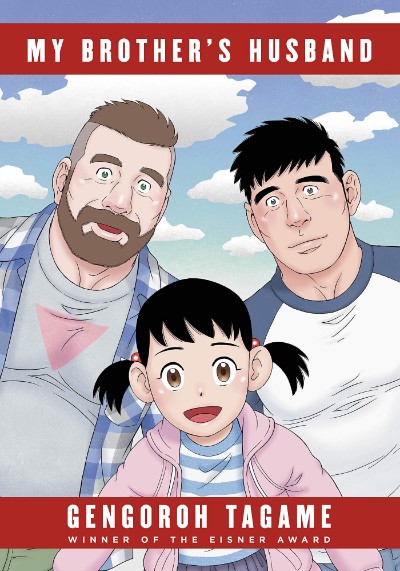 Set over the course of three weeks My Brother's Husband revolves around the interactions of its three main players. Yaichi is bringing up his daughter Kana when his world is turned upside down by the arrival from Canada of his recently deceased twin brother Ryoji's husband, Mike Flanagan. Mike has finally made the trip to Japan to try and connect with his partner's culture and family. While Kana quickly comes to adore her newfound uncle, Yaichi's feelings are more complex as he struggles to accept his brother-in-law's role in his brother's life and examine his own inherent homophobia.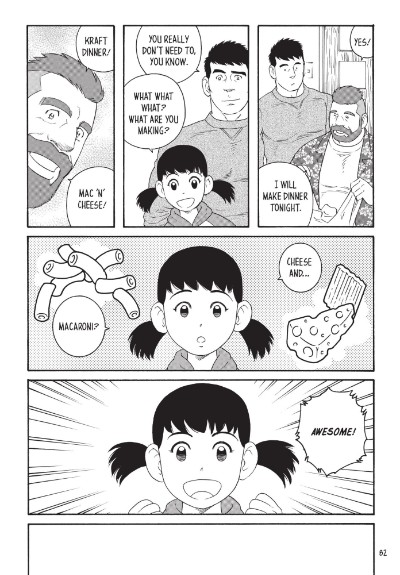 Given that in its original mode of delivery My Brother's Husband was produced in an episodic form over a number of years this collection often reads like a series of interlinked short stories with a thematic throughline rather than a rigidly structured narrative. That is very much to its advantage, though, in that it allows each chapter to become a focussed character study, letting us incrementally observe the changing dynamics of the characters' relationships. Other significant cast members include Yaichi's ex-wife Natsuki, Kana's schoolfriend Yuki, Kazuya who is a teen Mike helps in coming to terms with his sexuality, and Kato, a childhood friend of Ryoji's whose self-denial reflects cultural attitudes to homosexuality in Japan.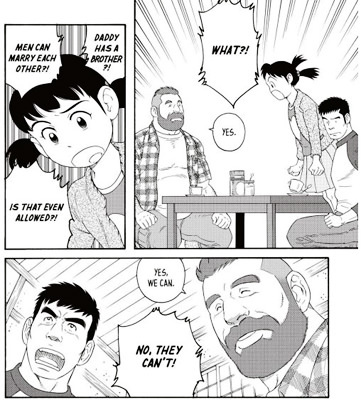 My Brother's Husband works on a number of connected levels. There is on a very immediate one the exploration of contrasting cultures; perhaps in this case not so much clashing as converging, and there's also the touching and poignant considerations of the nature of family and the bonds that tie us together. Yaichi's arc, though, sits at the heart if the book as he must eventually come to terms with his own internalised homophobia and accept that it was responsible for creating the rift between himself and his gay sibling. That slow realisation offers us a hopeful finale but it's also an important reminder that the toxicity of quiet prejudice can be just as damaging and destructive as overt and loud bigotry.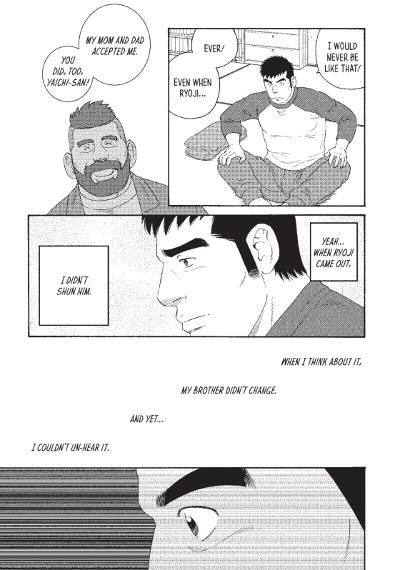 Tagame's visual characterisation is vital here in conveying the delicate and complicated relationships of the cast and the gradual shift between the central trio from awkward strangers to a newfound family unit. His clean line and careful panel-to-panel pacing sacrifices ostentation for clarity, putting the emphasis on the characters first and foremost. If you have yet to read this beautifully crafted story of discovery and understanding then this Pride Month really would be the ideal time.
Gengoroh Tagame (W/A) • Pantheon
Review by Andy Oliver