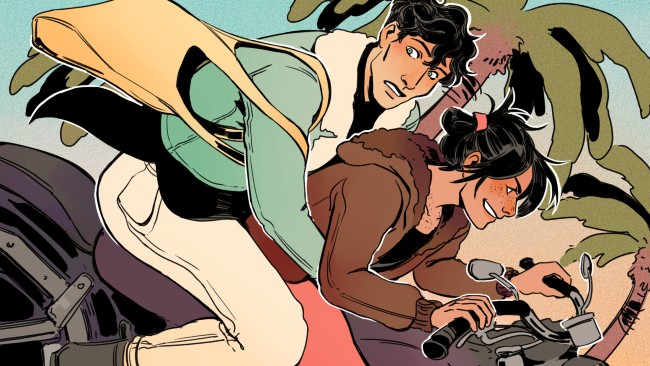 Shazleen Khan's webcomic series Buuza!! gained notable recognition here at Broken Frontier when our readers and team voted it Best Webcomic in our 2019 Awards. Khan's tale of "found family, diaspora and religion, set in an urban fantasy 90s Middle East and central Asia" is currently reaching the end of its crowdfunding campaign for a second print volume which you can still back here. I reviewed the first volume 'Good Morning Salwa' here in January speaking of the "profound humanity to Buuza!! that is a central part of its appeal."
Volume 2, subtitled 'In the Land of Spider Silk' continues to primarily follow the two main cast members Zach and Sam, and explore their relationships with a sprawling supporting cast of players as they find their places in the fantasy locale of Dawlat al Harir. In this second bumper chapter Sam begins to discover a sense of purpose as potential future plans unfold; public figures and siblings Miriam and Musa Farris find themselves in an unwelcome spotlight as the scandal of their unknown brother's existence reaches the wider consciousness; and said brother Zhen confides again in Zach about his family issues while also becoming involved in Ju and Reyhan's collective.
Buuza!! does indeed comprise a large cast, with interconnected story threads that weave in and out of each other with a gradual sense of development. In some respects it is a slow build but that is also very much one of its strengths, conveying the feeling that we are involved in the lives of this ensemble with an added layer of intimacy and connection to them. After all, the most accomplished slice-of-life storytelling asks us not to simply observe its characters' lives but to experience them alongside them.
Khan's pacing is as sublime in this volume as the first, with atmosphere-building silent sequences allowing us to immerse ourselves in the environment she has created and a confident occasional use of white space framing key individual panels. Perspective constantly switches as we zoom in and out of scenes, panel compositions being used exquisitely to emphasise mood and tone with subtlety and nuance, and visual characterisation proving a constant delight. The best cartoonists, of course, tell us as much about a character's state of mind through their posture, body language and expression as they do through dialogue or narration, and Khan's cast are as defined by their visual interactions as they are by their verbal ones. Her use of colour is as hauntingly absorbing as ever and remains a signature element of her work.
With its engagingly realised QPOC cast, and its explorations of identity and belonging, Buuza!! was a hugely deserved winner of that aforementioned Broken Frontier Award. Khan's profile is one that is ever rising but a far wider audience really should be aware of her work. You can pick up the first two print volumes of Buuza!! by backing the Kickstarter here or follow the story online as a webcomic here.
For more on the work of Shazleen Khan visit her site here and her online store here. You can follow her on Twitter here and on Instagram here.
Review by Andy Oliver