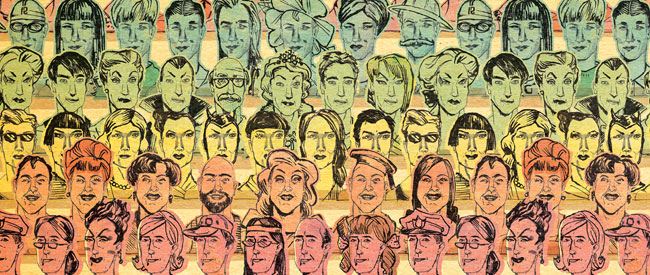 QU33R, edited by Rob Kirby and published by Northwest Press, is a diverse but consistently excellent collection that belongs on the shelf of any serious fan of the comics medium.
Down the years comics have provided an important vehicle for the chronicling of the queer experience, as highlighted in No Straight Lines: Four Decades of Queer Comics, published by Fantagraphics in 2012 and edited by Justin Hall (one of the contributors to QU33R).
And this dazzling anthology of new work by 33 creators (see what they've done there?), totting up to 241 pages, gives a fine taster of contemporary alt-queer comics, from pioneers such as Howard Cruse to emerging new talents.
Whatever your outlook or orientation, you'd be wrong if you thought that this was a niche title aimed at an audience that isn't you. While the book comes from a specific scene, there's enough universality and quality across its diverse contributions to make it a worthwhile addition to any grown-up comics library.
The book has its origins in Three, an anthology published annually between 2010 and 2012 by editor Rob Kirby. As the title suggests, each issue featured just three creators or teams, and while it picked up an Ignatz nomination for Outstanding Anthology or Collection, Kirby felt frustrated by its limitations.
So, in an admirable act of ambition, he approached Seattle-based LGBT publisher Northwest Press about a scaled-up version of the book that would showcase the current state of alt-queer comics. One successful Kickstarter campaign later, and we've got our hands on QU33R.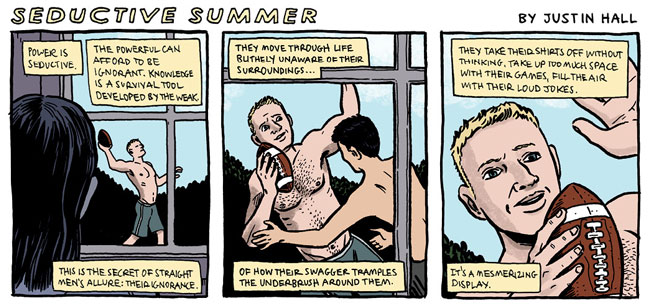 In his introduction, Kirby uses the splendidly appropriate word 'prismatic' to describe the variety of subject matters and experiences covered in the book. While there's a heavy autobiographical bias to much of the work, the tone ranges from the celebratory to the elegiac, highlighting the bumps and wrinkles that are as much a part of queer relationships as their hetero counterparts.
The first entry, 'Porno' by Eric Orner, sets the bar high for the creators that follow. From the familiar tropes of a hostile father and a childhood sense of isolation, Orner goes to a darker place as he recalls his adolescent exploration of the grim porn cinema scene in the 70s. More specifically, his experience with a family acquaintance who later falls to a grisly fate evokes powerfully the dangers of having to live a gay life in the shadows, providing a haunting embodiment of the "silence=death" mantra of the early AIDS years.
In his 18-page 'Seductive Summer', Justin Hall recalls a difficult relationship against a backdrop of mental illness and drug use in 90s NYC, while Sina Sparrow, in another very frank autobiographical story, 'If You Want Me To I Will Be the One That is Always Good', takes an unblinking look at what we're sometimes prepared to put up with in our relationships.
Another strong autobiographical entry is 'Vacant Lots' by Steve MacIsaac, in which the artist returns to his home town and sees one of his former school bullies in the supermarket. After reliving the past and indulging momentarily in a fantasy of violent retribution, he concludes that living well is the best revenge.
One piece that particularly caught my attention was Andy Hartzell's comics translation of the correspondence between Bradley (now Chelsea) Manning and the hacker Adrian Lamo, which led ultimately to Manning's arrest and prosecution for releasing classified material to WikiLeaks.
Harzell uses the language of comics to transform the electronic communication between soldier and hacker into a delicate dance of mistrust and gradual revelation that highlights the stakes involved and the experiences as a trans woman that moulded Manning's outlook.
However, autobiography isn't the only idiom on display here: another broad strand in the book features creators who use the form to delve into issues of fantasy and identity, creating vivid visual metaphors for the queer experience.
These take on a variety of tones: Christine Smith's 'Life's But a Walking Shadow' takes a cute cartoony approach, as a reserved young woman's shadow acts as her more adventurous alter ego, while, at the other end of the continuum, José-Luis Olivares uses harsh, disturbing colours to scrutinise his addiction to online porn.
Tyler Cohen's 'Flux' might be the deepest exploration into an art-comix approach – a dreamlike tale of mysterious mutable figures, reflecting the full spectrum of sexual identity – while L Nichols, in 'Confession', uses a nice visual metaphor to highlight what everyone can see about her – except herself.
Other stories delve beneath what might look like the frothy surface of gay urban life to scrutinise the state of queer life more critically; 'Sissy That Walk' by Erik Kostiuk Williams starts off as an apparent celebration of a TV reality/talent search, Rupaul's Drag Race, before making interesting points about the transgressive use of femininity and the way in which "in the midst of its efforts to gain mainstream acceptance, the gay community itself has been flung on a conservative trajectory".
And the material on show certainly isn't all didactic or cathartic: there's a great deal of humour and charm among the stories themselves and the diverse cartooning styles on display. Amanda Werwey's 'Burger-Meister' is a well-told story of the artist's fannish/stalkerish attempt to get the attention of lesbian comedienne Paula Poundstone, while Carrie McNinch's 'Toot Toot Hey Beep Beep' looks back fondly at her childhood experience of "that moment every young budding lesbian is waiting for".
Perhaps the most out-and-out humour in the book comes from 'So Young, So Talented, So What' – an energetic, enjoyable jam between two very sympatico creators, Jennifer Camper and Michael Fahy. Their game of Exquisite Corpse with the life of Winston, a naïve young man moving to grim 'n' gritty New York City, ends up with something of an early John Waters film about it.
Despite my pedestrian efforts above, there are too many fine contributions in this anthology to list individually; flick through the pages and you'll find moshpits and superheroes, wrestlers and hit-women.
Books like these are invaluable for discovering new talents, and Kirby deserves additional editorial props for labelling each contribution clearly and providing a nice bit of further information on the artists in the back.
Overall, this is an excellently curated and designed collection of cartooning that will sit happily alongside the Best American Comics series and Ivan Brunetti's Graphic Fiction volumes. And if you're still not convinced, the digital version of the book is an absolute steal at $9.99.
Rob Kirby (Ed) • Northwest Press, $39.99 (HB), $29.99 (PB), $9.99 (Digital)