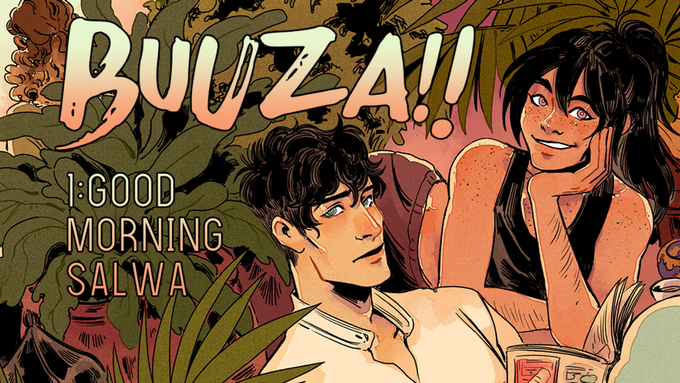 Shazleen Khan describes her 2019 Broken Frontier Award-winning webcomic Buuza!! as bring about "found family, diaspora and religion, set in an urban fantasy 90s Middle East and central Asia." Last year at BF I reviewed a spin-off print one-shot Cat Festival and we also gave the crowdfunding campaign for this first print collection of Buuza!! a push on the site. Khan's storytelling skills have already been recognised with her work being picked up by notable publishers like BHP, but she's undoubtedly a major talent just waiting to break out to a far wider audience.
This first print edition of Buuza!! underlines what an assured creative craftsperson Khan is. Here we are introduced to two principal players whose lives will intertwine throughout the pages of this first part – grifter Zach and Sam who catches him out early on in the book when operating a fake charity collection scam. These two unlikely friends will be thrown together again when they become unexpected flatmates.
Buuza!! is about lives coming together both tangentially and directly. Also part of this mix of characters are siblings Miriam and Musa, concerned for lost brother Zhen who himself has forged a fragmented telephonic relationship with Zach after mistaking a sex line for a counselling one. Khan is admirably unafraid to let her plotlines build slowly in the material in this collection, prioritising establishing characters but pointing to a bigger picture with her teasing world-building hints.
The strip's fantasy elements are sparingly used in Good Morning Salwa which makes them all the more beguiling when they do appear, largely in the transmogrified animal and bird incarnations of characters. But for many readers it will be the dreamy art and confident visual storytelling that grabs their attention here first and foremost. Atmospheric colouring creates a defined sense of place with the considered pacing of pages and use of perspective giving the comic a deeply sensual quality.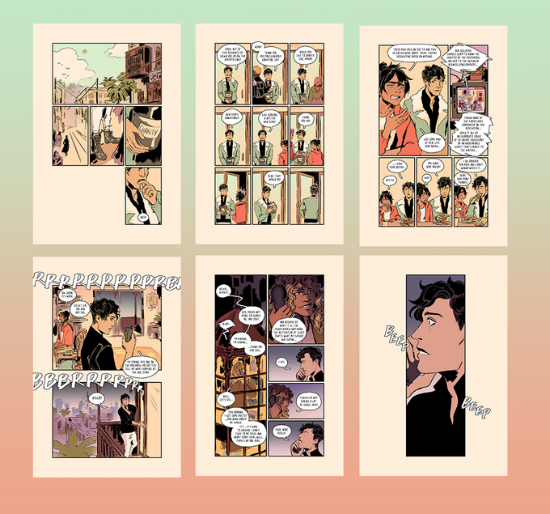 Khan deftly straddles that often impossible to negotiate divide between webcomic and print delivery with a presentational style that works in both mediums while simultaneously skilfully manipulating the page to play with our perceptions of the passage of time. Visual characterisation plays a vital role here in communicating so much more on an immediate level than overt narration ever could and the empathetic dynamic between characters ensures our investment in them, flaws and all.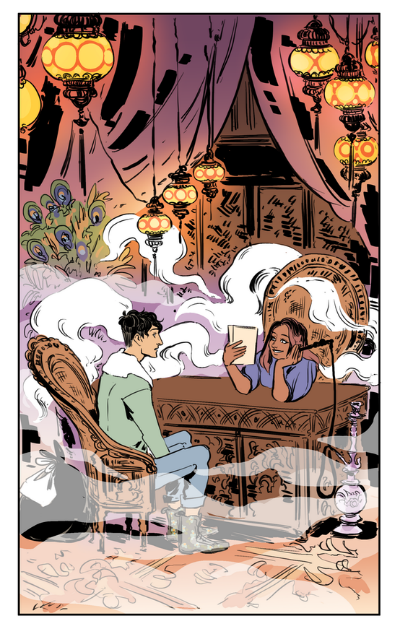 There's a profound humanity to Buuza!! that is a central part of its appeal. If you're not reading its webcomic incarnation then that's obviously your starting point for this much deserved BF Award winner but lovers of print are advised that the strip is absolutely gorgeous in its tactile form as well.
For more on the work of Shazleen Khan visit her site here and her online store here. You can follow her on Twitter here.
Review by Andy Oliver