#ArtMubarak 2022 is imminent! The hashtag-led social media event aiming  to celebrate art from the Muslim community and uplift the voices of Muslim artists from around the world returns for a third outing this July 11th. Always a wonderful day of discovery we can't recommend following #ArtMubarak 2022 more highly for finding new inspiring voices to follow.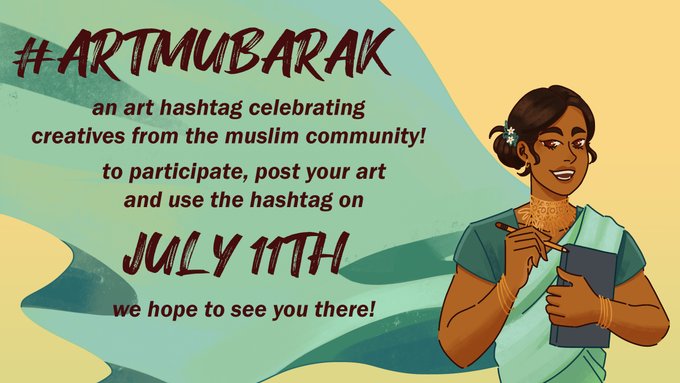 #ArtMubarak 2022 banner by Khalid Minhaj
For more information for the uninitiated, here's what BUUZA!! creator Shazleen Khan had to say about the origins of #ArtMubarak in an interview at BF last year:
I'd wanted to make an art hashtag for a few years now that connected wider Muslim communities, but I'd not really found a community at that time and didn't feel I could. I wanted it specifically to be focused on the experience of being Muslim (practising or not) in the current world, because often in my real life I wouldn't find necessarily friends who were from my own country or even South Asian, but would find other Muslims from the Middle East, Africa, South East Asia etc., so the joint experience of being Muslim brought us together.
Myself and Bushra (my co-mod!) and some other friends from our Discord server got together last year though and brainstormed some ideas for an appropriate tag and date! I wanted it to be a way to connect Muslim people from around the world, since I think a lot of people who aren't Muslim have a limited idea of who is and isn't Muslim. We wanted to make something inclusive and celebratory for all Muslims, including LGBTQ Muslims from all backgrounds!