One of the rising stars of the indie comics scene Shazleen Khan has just launched the Kickstarter for volume 3 of the print edition of webcomics series Buuza!!, the much acclaimed fantasy tale of "found family, diaspora and religion" previously reviewed here and here at Broken Frontier. To mark the campaign going live I caught up with Shazleen to chat about Buuza!!, representation in comics and Shazleen's journey into comics to date…
ANDY OLIVER: Before we talk more specifically about your current comics work can you start by giving us some background on your journey into comics via the small press scene, being part of the Drawn Chorus collective and your work with indie publisher BHP?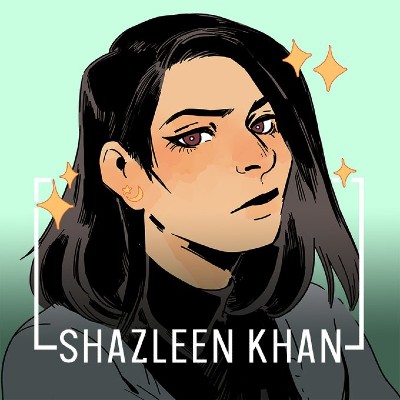 SHAZLEEN KHAN: So I actually started self-publishing in 2011, well before going to university and working with Drawn Chorus and BHP! I started out with Sweatdrop, a UK Comics Circle (notable current members include Sonia Leong , Morag Lewis and Irina Richards), and mainly self-published my books with their help! I went to University for Illustration in 2015 at Middlesex and wound up falling in with Drawn Chorus, which is unofficially a MDX Alumni collective. At the time I'd also been moving away from the work I'd been making as a teenager (as one does lol) and started to use Kickstarter and other crowdfunding models to fund my work. I'd also started getting my own tables at conventions like Thought Bubble, which is where I met BHP bossman Sha Nazir!
AO: As we're fond of saying every chance we get at Broken Frontier, comics is a medium with its own unique language and your work certainly embraces that to its fullest potential. What is it about the form that made it the perfect storytelling vehicle for your stories?
KHAN: I don't know. I feel I truly make things based on a principle of "will I die if I do this" and if the answer is "no, I won't die" that's the right way. I really like telling stories, but I was told a lot as a kid I sucked at writing and animation is a real collaboration and labour heavy process, so naturally I chose comics!! I like them because I can make them by myself for the most part, though of course, I have worked as part of a team quite a few times now!
Freedom Bound by Warren Pleece, Shazleen Khan and Robin Jones
AO: Your webcomic Buuza!! won our Broken Frontier Award for Best Webcomic in 2019 and 2020 so it should be very familiar to our readership. But for those in our audience yet to discover it can you tell us a little about its premise, mix of character-led storytelling and magic realism, and its ensemble cast?
KHAN: Sure thing, but I suck at writing so apologies in advance. Buuza!! is a story about diaspora, spirituality and found family It's about Sam and Zach, two twenty-somethings in a '90s fantasy Middle East, where half the people around (including both of them) are magical beings called Rasul (messengers). Along the way they fall in with Musa, the youngest child of the esteemed Faris family, and his siblings; Miriam the current head of the family who works a pretty high power government job, and Zhen, their estranged half-brother who incidentally is in a long-distance relationship with Zach. I don't know if I'd call it magical realism as much as like, a very soft/low fantasy, where the fantasy aspect reflects experiences of culture and religion. The whole comic is deeply rooted in Islamic mysticism, since half the main cast are essentially jinns living amongst normal people (shout-out to Muslim readers who just shook reading this).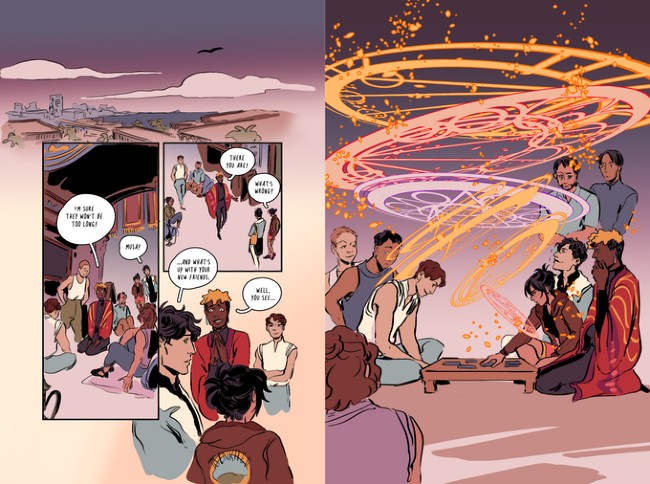 AO: The lack of representation in comics and the need for greater diversity, both on the page and in terms of the creative voices behind it, is undoubtedly the most vitally important issue facing comics in 2021. How central to the series are Buuza!!'s themes of "found family, diaspora and religion"? And what has been the most rewarding feedback you've had to its accessible LGBTQ+ POC cast in terms of reader identification?
KHAN: When I started making Buuza!! I didn't know any other Queer Muslims. I made this comic as scream to try and desperately find people like me, more than anything!! Those themes are explicitly central in every fibre of this comic, because it's what I want for myself and people like me, more than anything.
As for the nicest thing, I will never forget one commentor saying that after reading my comic, they chose one of the main character's names as their own chosen name, because they really identified with the character. I see a lot of comments like that, where this is the first time readers have seen themselves in something; I'm glad because making this comic also helped me slowly get more comfortable with my own identity too.
AO: Buuza!!'s third print volume is crowdfunding on Kickstarter this month. Without spoiling anything for new readers obviously how has the story developed over the last couple of years? Has the plot evolved in ways you hadn't expected when you initially began working on the story? Have you found yourself taking the characters in directions you hadn't originally planned?
KHAN: So I really like Full Metal Alchemist right, and this quote from the author always stuck with me since I was small. She's said she wrote the ending first and worked backwards. I've been doing the same! I know where this comic is ending and how I want it to end, so it's been a straight arrow to there  (we're still far away though). I've had a lot of help though from my editor, Emmett Nahil, with some of the details and figuring out the in-betweens!!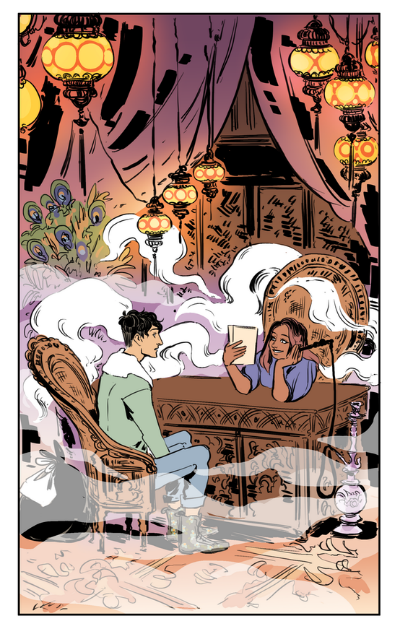 AO: What are some of the rewards backers can expect to see outside of the usual print and digital copies of the book?
KHAN: I have some very nice prints, washi tape of the characters and an enamel pin, but I'm most excited for the Bilqis Zine! If you've been following the comic, you know that Zach, the main character, shares my love for print media and serialised fiction. So for this Kickstarter I thought it would be fun to create a zine in the style of the pulp fiction he reads, with brand new stories written by some friends (yet to be announced!) set in the world of Buuza!! that will hopefully explore more of the concepts in the setting I don't touch on as much in the main narrative! It's very meta and self-indulgent, but honestly I'm making this for myself more than anyone else haha!
AO: Webcomics come with their own narrative requirements in terms of pacing and structure given their particular audience and method of delivery online. How challenging is it to balance the needs of that online readership with an eventual print presentation?
KHAN: I designed this comic as a storytelling challenge to myself and three years in, it's going pretty smooth! I design the books first to work as "Books" so each volume has a definitive endpoint and leaves off at an interesting place; they are by no means self-contained, but arranged more thematically. Each book has chapters that are more or less a specific "bit" in the story and have their own point they're trying to make, and I pace the webcomic version based on the chapters' individual beats. For example, longer chapters such as "Bet On It" have been broken up into several webcomic "episodes" because it's a 44-page chapter with lots of different scenes, intervals and smaller points made, and it lends itself to a staggered reading experience. Conversely shorter chapters like "Nighthawks 1" are presented online as one thing, because it's only 8 pages and only really got one main focus. I rearrange panels too for online reading, so your experience with the book will feel different to reading on the phone. Overall this lets me get more mileage out of the pages I have (I post at minimum 5 pages fortnightly!) and keep up a consistent schedule!
AO: Let's turn to your artistic process which, again, won you a BF Award for Best Colourist last year. What mediums do you work in to bring Buuza!! to life?
KHAN: I use a small iPad, with clipstudio. I use a lot of mediums for all my other work (digital and traditional) but Buuza!! is also meant to be easy for me to make, so tiny iPad does the job.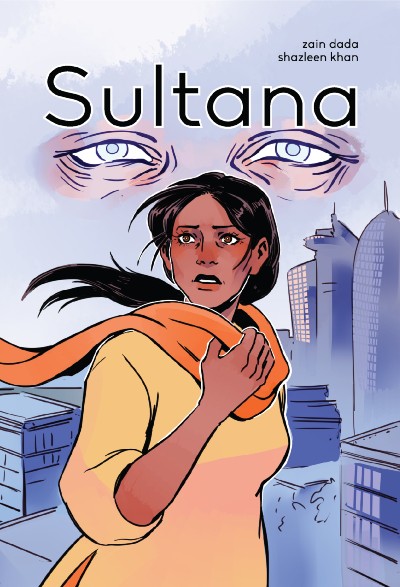 AO: One of your recent projects that I think hasn't had the exposure it deserves was Sultana, a digital comic published by Khidr Comix Lab. How did your collaboration with writer Zain Dada work in practice?
KHAN: I really loved worked with Zain! He's a great guy, and I think we got on working swimmingly. The story itself was something I was pretty interested in working on too; I personally write a lot of idealistic things about diaspora in the Muslim world, but the reality is there are lots of problems that are often overlooked or not discussed in news and reports. One of those issues is the treatment of South Asian migrant workers, and the wider issues of racism and classism migrant workers in the Middle East face. I was happy to lend my art to it!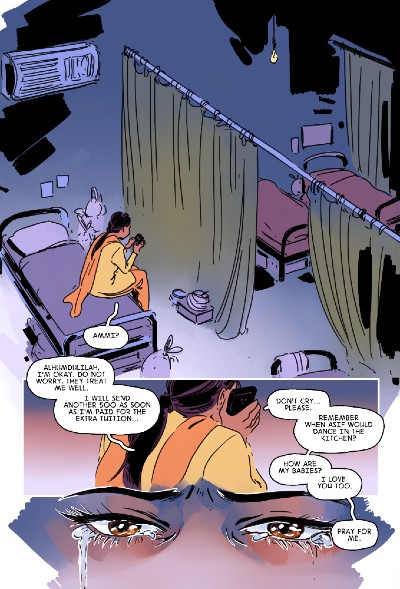 AO: You were recently one of the artists behind #ArtMubarak on Twitter. What were the aims of the hashtag and how was the event received on Twitter?
KHAN: I'd wanted to make an art hashtag for a few years now that connected wider Muslim communities, but I'd not really found a community at that time and didn't feel I could. I wanted it specifically to be focused on the experience of being Muslim (practising or not) in the current world, because often in my real life I wouldn't find necessarily friends who were from my own country or even South Asian, but would find other Muslims from the Middle East, Africa, South East Asia etc., so the joint experience of being Muslim brought us together. Myself and Bushra (my co-mod!) and some other friends from our Discord server got together last year though and brainstormed some ideas for an appropriate tag and date! I wanted it to be a way to connect Muslim people from around the world, since I think a lot of people who aren't Muslim have a limited idea of who is and isn't Muslim. We wanted to make something inclusive and celebratory for all Muslims, including LGBTQ Muslims from all backgrounds!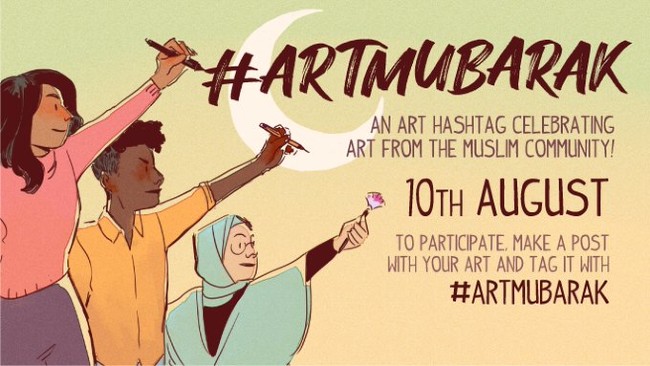 AO: The inevitable 2020/21 question now. How have you had to adapt to the scenario we've been living in over the last year in terms of maintaining an audience and keeping your work in the public eye in a world without public events and direct reader interaction?
KHAN: Sadly people didn't really invite me out lots before so most if not all my work's been coming from me screaming on the internet anyway, so really keeping my work in the public eye has been the same! I would like to say it hasn't changed at all, since I already worked from home 3/5 days of the week before the pandemic but, in reality, it's still been rough. It's hard not to see the friends I would see at conventions, I miss the connection to the wider community more than anything, even if it was only small!! I've felt more burnt out trying to maintain a presence online, since it's simultaneously the only way I can speak to a lot of friends now, but also a place for work. So I've just cut back and let auto-scheduling handle the majority of my public posts.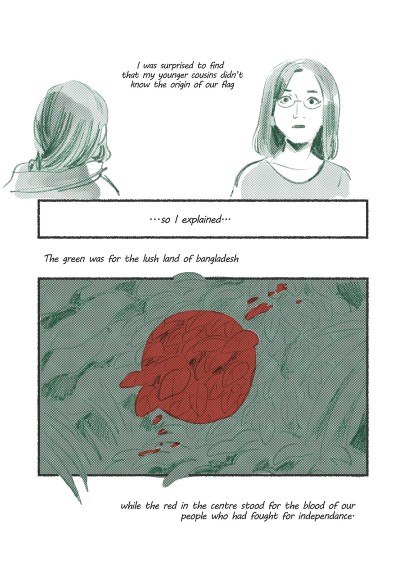 AO: Earlier this year it was announced that First Second would be publishing Saving Sunshine, a graphic novel you're working on with writer Saadia Faruqi. What are the themes and premise of the book, and who is its target audience?
KHAN: Saving Sunshine is a Middle Grade book, so it's audience is a fair bit younger than my typical demographic! It's about two siblings who have to reconcile their tempestuous relationship on a family trip when they find a beached loggerhead turtle they want to save. It's a story that centres South Asian (Pakistani) and Muslim experiences at that young age, when you're just beginning to understand where you sit in the wider world, and the struggles kids like us deal with at that time. I've fallen in love with the characters already, and I'm excited to draw the kids learning to be there for each other and support the other with their respective struggles.
AO: And, finally, are there any other comics projects in the works that you can tell us about? Or any other illustration work coming up that we should be looking out for?
KHAN: Absolutely none!! I am banished behind NDA hell! I'm trying to make more small autobio comics though, as I have too many thoughts in my brain that keep spilling out onto my cintiq. You can check out most of my shortform comics, like Brother and Shapla (above), on my Gumroad page or Patreon!
Shazleen's site can be found here and online store here. You can follow Shazleen on Twitter here and on Instagram here.
Interview by Andy Oliver