A quick reminder that this year's Cartoon Museum Conference will be taking place on February 27th at the museum on Wells Street, London. More details are in the event's press below but for Broken Frontier regulars there will be a number of familiar names taking part. Multi-Broken Frontier Award-winning artist Shazleen Khan will be a speaker, as will 2023 Broken Frontier 'Six to Watch' artist J Webster Sharp. And our own Editor-in-Chief Andy Oliver will be kicking off the sessions as warm-up man before the main events. You can book for the conference here.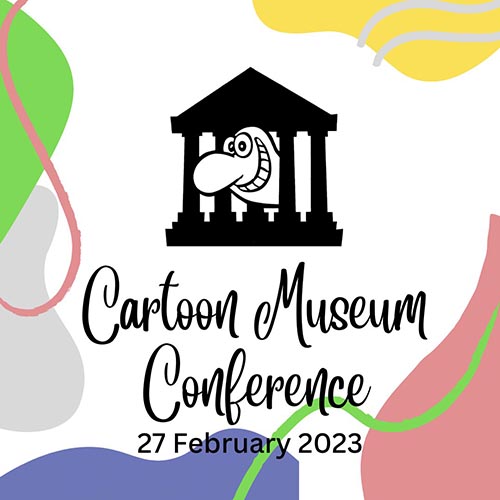 Are you a cartoonist or comic creator? Do you want to meet other cartoonists and comic creators? Do you want to learn from the best while doing it? Join us at Cartoon Conference 2023 for ideas and inspiration for how you can use your skills to survive and thrive as an artist. Learn from industry experts and specialists.
Posy Simmonds – Renowned for her witty satire, Posy has published numerous books for both adults and children and most recently won the Lakes Comic Art Festival Sergio Aragones Award.
Andy Oliver – Editor in Chief and site owner of the go-to site for comics fans: Broken Frontier. He champions small press, alternative comics and self-published comics and co-organises the UK's Small Press Day.
Society of Authors – 'Negotiating with publishers' – Join Nicola Solomon, Chief Executive of the SoA and discover phrases that are guaranteed to make money, how to get funding and negotiate, following the money and getting out when things go wrong.
Association of Illustrators – 'Publishing Contracts Masterclass' The AOI will guide you through copyright, contracts, rights, advances, royalties and important clauses to watch out for.
Sarah Akinterinwa – The first black British woman to be a New Yorker cartoonist, and creator of Oyin and Kojo. Her work has also been exhibited at The Cartoon Museum.
Shazleen Khan – A London based Illustrator specialising in Comics and Narrative work and creator of webcomic Buuza!
Jemma Webster Sharp -"Jemma's an exciting artist, with a pointillist style of rendering horrific sexual imagery, often in proximity to uncomprehending girlhood, reminiscent of early Renee French or Melinda Gebbie"