At the end of last year at Broken Frontier we spoke to creators Zain Dada and Kumail Rizvi about the books coming from their new micropublishing digital line Khidr Comix Lab, an imprint focusing on the work of Black, Brown and Muslim creators. Consisting of both free-to-read online comics shorts and digital comics for purchase, it's an enterprise that is as notable for its forward-thinking publishing model as it is for its championing of marginalised voices. One of the flagship titles among their releases to date is Sultana, a 14-page story illustrated by multiple Broken Frontier Award-winning artist Shazleen Khan (Buuza!!) and written by Zain Dada. Sultana is set in the fictional modern day kingdom of Meshan, a locale that is facing a constitutional crisis as its ailing King Sultan Bin Ahmed looks set to die with no direct heir to the throne in waiting.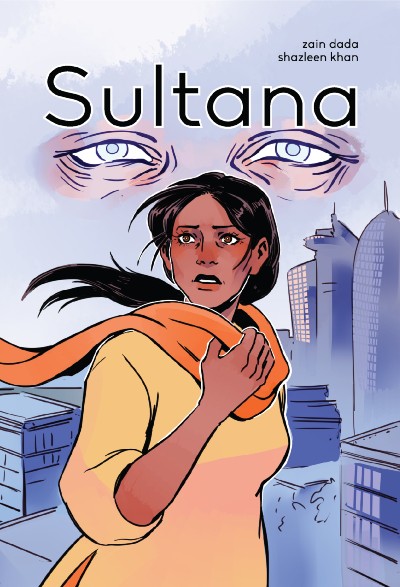 Protagonist Sultana Begum is a migrant worker in the royal palaces in Meshan, just one of many in a similar position who may up a significant number of the state's workforce. Her life there is divided between teaching the rude and spoilt Prince Abdul-Aziz and working as a cleaner and cook. But with political tensions rising, and chaos looming on the horizon, what does the future hold for Sultana in these most uncertain times?
While there's no indication as to whether Sultana is intended to be a continuing story or a one-shot offering we can only hope it proves to be the former. In terms of construction and set-up this is a pitch perfect opener, establishing a rich cast and acting as an enticing set-up to this world and its inhabitants. And it concludes with a finale that leaves us desperate to see what's next for the characters. As a one-shot, though, it also works as a twisting tale of court intrigue, and a graphic parable about worker exploitation, the importance of the fight for social equality, and the tyranny of capitalism.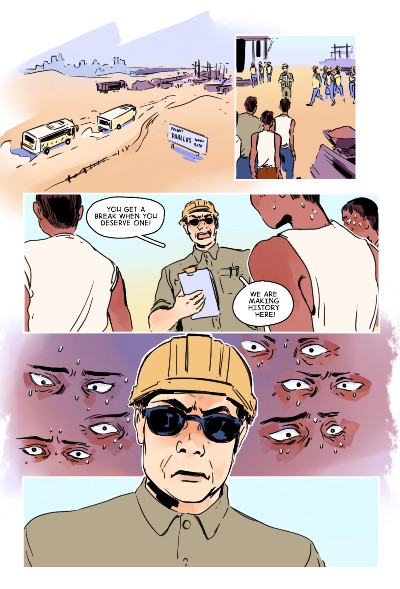 What can I say about the art of Shazleen Khan that I haven't said before at Broken Frontier? Khan's visual characterisation is sublime here, adding extra depths to the personalities of the assorted players that flesh out and expand their presence in ways that should be impossible in a mere 14 pages. One visual motif that runs throughout the comic is frequent cutaways to the eyes of principal and supporting characters for both emotional and thematic emphasis. As a narrative device it acts as almost an ongoing alternative commentary on events – from the desperate eyes of the overworked migrant labourers building a last, insidious monument to the dying king, through to Sultana's weeping visage as she worries about the future of her children left behind at home.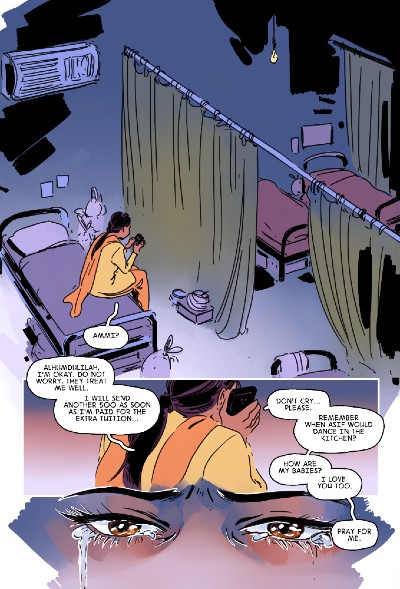 Sultana is an excellent entry point into what Dada and Rizvi are looking to achieve with Khidr Comix Lab, with visuals from one of the rising stars of UK indie comics; one whose major breakout moment is long overdue. There's certainly all sorts of intriguing places this tale could go from where we leave the characters at the end of this short. Let's keep our fingers crossed that a return to their story is indeed on the cards somewhere down the line. In the meantime take a few minutes to read about the treatment of migrant workers in Qatar in Amnesty International's report All Work, No Pay here.
You can buy Sultana here as a digital comic. For more on Khidr Comix Lab visit their site at khidrlab.com, and follow them on Twitter and Instagram. 
Review by Andy Oliver