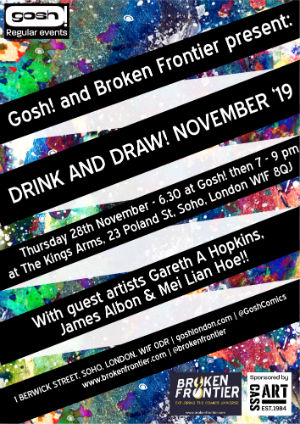 It's our last Gosh! Comics and Broken Frontier Drink and Draw of the year on Thursday November 28th and we're going out with a festive bang! We're seeing out 2019 with guest artists Gareth A Hopkins, James Albon and Mei Lian Hoe to our regular monthly meet-up, sponsored by Cass Art.
You can find us upstairs in The King's Arms on Poland Street. The fun begins at 6.30pm at Gosh! on Berwick Street before we head off for our sketching and drinking antics at 7pm.
A quick intro to this month's guest creators…
Gareth A Hopkins is a creator constantly exploring the farthest reaches of what comics can do as a narrative form. Our Jenny Robins interviewed this champion of abstract comics delivery here a couple of years back at BF when he rather splendidly described how he'd wanted one of his comics to read "like the sound of a piano falling down stairs." Apart from his own self-published books like The Intercorstal, Petrichor and Found Forest Floor Gareth has also contributed to anthologies like Jazz Creepers and Komisk. His chilling ghost story A Hill to Cry Home (incorporating the poetry of Erik Blagsvedt) was recently reviewed here at BF and pre-Thought Bubble we looked at his latest offering The Bones of the Sea (below) here.
Illustrator James Albon has worked for such esteemed organisations as the Folio Society, the Guardian and the Wall Street Journal. His comics include Madame and Me which was recognised in the annual Observer/Cape/Comica competition and Faux Amis which was published in French anthology Bermuda.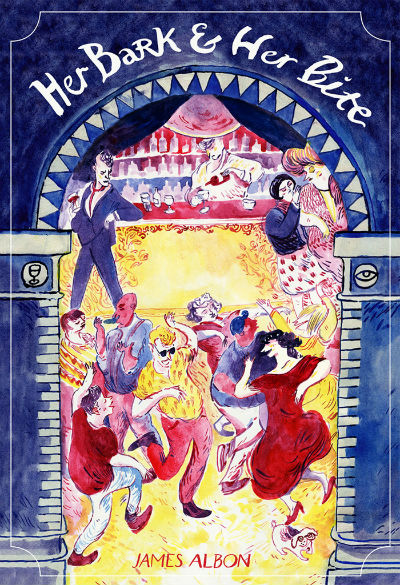 His graphic novel Her Bark & Her Bite was published in 2017 by Top Shelf Productions telling the story of the whirlwind romance between Rebecca and Victor and how it was undermined by his new pug Princess. Jeff Lemire himself provided a pull quote complimenting Albon's "delicate and utterly unique artwork". His latest book from Top Shelf debuted earlier this year A Shining Beacon is described as exploring "the role of the artist in a frighteningly familiar near-future of tyrannical regimes and popular revolts."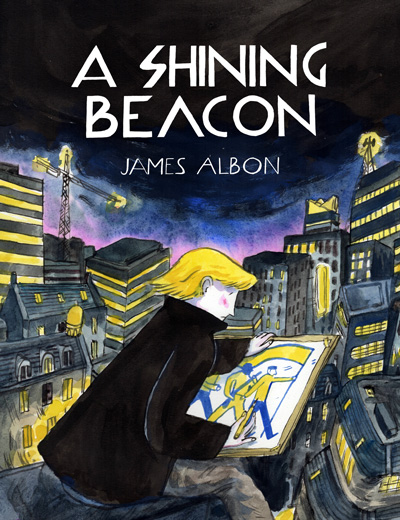 Our third guest artist this time around is a newbie to the D&D line-up. Mei Lian Hoe was one of the artists who arranged to see to see me at Thought Bubble this year when I made myself available to talk to up-and-coming creators on the Sunday in Harrogate. They have contributed to anthologies like Waiting and Kingdom for a Panel. Their webcomic My Husband is a Cultist can be read online here and has also recently been published in a print edition.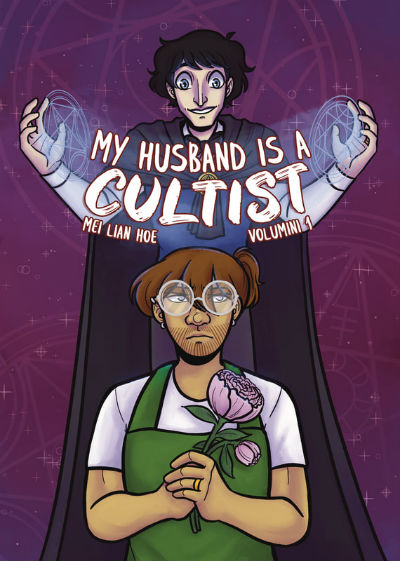 Join us on Thursday November 28th, then, for another fun evening of drinking, drawing and comics camaraderie. We kick off at 6.30pm in Gosh with a chance to get hold of signed comics and books from all our featured creators before moving over to The King's Arms for 7. We look forward to seeing you then!